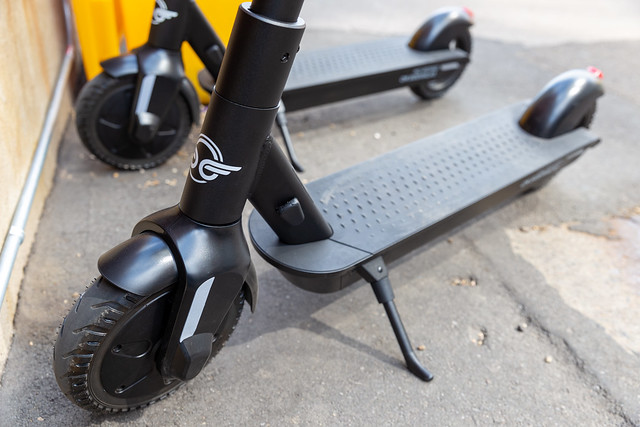 The scooter-sharing market faces temporary disruption due to coronavirus (COVID-19) but the industry can weather the storm in the longer term, new analysis suggests.
By 2024, 4.6 million shared scooters will be in operation worldwide, up from 774,000 in 2019, according to a new forecast from IoT analyst firm Berg Insight.
Berg Insight expects to see around 482,000 sit-down electric scooters by 2024, with standing scooters dominating the market.
The COVID-19  pandemic has hit the dockless scooter industry hard, with several companies drastically reducing fleets and pausing services. Others that are still operating have seen ridership tumble as citizens stay at home to meet lockdown rules. Some operators are providing free rides for healthcare workers.
Berg Insight's analysis finds that the COVID-19 crisis will result in lower-than-expected shared scooter ridership in 2020 but says it won't have an impact on the long-term growth of the market.
The sector faced challenges before coronavirus, including business model uncertainty, safety concerns and fragmented regulation but Berg Insight's outlook is still optimistic.
E-scooters were legalised in New York State earlier this month but are still prohibited in some markets including the UK, Ireland, China and Singapore. The UK is testing and consulting on e-scooter deployment. Many cities limit the number of stand-up scooters allowed on the streets through mandatory operator licences.
Martin Svegander, Senior Analyst at Berg Insight, said: "The regulatory environment shows notable between regions, national markets and even on city level due to varying regulatory frameworks.  There are still plenty of untapped potential markets for scooter-sharing operators and we also expect that more countries will allow scooter-sharing services in the upcoming years."
Shared micromobility could also play an increasing role as a growing number of cities seek to reduce car usage. Outlining plans for transport once Rome begins to re-open after the coronavirus lockdown, the city's mayor, Virginia Raggi, said that bikes and scooters should be prioritised.
"Otherwise, even if we put public transport back into operation, we will be invaded by traffic, and it is a scenario that we must avoid," she said.
In a recent blog post, Michael Schwartz, Head of Customers and Policy at Ride Report, a software platform for running bike and scooter share programmes, urged cities to begin to plan "in light of new economic realities".
"2020 was shaping up to be a tough year for private micromobility operators even before COVID-19, but this past month has hit micromobility companies hard, challenging the industry's survival," he said. "What does micromobility look like as a tool for economic development in the middle of a likely recession? Think about whether a city's current rules and ordinances still apply or if some adjustments could be made."
A separate report from Berg Insight forecasts that the number of vehicles deployed in bike-sharing schemes will grow from 23.2 million in 2019 to 35.8 million in 2024.