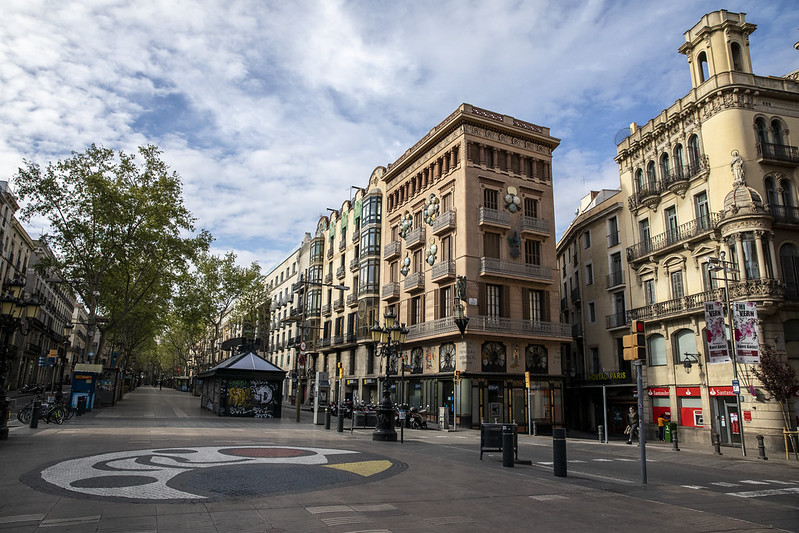 Photo: Ajuntament Barcelona
Barcelona traffic down 80 percent since coronavirus lockdown
27 April 2020
by Christopher Carey
Barcelona's road traffic has fallen by up 80 percent since the coronavirus (COVID-19) pandemic hit its streets, leading to a dramatic fall in air pollution, with the European Space Agency recording an 83 percent drop in NO2 concentration levels in some parts of the city within days of the country's lockdown being introduced.
Public transport has also seen a huge fall in numbers, with a 90-95 percent drop in passengers using services.
Spain has some of Europe's strictest lockdown measures, and the second highest coronavirus mortality rate in the world—with 23,190 deaths at the time of writing.
Barcelona City Council Mobility Manager Adrià Gomila believes the crisis may have a silver lining however, with an opportunity to change how people travel and in particular get them to switch modes.
"We want to increase the number of trips being made by foot or bicycle, because once people start coming back on the streets, I think there could be a reluctance among some to use public transport due to health fears," Gomila told Cities Today.
Along with encouraging active travel, maintaining a high standard of hygiene on metro and bus services is a priority for the city to keep commuters out of cars.
In January the city introduced southern Europe's largest low-emissions zone, in a bid to cut congestion and air pollution, but its enforcement has been suspended due to the crisis.
"We are preparing new ideas to effectively communicate the benefits of active travel to commuters because if they decide to choose individual modes of transport, we would of course prefer they travel by bicycle or foot than car or motorbike," said Gomila.
Prioritising bike travel may be hindered though, as the city's 6,000 strong public bike-share scheme is currently suspended due to hygiene concerns.
Before the crisis hit, Barcelona was negotiating with a number of private bike-share providers on opening up licensing regulations to expand capacity, but the crisis has stalled the city's procurement process.
A similar approach will be undertaken for introducing a shared e-scooter scheme to the city, with a tender process expected to be launched during the summer.
During the weekend some lockdown measures were relaxed, with children allowed outside for exercise for the first time in six weeks. Despite the air of uncertainty, Gomila remains confident the city can expand active travel among residents.
"People will want to be out breathing fresh air and getting exercise after so many weeks of being inside."