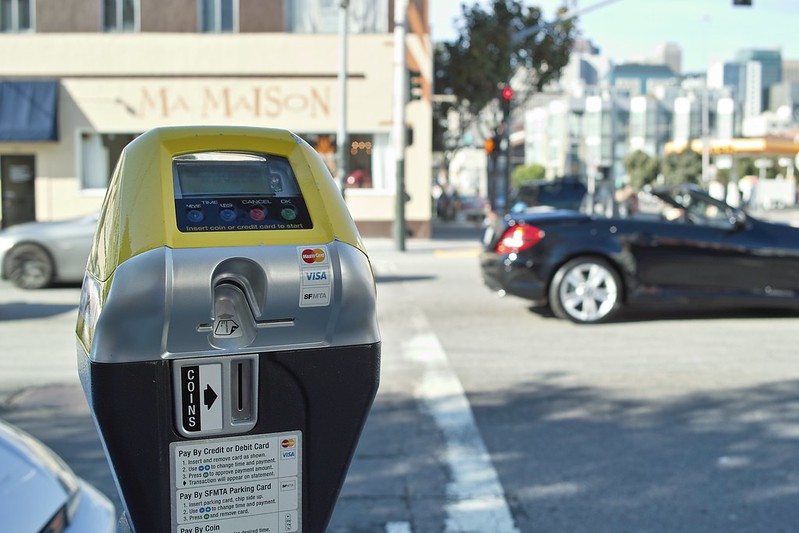 Photo: 5360469423_89c64c5bd2_c
Open Mobility Foundation launches digital kerb standards group
11 December 2020
by Christopher Carey
Open-source data non-profit the Open Mobility Foundation (OMF) has announced the creation of its first Curb Management Working Group to deliver "data and application programming interface (API) specifications that facilitate the inventory, exchange and analysis of information describing kerb assets, regulations and occupancy."
The city-led group has emphasised the need for improved kerb management, particularly in the wake of the COVID-19 pandemic, with cities seeing a surge in deliveries and demand for outdoor space to accommodate dining, socially distanced movement and other activities.
It is hoped that standardised APIs will enable new approaches to kerb management, including:
Dynamic ride-hail pick-up/drop-off spaces during special events
Conversion of on-street vehicle parking spaces into designated micromobilty parking
Time-restricted freight/delivery zones to increase the efficiency of urban logistics
Pricing of kerb access or parking on a static or demand-responsive basis
Dynamic or flexible kerb use regulations that respond to changing use patterns
City-led effort
The group will be managed and directed by a steering committee made up of OMF members, including the Los Angeles Department of Transportation, City of Minneapolis, San Diego Association of Governments, San Francisco MTA, City of San Jose, Seattle Department of Transportation, and several private sector members of the OMF, including Automotus, Coord and Ford AV.
Speaking on its launch, Jacob Baskin, CTO & Co-Founder of Coord, said: "Today, there isn't a broadly agreed-upon standard for how to digitally represent kerbs. In fact, most cities do not even have an up-to-date, let alone digital, record of the location of their kerb and how it's regulated.
"By joining OMF in this initiative, we hope that broad participation and consensus-building across the industry, made possible by OMF's open governance model, will accelerate kerb management across the country."
OMF also governs the Mobility Data Specification (MDS) – a data-sharing standard that facilitates the exchange of anonymised data between transport operators and municipal transport departments. It aims to give cities more oversight of the use of micromobility in their cities and insight to inform future planning. The MDS was initially developed by the Los Angeles Department of Transportation (LADOT) and has since been adopted by many other cities through the OMF.
The MDS initiative was not without its detractors, though, and a dispute between Uber and LADOT turned into a  lengthy legal battle.
Digital Curb Challenge 
In July, Coord announced the winners of its Digital Curb Challenge, a project aimed at providing delivery and service vehicle drivers with information and incentives to deliver where it is safe and permitted, and giving cities more information to manage their kerb space using the company's kerb management platform.
Four cities – Aspen, Nashville, Omaha and West Palm Beach  – were selected to take part.
Based on the level of interest it saw, a further nine cities – Vancouver, Baltimore, Sarasota, Bend, Norwalk, Fort Smith, Halifax, Portland and Walnut Creek – were selected as 'Cohort Cities', giving them the opportunity to learn from the pilot cities.
Coord, a spin-out of Alphabet-owned Sidewalk Labs, says its platform also supports data-driven operational changes. For example, cities could use this information to create more loading space where it's most needed, or manage demand through pricing and time limits.