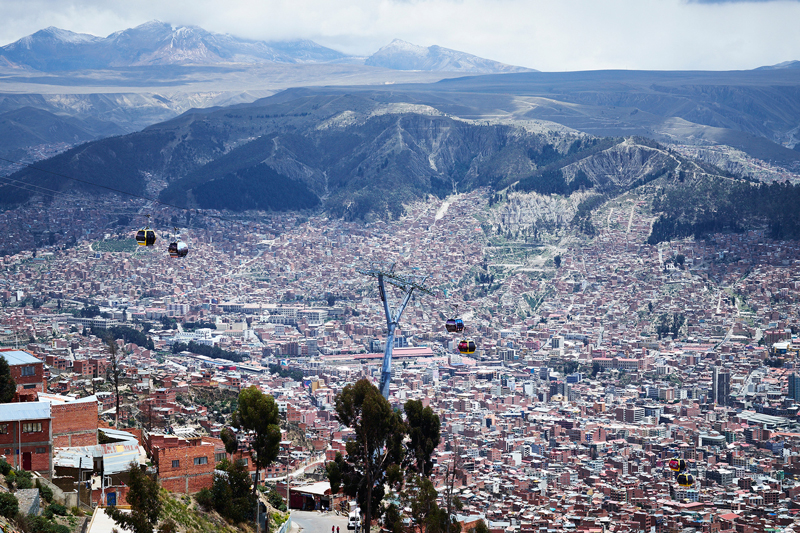 Population growth has resulted in the steady increase of cars on the roads of cities around the world, leading to heavy congestion, longer commuting times, and poor air quality. Many local authorities have exhausted their options, both above and below ground, in trying to find solutions to this problem.
Commuters in the cities of La Paz and El Alto  in Bolivia, now have an alternative form of transport, operating 4,000 metres above sea level. The Mi Teleférico cable car system provides stunning views of the two cities, while also ensuring access from the poorer neighbourhoods to the central downtown area, with a travel time of just 10 minutes, compared to approximately an hour using land transport.
"A number of alternatives were studied to solve the congestion problem, not just the ropeway system, but modes that had proved successful in other cities, such as elevated trains and subways, however we found that the ropeway system had a number of comparative advantages," says César Dockweiler, Executive Manager, Mi Teleférico. "Firstly the implementation is fast and the investment required is lower. The system does not generate pollution and it substantially improves the quality of life of the population because of it being fully inclusive."
It was Latin America that first looked at using cable cars for urban transit with the most significant experiments taking place in the 2000s in Medellin, Colombia, and Caracas, Venezuela. These cities rethought the use of cable cars as a means of mass transport that could be clean, with no direct carbon dioxide emissions, and which could end the isolation of the poorest communities.
The first phase of construction of the Mi Teleférico project began in 2012 and was completed in 2014, with the introduction of the red, yellow and green lines. Since then Línea Azul (blue) and Línea Naranja (orange) have been opened, which together with Línea Rojo forms the longest continuously connected stretch within the network, covering a distance of 10 kilometres.
"Due to the relatively low necessity of infrastructure to be built, the execution of an aerial ropeway is very quick in comparison to other solutions, such as building a subway," says Torsten Bäuerlen, Coordination Manager (La Paz), Doppelmayr Seilbahnen GmbH, the company contracted to construct the urban ropeway network. "The Línea Roja in La Paz, for example, was designed produced, erected and put into public service in only 14 months. Plus, using a different level other than the street and having an exclusive corridor, removes the possibility of common transit accidents that can occur."
Success
With five lines currently in operation, the Mi Teleférico system is transporting between 230,000 and 250,000 people per day, with the yellow line setting a record for a single line by moving 84,830 commuters in one day.
The system is used as a vital connection to other modes of transport, creating an integrated transit network that will consist of 11 ropeway lines by 2019, all interconnected and connected to the ground transport modes. Extensive research was conducted to ensure that each new line and route added to the system seamlessly, while continuing to reach lesser served neighbourhoods and causing the least disruption to people's lives.
The project was conceived with the aim of improving the quality of life for the people of La Paz and El Alto. Therefore, in line with the national government's social policies, citizens were consulted from the outset of the initiative through workshops, meetings and fairs, while individual families that would be directly affected by the new routes, were visited to provide a better understanding of the benefits of the cable cars and how the construction was going to take place.
"Before Mi Teleférico, a person wanting to come down from El Alto to La Paz had to use very windy roads," says Dockweiler. "The vehicles they had to use were small and sometimes unsafe. The ropeway system provides a fast transport option that can save commuters up to 60 minutes each way, depending on the line. All our riders are comfortably seated under hygienic conditions, and furthermore, it is far more accessible for physically challenged people. There are many other benefits but I feel it's important to underline the security aspect. This system is 100 percent secure. We haven't had any accidents."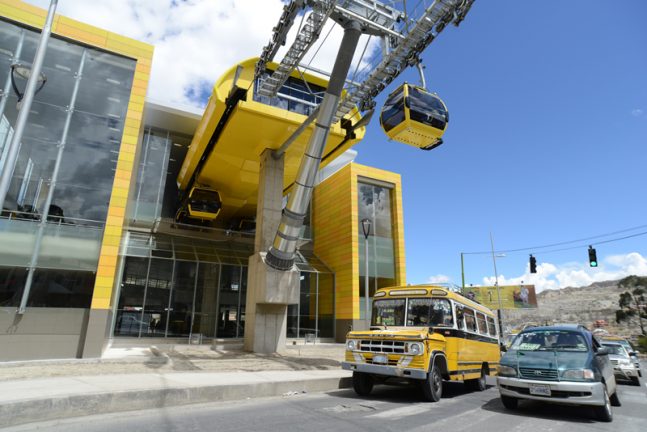 By creating new routes that would reach the most marginalised and underserved communities, this also meant that the authorities had to find a price point that was accessible to everyone without neglecting the sustainability of the project. After a number of studies the fare was set at US$0.42, which not only makes the ropeways affordable to some of the poorer citizens, but also covers all operating and maintenance costs. Further subsidies are given with students, the elderly and people with disabilities travelling for half price.
This fare is only made possible because of the relatively low installation costs of ropeway networks, in comparison to other public transport options, such as a metro system, which incurs significant expense due to the extensive tunnel infrastructure. A ropeway might not be able to move the same amounts of people as a metro, but it is scalable to the projected demand of a certain area. It can be designed to transport even a small amount of people in an efficient way, with an installation designed for these needs.
"Ropeways are not just cost efficient but also very energy efficient," says Bäuerlen. "Once the system has been started, the cable always runs at the same speed, because the cabins can detach from the cable when they enter the stations. Another important factor for polluted cities is, that the ropeway is running on electricity, which means a decentralisation of pollution, as electricity can be produced outside of cities, like in La Paz, where much of the electricity comes from clean hydro energy."
Employment
The new routes that this transport option has provided for the people of La Paz and El Alto has been vital in connecting them with areas of the cities that were either too far or expensive to get to beforehand. But it has also boosted employment with approximately 1,000 jobs created during the construction stage, mainly in construction and assembly, but also numerous indirect beneficiaries among suppliers.
For the operation and maintenance of the system going forward, Mi Teleférico requires around 400 employees, spread across operators, cashiers, mechanics, and information, which will of course increase if the network is expanded further.
"Knowledge transfer to the local population is taking place during the construction phase (application of advanced construction procedures and use of specialised equipment) as well as for the operation and maintenance phase," adds Bäuerlen. "Personnel from Mi Teleférico are being trained by international specialists in all the different tasks necessary to guarantee a safe operation of the ropeway system, which are valuable skills for these staff."
Terrain
Typically ropeway systems were used for transporting skiers or to connect mountainous areas, and not really relevant or suitable for flat urban terrains. Bolivia, however, has managed to break this paradigm that ropeways are only useful for traversing vertical distances. El Alto is a completely flat city that has mobility problems due of a number of factors, such as the largest informal street market in Latin America taking place in the heart of the city twice a week. They managed to build a ropeway line, approximately 5 kilometres long and consisting of five stations, running above the city skyline, connecting at the departure station with La Paz and continuing to the outskirts of the city.
It is clear that ropeways have the potential to be an important solution for cities in dealing with road congestion, and one that could form part of an integrated transport network. It seems important to work on generating more awareness among authorities, decision makers, urban planners as well as the public, for ropeway systems to be considered a viable alternative mode of transport.
"We have been very surprised by the number of countries and foreign media that have come to visit to get a direct look at this mode of transport in Bolivia," says Dockweiler. "They have asked us about the system's qualities and also its advantages and now we are hearing about other cities that are in the planning stages. It's not currently that popular, but very soon, within the next ten years, ropeway systems will be used in many cities not only in Latin America, but also in Europe and North America."
Brought to you by:

About this Content