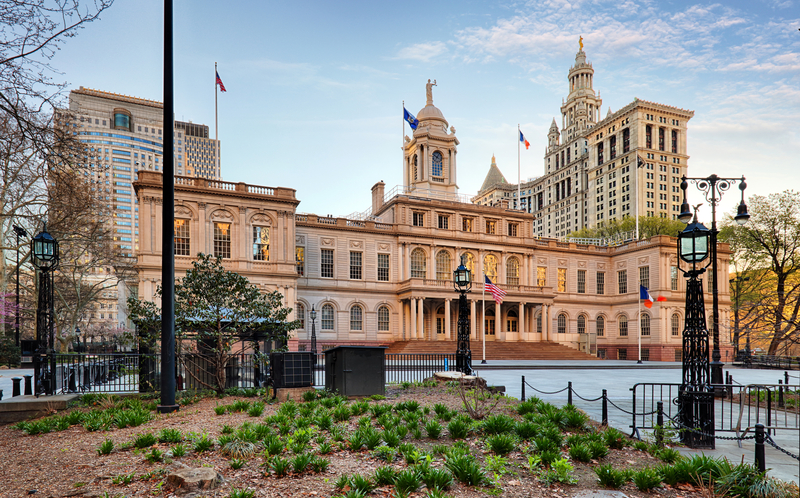 Photo: NY city hall dreamstime_s_71107334
New York to introduce 'resilience score' for city-funded capital projects
29 March 2021
by Sarah Wray
New York City Council has passed a bill that will require city-funded buildings, retrofits and infrastructure projects to meet climate resiliency design guidelines and a minimum resiliency score.
The Int. 2092 bill aims to ensure that facilities such as schools, libraries, bridges and affordable housing developments are designed to withstand climate threats.
The legislation will codify the Climate Resiliency Design Guidelines first developed by the Mayor's Office of Resiliency in 2017. They provide step-by-step instructions on the design of city facilities and factor in historic climate data and building codes as well as climate projections. The guidelines will also provide the basis for the creation of a new resiliency scoring metric.
A resiliency score for each project will need to be posted on a public-facing website. The score will apply to capital projects over US$10 million and take into account factors such as flooding risk, energy efficiency, energy resilience and on-site water capture and management.
New York City Council Member Costa Constantinides, who introduced the bill, said: "As a city on the sea, we are literally on the front lines of the fight to secure a liveable climate. That's why it's so critical that we set resiliency standards for everything we build in New York City. With the passage of Int. 2092, the city must create resiliency guidelines and a scoring metric for projects that sets a minimum standard for resiliency that every subsequent project must meet."
Pilots
The Office of Long-Term Planning and Sustainability (OLTPS) will run at least 35 pilots across city departments and boroughs, starting this year, to test and further develop the guidelines and scoring system by 2026.
"The passage of this bill represents a massive step forward for resiliency in New York City. It will make our schools, libraries, roads, and affordable housing stronger and safer by requiring that all new city facilities are built to withstand the future impacts of climate change. Utilising climate-smart design will also save taxpayers millions by preventing extreme weather damage," said Jainey Bavishi, Director of the Mayor's Office of Resiliency. "Using MOR's Climate Resiliency Design Guidelines as a foundation, we will create a new resiliency scoring metric that will set stringent requirements for public projects. This will also provide greater transparency into how the city is assessing and addressing climate risks in the built environment."
The bill is expected to be signed into law by Mayor Bill de Blasio, who said: "New York City has experienced the devastating consequences of climate change first hand. We need bold and innovative solutions like Intro 2092 to fight back. This will make New York City safer, stronger, and better prepared for extreme weather."
According to the New York City Panel on Climate Change (NPCC), by 2050 the mean annual temperature in New York is projected to rise to 6.6°F, the frequency of heatwaves will triple and sea level could rise by up to 21 inches.
Cities are increasingly applying a resilience or climate lens to guide decision-making.
Montreal's new climate plan to 2030 includes a commitment to apply a 'climate test' to all city decisions, from finance and infrastructure to public policy. Rotterdam uses a filter tool, which is a set of principles to help the city make decisions, with citizens, about which ideas or actions to prioritise. The leading principle is that initiatives have to contribute to a more resilient society and economy.