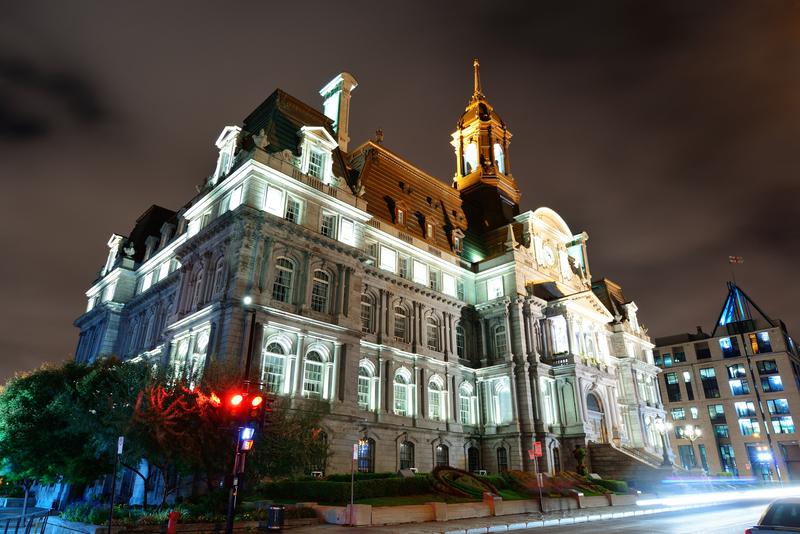 Photo: Montreal-City-Hall-dreamstime_s_32019385
Montreal to apply a "climate test" to all city decisions
16 December 2020
by Sarah Wray
Montreal's new climate plan to 2030 outlines 46 actions around cleaner transport, urban greening and more energy-efficient buildings.
It includes a commitment to apply a 'climate test' to all city decisions, from finance and infrastructure to public policy. The city will also allocate 10 to 15 percent of the ten-year capital expenditures programme budget to climate change adaptation.
The Climate Plan 2020-2030 aims to support the city to reduce its greenhouse gas (GHG) emissions by 55 percent (from 1990 levels) within ten years and become carbon neutral by 2050.
The plan states: "The health crisis triggered by COVID-19 has highlighted the importance of resilience to ensure the wellbeing of cities' residents and the vitality of businesses and infrastructure.
"The ultimate goal of this plan is to increase the community's resilience and capacity to adapt to climate hazards, environmental disruptions and potential pandemics that could once again cause havoc in our society."
Mobility and buildings
Road transportation is the largest source of GHG emissions in Montreal, accounting for around 30 percent.
According to the city, integrating the Climate Plan's targets into urban and mobility planning to inform neighbourhood policy decisions could contribute to a 50 percent reduction in GHG emissions from road transportation.
Plans include converting parking lots in some areas into open spaces and planting 500,000 trees.
To meet the goal of reducing the share of solo car trips by 25 percent, Montreal will develop public and active transport in all districts and promote car-sharing, taxi use and carpooling. It has also proposed a zero-emissions zone downtown.
Buildings generate 28 percent of the emissions in Montreal. To reduce this, the city will shift to renewable energy sources and eliminate the use of heating oil in buildings, which it says would reduce emissions by five percent.
Other measures include: adapting bylaws and support programmes to boost the energy efficiency of buildings; designing a funding programme for property owners to support environmentally friendly renovation work; and bringing in a system of rating and disclosure for the energy consumption and GHG emissions of buildings.
Starting at city hall
The city has pledged to lead the way by converting all its municipal-owned buildings so they produce net zero carbon emissions, starting with the renovation of city hall. It will also "decarbonise the business travel of city staff" and encourage the use of sustainable transport modes for employee commutes. The city has 28,000 employees and said that municipal activities account for less than two percent of overall emissions.
The plan also highlights strategies to get citizens and businesses on board, such as supporting companies to adopt emission-free delivery services – as is being piloted in the Colibri project, for example.
Montreal will work to stimulate the circular economy by creating networks among businesses and community organisations, with a particular focus on reducing food and textile waste.
The opposition party, Ensemble Montreal, accused the plan of "greenwashing", saying it lacks detailed budgets and deadlines.
Benchmark
However, Canadian environmental non-profit Équiterre called it "innovative".
"There are a lot of interesting measures in the plan, but we are particularly pleased to see that a climate test will be imposed on all of the city's decisions. It sets a standard for all public administrations," commented Marc-André Viau, Equiterre's Director of Government Relations.
Equiterre also said that dedicating budget to the programme "sends a signal that this is not only a political but also a budgetary priority".
The organisation noted, though, that it is concerned about Montreal's ability to meet its reduction targets.
"Its plan for reductions up until 2030 is unclear and the roadmap to 2050 remains to be defined," it said in a statement.
Montréal will publish an annual report about progress on the actions outlined in the plan.
Climate Action network C40 Cities recently listed Montreal among 54 cities on track to keep global heating below 1.5°C as per the Paris Agreement. Global cities' climate plans were analysed by C40's Deadline 2020 programme.