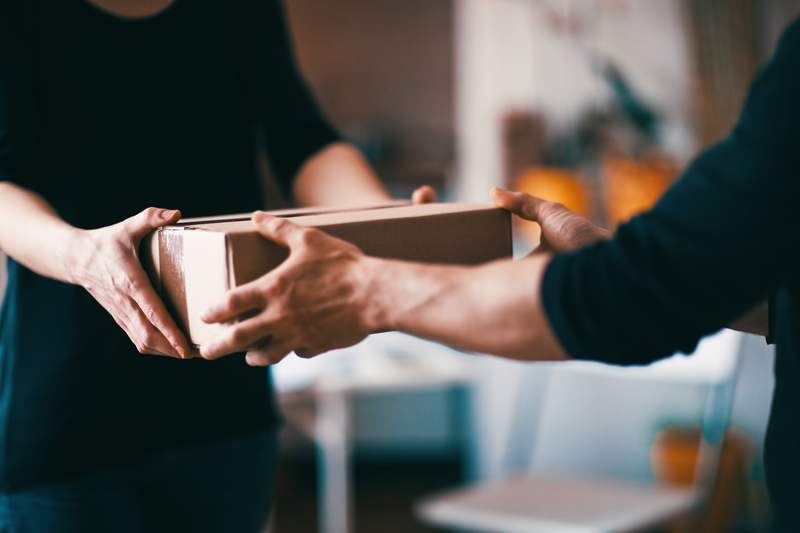 Photo: Dreamstime
Micro-fulfilment centres could cut city emissions
12 April 2021
by Sarah Wray
Using local micro-fulfilment centres (MFCs) could significantly reduce traffic and emissions from last-mile deliveries in cities, according to a new study from Accenture in collaboration with Frontier Economics.
MFCs, which include in-store click-and-collect points, automated lockers, and stand-alone micro-warehouse facilities, enable inventory to be stored closer to customers. Several of these trends have come to the fore during the pandemic as closed stores functioned as fulfilment centres and kerbside collections became common. Accenture says this opens up opportunities to create more sustainable last-mile logistics for the long term.
The companies developed a model of the impact of local fulfilment centres for e-commerce using data from London, Chicago and Sydney. The model estimates the impact on outputs such as emissions and traffic congestion, based on inputs including local fulfilment centre prevalence, population density, average distance travelled per parcel, delivery vehicle mix and consumer demand projections.
Reduced journeys
The Sustainable Last Mile: Faster. Greener. Cheaper report finds that a last-mile supply chain using local fulfilment centres could lower last-mile emissions by up to 26 percent by 2025. This improvement is broadly consistent across all three cities. Using local fulfilment for even half of e-commerce orders between 2020 and 2025 could lead to significant impacts, the researchers say.
Of the three cities, London would likely see the largest delivery traffic reduction and improvement in air quality from the use of MFCs, followed by Chicago and Sydney.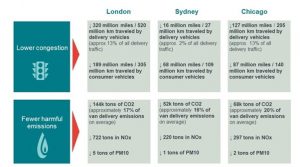 A January 2020 World Economic Forum report forecast that the number of delivery vehicles in the world's 100 largest cities will increase 36 percent by 2030, resulting in a 32 percent rise in emissions from delivery traffic and a 21 percent increase in congestion. Since then, online shopping and food deliveries have surged during the pandemic, likely triggering long-term changes.
City role
The report urges cities to harness the benefits of MFCs by aligning last-mile strategies with economic stimulus and jobs; supporting green transport initiatives; and repurposing urban spaces for local fulfilment.
For example, the City of London Corporation, the governing body of the capital's Square Mile, is launching its first last-mile logistics hub. The initiative will repurpose under-used spaces at the London Wall Car Park, with Amazon Logistics as the operator. Delivering packages from the hub using pedestrian porters and bikes is projected to take 85 delivery vehicles off London's streets each day, equating to 23,000 trips eliminated in central London annually. The authority aims to open five last-mile logistics hubs by 2025.
Cities could also invest in electric vehicle charging infrastructure and provide GOV (green occupancy vehicle) driving lanes, express parking, ticketing and toll exemptions, or carbon credits for green vehicles. In Accenture's model, the use of low-emissions vehicles accounted for 51 percent of the total decrease in London's delivery van emissions from 2020 to 2025.
Several cities are now adopting or exploring smart kerb management, allocating kerb usage dynamically depending on demand and the time of day, etc.
"No single entity can solve the challenge of last-mile delivery alone," said André Pharand, a managing director at Accenture who leads the company's postal and parcel practice. "It will take an ecosystem of partners working together to create a major evolution in sustainable delivery practices through the pairing of human ingenuity with technology. We believe that our study points the way forward."
Retailers are urged to incentivise greener choices among consumers and businesses and the report calls for delivery companies and postal agencies to re-assess how they manage their supply chains and deploy assets such as heavy goods vehicles. They should also adopt data analytics and route optimisation to maximise benefits, it says.