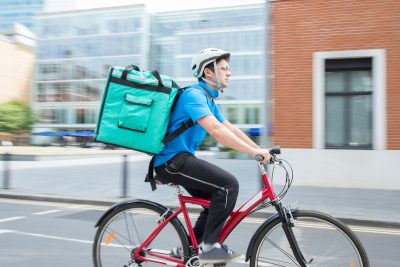 Photo: Katie Nesling | Dreamstime.com
London selects start-ups to support COVID recovery
18 May 2021
by Sarah Wray
A data platform to reduce high street property vacancies, a journey planner for COVID-safe travel and an app to help gig workers understand their earnings are among the finalists in London's search for solutions to pandemic-related challenges.
In February, applications for the Mayor's £1 million (US$1.42 million) Resilience Fund were opened to companies using data and technology to solve key issues identified as central to the city's pandemic recovery. These include supporting gig economy workers, market traders and people suffering bereavement; revitalising high streets; advancing smart mobility and renewable energy production; and reducing food insecurity.
A panel of judges selected 36 tech start-ups as finalists to move to the next phase of the programme. Each company will work with a partner, such as a local authority, public agency or charity in London, to advance their solutions.
The finalists will receive £10,000 for further development and in July, ten winners will be awarded a further £40,000 to implement their technology.
The Fund is delivered in partnership with Nesta Challenges and backed by the London Economic Action Partnership (LEAP).
Data-driven solutions
Three or four companies have been selected for each of the ten challenges.
Finalists include Whythawk which will work with Ealing Council to build on an existing platform that uses open data on rental valuations, rates paid and vacancies, and employment so that it can be deployed to reduce empty properties.
BlockDox will integrate outdoor air quality data with geopositioning data of vulnerable groups within Lambeth to help the borough make adjustments to improve air quality.
JNCTION is creating a door-to-door journey planner and app to give people confidence in using public transport. The tool allows users to plan trips to minimise potential exposure to COVID-19 by choosing routes which are quieter and via lower infection areas.
MatchingMind uses artificial intelligence (AI) to match mental health and bereavement specialists with people based on their health needs, age, culture, religion, sexual orientation, disabilities, and language requirements.
The company says "intelligent matching" reduces trial and error and failures that come from having the wrong fit.
Workerbird is collaborating with the Living Wage Foundation to provide an app which helps gig economy workers understand their true hourly rate and whether it meets the London Living Wage, as well as to get a broader collective picture of conditions across the sector.
Resilience
Mayor of London Sadiq Khan, who was recently re-elected for a second term, said: "We must all work together to build a brighter, greener and more equal future for London after the pandemic. I'm confident these dynamic start-ups and their partners will develop creative solutions to support London's recovery and help our city remain resilient for years to come."
Katie Nesling | Dreamstime.com