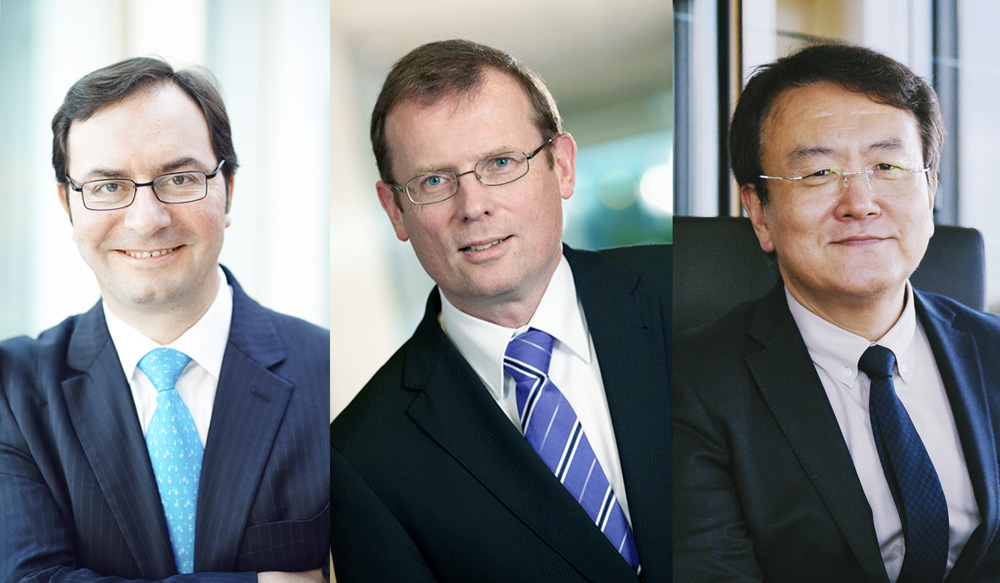 Photo: ISO-IEC-ITU
How standards can assist the development of smart cities
27 November 2017
by Jonathan Andrews
Jonathan Andrews spoke to the world's leading standards authorities about their role in helping cities become 'smart' and achieving the Sustainable Development Goals
What role do you see your organisation playing in the development of smart cities around the world?
Mujica
ISO standards represent international consensus on best practice for a wide range of areas that contribute to making a city function better and help cities meet the requirements of the United Nation's Sustainable Development Goals. These include overarching frameworks that city leaders and planners can use to define their objectives and priorities for making their cities more sustainable, as well as specific guidelines for things like energy management systems, road safety, intelligent transport, responsible water consumption, health and wellbeing, cyber security, connectivity and more.
ISO standards help cities measure and improve their performance, for example with standards for city indicators, sustainable communities and city infrastructures. These standards provide best practices and harmonised solutions that can be used everywhere, and allow city planners and decision makers to benefit from global expertise.
Take, for instance, ISO 37101, Sustainable development of communities – Management systems – Requirements with guidance for resilience and smartness. This ISO standard aims at helping communities develop and implement management systems to improve their performance in sustainable development.
This is only one of a broad portfolio of ISO standards helping to accelerate the growth of smart cities worldwide by providing city leaders with best practices and guidance.
Vreeswijk
Cities are giant systems with countless subsystems. All of them depend on electric power and hardware to move people and things, collect data and exchange information. The IEC's work for cities and communities applies in many areas, including for all forms of big and small energy generation (gas, coal, nuclear, hydro, solar, wind, marine, biogas, geothermal, etc.), public and private mobility, water management (water extraction, purification, distribution, sanitation) city and financial services, healthcare, and more. In total the IEC has identified over 1,800 standards and we offer a globally standardised approach to testing and certification services to ensure that vendor promises are kept.
Cities need to substantially increase the efficiency with which they operate and use their resources. Major efficiency improvements can be achieved by horizontally interconnecting individual systems such as electricity, water, sanitation and waste management, transport, and also security, environmental monitoring or weather intelligence. Such an approach allows for increased information sharing and coordination and helps manage incidents in one sector that impact the others. It also offers considerable opportunities in terms of cost-reduction and the creation of new value-add services. But interconnection is easier said than done. Many of the currently-deployed systems in cities originate from different suppliers and they are maintained by various agencies that generally work in isolation. The IEC provides many of the international standards that are needed to safely connect and automate much of the city infrastructure that generates or uses electricity and contains electronics. The use of international standards also facilitates the long-term maintenance and repair of city infrastructure. Spare parts can be bought anywhere in the world at more competitive prices.
Put simply: it is impossible to build an efficient urban infrastructure without reliable electricity access, and standardised hard- and software. IEC International Standards and IEC Conformity Assessment Systems impact the large majority of them.
Lee
As the United Nations specialised agency for information and communication technologies (ICTs), ITU is leading global efforts to optimise the application of ICTs within smart cities. Our work is driven by a unique public-private partnership of members: 193 Member States, over 700 private-sector entities and over 150 academic and research institutes. ITU is providing a neutral platform for these members to agree international standards for the Internet of Things (IoT) and smart cities, and to explore new policy directions capable of stimulating the transition to smart cities.
The ICT infrastructure of a smart city should ensure openness and interoperability, and this can only be achieved with coordinated adherence to common standards. ITU standards will support the interconnection and interoperability of cities' ICT systems, the mutually-beneficial sharing and use of smart city data, and the integrated management of smart cities' cyber-physical systems. This work is led by ITU-T Study Group 20, ITU's standardisation expert group for 'IoT and smart cities and communities'.
A new focus group has been tasked with accelerating ITU's study of data processing and management. Its priority is to support the data management needs of smart cities. The group will report to Study Group 20, proposing standardisation approaches to the security, privacy and interoperability of datasets and data-management systems in the IoT and smart city domains.
Policy debate is hosted by the United for Smart Sustainable Cities initiative. Supported by 16 United Nations agencies and programmes, this initiative advocates for public policy to ensure that ICTs, and ICT standards in particular, play a definitive role in the transition to smart cities.
What was the motivation for creating the World Smart City Forum?
Mujica
The World Smart City is a partnership between IEC, ISO, and ITU. As the world's foremost standards organisations, our main objective is to help make smart cities a reality through a common approach founded on standards.
Our motivation is to work together to move cities to greater smartness and sustainability. This requires broad collaboration because no single standards organisation will be able to develop alone all the standards cities will need.
At the 2017 ISO General Assembly in September, we signed a letter of intent to agree to a set of guidelines of collaboration that will allow IEC, ISO and ITU to build closer ties with cities and better contribute to the many standards that are needed by cities.
Our common approach will make for better, more universally relevant standards, and provide clarity to our stakeholders. Most importantly, it will also help limit duplication and reduce any waste of time and money.
By working together, and with other standards development organisations (SDOs), we can help cities grow more effective, waste less, and offer a better quality of life for their citizens. Most importantly, we can ensure a brighter future for the next generation.
Vreeswijk
The IEC initiated the World Smart City Forum's first edition in Singapore in 2016, bringing on board ISO, with which we collaborate extensively, as well as ITU. In cities and elsewhere, while competition is growing, industry and other stakeholders have to collaborate increasingly in order to develop the broad solutions that are needed. Technology integration is a special challenge that requires broad cooperation in a systems approach.
In short, to move cities to greater smartness, many will need to share their expertise and know-how, including standards organisations. As a matter of fact, no single standards organisation can develop all smart city standards alone. The World Smart City Forum aims to intensify cooperation and reduce the duplication of work in the smart city space in general and in standardisation in particular. The IEC Systems Committee on Smart Cities is currently preparing a reference architecture and standardisation roadmap in cooperation with many different organisations. The aim is to identify and close gaps and develop relevant international standards as building blocks for tailor-made solutions.
During the lead-up to the forum we also noticed that there are only few non-proprietary spaces online where city stakeholders can cooperate and network to share and discuss common challenges. That's why we initiated the World Smart City Community, which provides a neutral platform where all stakeholders and all organisations active in the city space can share and amplify what they are doing.
Lee
Standards provide common platforms for growth and innovation. They can be powerful tools to achieve common objectives. The World Smart City Forum provides a platform for city leaders and other experts in urban development to share insights into the challenges to be overcome by our cities. The forum provides guidance to standards bodies as they assist smart city innovation, and cities learn more about how standards will help them to innovate efficiently and at scale.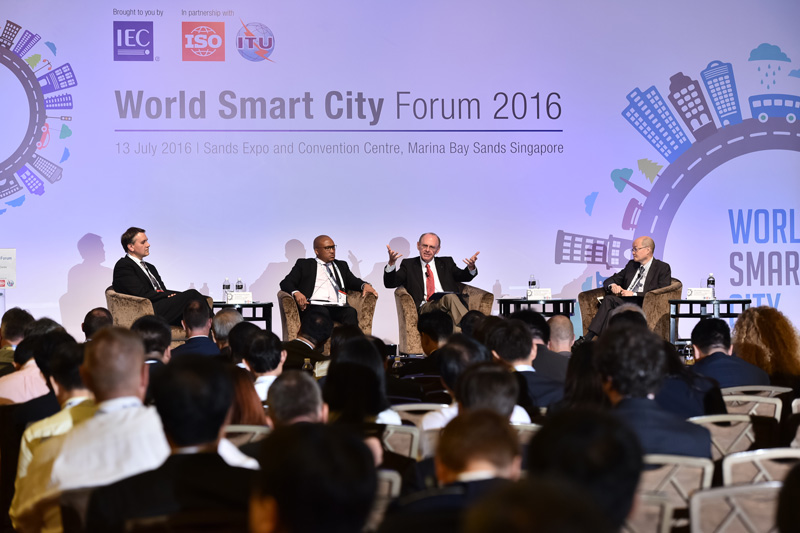 Do you work closely with the World Council on City Data, particularly in relation to ISO 37120, Sustainable development of communities – Indicators for city services and quality of life?
Mujica
At ISO, we value the importance of a diversity of stakeholders–from industry, regulators, consumers, just to name a few. ISO's consensus-based approach provides a platform for developing practical tools through common understanding and cooperation with all stakeholders on board. This is what makes ISO standards globally relevant.
In order to make cities 'smarter', we are striving to get cities and other organisations around the standards table. We want to encourage the participation of city planners, architects, consultants, utilities, transport planners, safety/security/data specialists, standardisation specialists, and industry (solution providers). The expression of city needs will help us to develop the right tools at the right time, and contribute to making smart cities a reality.
Vreeswijk
I would like to reiterate that cooperation between different standards organisations and the right attitude to collaboration will be of crucial importance going forward. Each organisation should focus on areas where it has the right expertise and others should be willing to contribute to the bigger picture. Not everyone can lead everything. While the IEC and ISO cooperate closely on many topics, this particular standard is core to ISO. If and when relevant, the IEC will gladly contribute its expertise.
With regard to the sustainable development of cities, IEC work is essential in many ways. For example by helping cities to reduce CO2 emissions through greater incorporation of renewables and distributed generation; through energy efficiency improvements that can be built into devices and systems; energy storage, microgrids, alternative modes of transport, etc. IEC work in all these areas aims to provide the technical foundation for real 'hands-on' sustainability improvements.
Lee
ITU shares the objective of the World Council on City Data to promote common approaches to how cities measure and record their progress towards smart city objectives. With ITU's focus on the ICT aspects of urban development and the UN Sustainable Development Goals, we see a complementary relationship between ITU's key performance indicators (KPIs) and ISO 37120.
ITU has developed three sets of KPIs for Smart Sustainable Cities. The first two sets of KPIs provide a framework to measure and report progress relevant to the ICT aspects of a smart city, in terms of the use of ICTs and the impact of ICTs on sustainability. A third set of ITU KPIs assists cities' efforts to measure their progress towards the achievement of the UN Sustainable Development Goals.
Where do you see the most innovative or exciting smart city solutions coming from?
Mujica
With cities driving the agenda, we can facilitate the exchange of expertise and best practices, stimulate discussions, and most importantly, help cities procure more cost-effective and reliable systems that meet their genuine needs.
The challenges will be endless, the repercussions as yet hard to anticipate, with many changes along the way. But the potential rewards for residents to enjoy a 'liveable' world full of 'liveable' cities are nothing short of ensuring a progressive future for humanity. Now, that's innovative!
Vreeswijk
This is a difficult question. We believe there is no single right solution that will fit all cities. Cities are vastly different and each requires and comes up with tailored solutions that meet its context, needs and resources. What we found is that all cities seem to have broad overall challenges in the area of energy and sustainability, mobility, security and privacy and the supply of clean water. Innovations will be very different in so-called green-field environments where everything can be built up from scratch or brown-fields where historic city infrastructure needs to be preserved. In all of these cases, cities that apply International Standards will find it easier to put in place solutions that are competitive and can be maintained in the long run.
Lee
Two cities ITU knows well are Dubai and Singapore, the first two cities to join the pilot project implementing ITU's KPIs for Smart Sustainable Cities. Singapore and Dubai have offered interesting case studies as two cities with strong institutional support for smart city innovation. They are among the few cities in the world able to experiment with untested solutions. This ability to act as 'testbeds' for smart city innovation, and their willingness to share the results, has made a key contribution to international efforts to promote smart cities.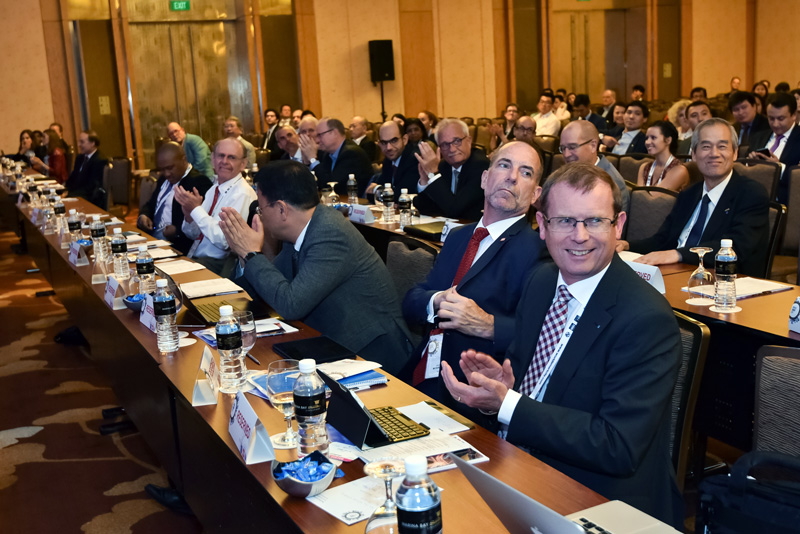 What have been some achievements from the group so far in relation to smart cities, and what initiatives can we expect to hear about over the next year?
Mujica
When it comes to smart cities, there are a number of key areas where we work together, but the highlight of our year was the World Smart City Forum held in Barcelona in November. The event gathered relevant city stakeholders globally and engaged them in value-added discussions and high-level networking. It helped to crystalise some pain points of smart city development, and explored how this can be accomplished by pointing to some of the tools that are already available to help cities reach their objective faster, more efficiently and with better outcomes.
Vreeswijk
We already mentioned the broad catalogue of standards that apply to smart cities. Additionally, in the aftermath of the World Smart City Forum, IEC, ISO and ITU have organised a meeting that brought together representatives of the major standards organisations as well as observers from 70 countries. The meeting helped increase transparency regarding the work of individual organizations and a committee was formed to agree on smart city terminology. In September we signed a letter of intent with ISO and ITU.
Rome was not built in a day; standardisation for smart cities is an ongoing process. Much is already available but many gaps still exist. The IEC, and I believe I can say also ISO and ITU, are committed to working together to provide all relevant standards and conformity assessment services that will help cities move to greater smartness.
Lee
ITU has been engaged in IoT standardisation for over ten years, delivering a range of standards to support the coordinated development of IoT technologies and applications. ITU-T Study Group 20 is supporting smart cities–a key application area for IoT technologies–with the development of standards that leverage IoT technologies to address key urban-development challenges.
The pilot project to implement the ITU KPIs for Smart Sustainable Cities ensures that ITU's refinement of these indicators is undertaken in view of a wide variety of cities' experiences with their implementation. The collaboration driven by the United for Smart Sustainable Cities Initiative has led over 50 cities to join the KPI pilot project and it is encouraging to see the strong momentum building in this project.