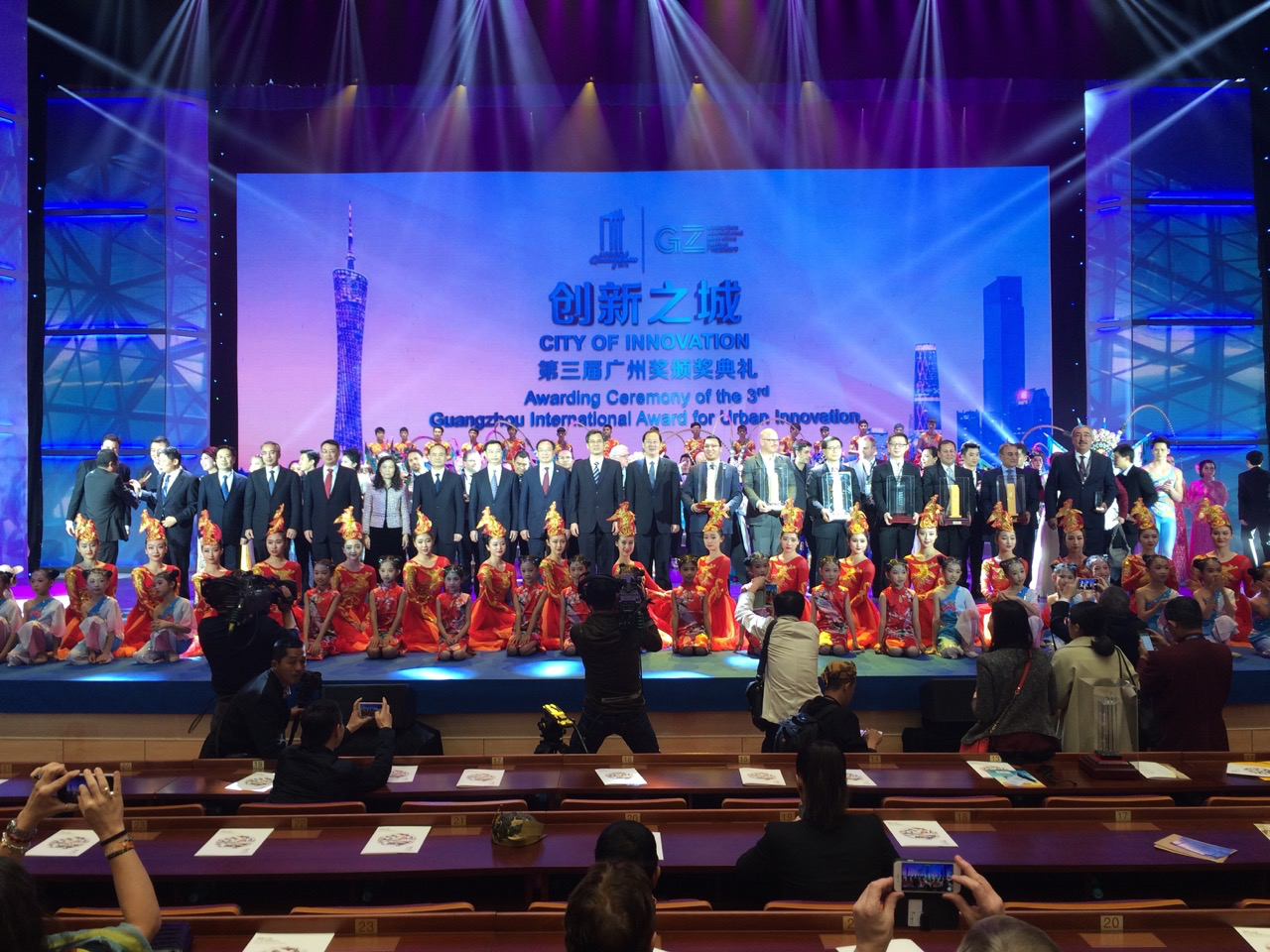 Urban initiatives around renewable energy, waste management, climate change, road safety and youth engagement were celebrated last night at the 2016 Guangzhou International Award for Urban Innovation. The winning cities were Songpa-gu (South Korea), Qalyubeya (Egypt), Copenhagen (Denmark), La Paz (Bolivia) and Boston (US),.
With more submissions in 2016 from cities than ever before, and no initiative from a Chinese city making the final 15, the Guangzhou awards has enhanced further its growing reputation for impartiality, equitability and openness.
The technical committee of the third Guangzhou awards reviewed 301 initiatives that were submitted from 171 cities across 59 countries. This represented a 60 percent increase on the second awards from 2014.
Monika Zimmermann, deputy secretary-general of ICLEI and chair of the technical committee of the 2016 Guangzhou awards, told Cities Today: "It was hard to not shortlist the other 285 submissions. They were all very interesting, and we know how much work went into them."
The technical committee met in Bogota between 11 and 14 October 2016, during the fifth UCLG World Congress, to select deserving and shortlisted initiatives. Of the submissions from 171 cities, 45 were identified as outstanding cities of which 15 were ultimately chosen to present their case to the jury in Guangzhou on 6 December.
The aim of the awards is to promote more worldwide awareness and participation in urban innovation in order to advance the prosperity and quality of life of city citizens.
Felip Roca, secretary general of Metropolis, a partner for the awards, told the audience that the awards were focused on bringing together policy and practice. "Urban innovation does not make any sense if it is not focused on reducing inequality," he said.
La Paz, capital of Bolivia, won the category for safe and accessible cities for its public awareness campaign on road safety.
Youth at risk are trained to become 'civic educators' and are paid a minimum wage disguised and role acting as zebras, in reference to zebra crossings.
The aim is to change both driver and pedestrian behaviour and to encourage both groups to obey traffics signs and rules. The outcome is both changing people's behaviour–resulting in less traffic congestion and accidents–and providing youth at risk with a unique opportunity to become active and responsible citizens
George Ferguson, the former Mayor of Bristol in the UK, former president of RIBA and a member of the judging panel, said: "Across the world, the freedom of the street has been stolen from us by the increasing domination of the motorcar. But the fight-back is beginning. The Zebra project is a wonderful example of how to deal with this challenge with humour and understanding."
Songpa-gu in South Korea was commended for its Solar Nanum power project, a public solar generation plant development that seeks to integrate issues of environmental sustainability and energy welfare. Local residents are not just users but co-producers of energy. The initiative is financed through a combination of city budget, local residents' donations and environmental/financial investment companies on a BOT public-private partnership model.
Celia Wade-Brown, the former Mayor of Wellington in New Zealand and a member of the judging panel, said of the winning project: "This deals with energy poverty and helps energy-poor households. It helps beyond the boundaries of South Korea and is already being replicated in other cities."
Boston in the US won for its programme for youth participation in budgetary planning which had been shortlisted at the previous edition of the awards; Copenhagen, capital of Denmark, was recognised for its work in building a climate-resilient neighbourhood in the St Kields district; and Qalyubeya, a governorate of greater Cairo in Egypt, was rewarded for its waste management programme integrating informal waste pickers.
The winning cities received a US$20,000 cheque and a special trophy whose design mimics the two Chinese characters that represent Guangzhou.
All of the 15 shortlisted cities will host study tours for others to attend in 2017 to enable them to learn more about the implementation of their respective initiatives.
Cecil Steward, FAIA, Dean Emeritus and Emeritus Professor of architecture and planning at the University of Nebraska College of Architecture in Lincoln, Nebraska in the US, said: "In times of political and environmental uncertainty, who would have recognised that this programme would become the epicentre of the sustainability of our world?"
---
The seven members of the jury were:
Alioune Badiane, president of The Urban Think Tank Africa, adviser to the president of UCLG, former director of UN-Habitat programme division
Silvio Barros, civil engineer and former Mayor of Maringá, Brazil
George Ferguson, former Mayor of Bristol, UK and former president of RIBA
Yu Keping, professor and Dean at School of Government, Peking University, China (chair)
Cecil Steward, FAIA, Dean Emeritus and Emeritus Professor of architecture and planning at the University of Nebraska College of Architecture in Lincoln, Nebraska, US
Celia Wade-Brown, former Mayor of Wellington, New Zealand
Beate Weber-Schuerholz, former Mayor of Heidelberg, Germany; former Member of the European Parliament (MEP); specialists in the special taskforce on ecological civilisation and urbanisation of the China Council for International Cooperation on Environment and Development (CCICED) (co-chair)
---