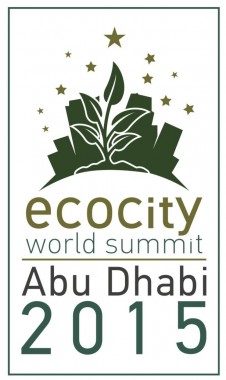 Ecocity World Summit (ECWS) 2015, scheduled to take place in Abu Dhabi from 11 to 13 October 2015, will tackle issues around building ecocities in challenging environments. The three-day event will gather leading experts and registrants from around the world to be part of the summit's programme.
Discussions at ECWS will be held within the key themes of urban design for liveability and resilience; urban systems, footprints, and metabolism; social systems that facilitate ecocities and cities in balance with nature.
The summit will welcome speeches from visionary leaders including Liew Choon Boon, Chief Executive Officer Sino-Singapore Tianjin Eco-City Investment and Development Co.; Dr. Dieter Salomon, Mayor of Freiburg – also known as "Green City Freiburg"; Ronan Dantec, Senator of Loire Valley in France; and Salim Rouhana, Urban and Regional Development Specialist at The World Bank, as well as other international experts. Also among the wide array of speakers are: H.E. Reem Al Hashmi, Managing Director of Expo 2020 Higher Committee and Minister of State for the UAE, and H.E. Fahad Saeed Raqabani, Director General of Abu Dhabi Council for Economic Development, as well as other local experts.
The summit's programme includes workshops, case study presentations, roundtable discussions, debates, and academic panels that will cover key environmental sustainability topics. Ecocity Builders, owners of the conference series, will co-sponsor some special workshops during the three-day event including the Sustainable Urban Indicators and Frameworks Symposium and the City Form and Resource Flows Workshop.
Ecocity World Summit 2015, the longest running international conference series on sustainable cities, will gather over 1,500 registrants from 100 countries, as well as roughly 70 leading local and international speakers. Early bird registration at the summit is possible until 30 June.
To learn more, please visit: http://www.ecocityworldsummit.com/register