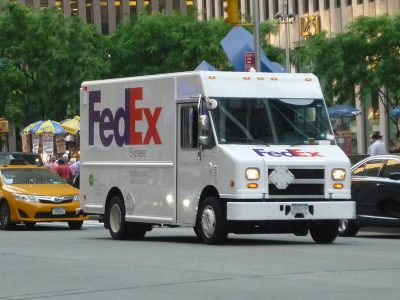 Photo: Jason Lawrence (Flickr)
Coord's Digital Curb Challenge tackles variable pricing, automated booking and more
29 January 2021
by Christopher Carey
Kerb management start-up Coord has announced the launch of its second annual Digital Curb Challenge: the Bounce Back Better Edition.
The company is urging cities and organisations across North America to apply to undertake a free pilot programme, with those selected gaining free access to Coord's full suite of kerb management tools for the duration of the partnership and the opportunity to work closely with the start-up's experts to develop a scalable pilot programme for 2021.
"Smart Zones are very inexpensive to implement, but can improve safety and access for pedestrians, cyclists and drivers to local businesses," said Dawn Miller, Vice President of Policy and Partnerships at Coord.
"Because fleets pay to use Smart Zones, they actually generate new avenues for revenue along with mobility benefits. We have already seen successes in cities like Omaha, NE and Aspen, CO following our inaugural Digital Curb Challenge, and we look forward to partnering with new cities as they look to bounce back better."
The opportunity comes as cities and businesses have seen huge transformation over the past year amid the COVID-19 crisis, with demand and supply for kerb space shifting dramatically due to the increase in e-commerce and drop in commuter numbers.
2020 winners
In July, Coord announced the winners of its first Digital Curb Challenge, partnering with Aspen, Nashville, Omaha and West Palm Beach to design and deploy 'Smart Zone' programmes to better manage commercial loading in their cities.
More than 30 fleets, including a mix of local and regional businesses and national brands such as US Foods, FedEx, Frito Lay, Sysco and UNFI, are already using the zones in these cities.
This year, Coord is looking for cities to expand on this by exploring one or more of the following features:
Variable pricing to use different pricing for different times of day or different Smart Zones. This can help manage demand and improve availability for drivers, shifting more loading activity to times when it works well for the neighborhood (e.g. early mornings or overnight) or across more zones.
Exploring greater automation, booking drivers automatically into the best available Smart Zone near their destinations.
Deploying Smart Zones in public spaces beyond the kerb, such as alleyways.
Exploring Smart Zones for recurring or predictable uses of public space, such as charter buses, intercity buses or mobile vending.
Applying Smart Zones in a unique neighborhood, downtown or other commercial setting.
New ideas from cities to address unique and pressing local challenges.
North American municipalities with populations of over 100,000 are eligible to apply, as well as larger private or non-profit institutions that manage and have authority over kerb space, such as universities, airports, private developments, health systems and conference centres.
Applications can be submitted at coord.com/digital-curb-challenge and are open until February 15, 2021.
Image: Jason Lawrence (Flickr)