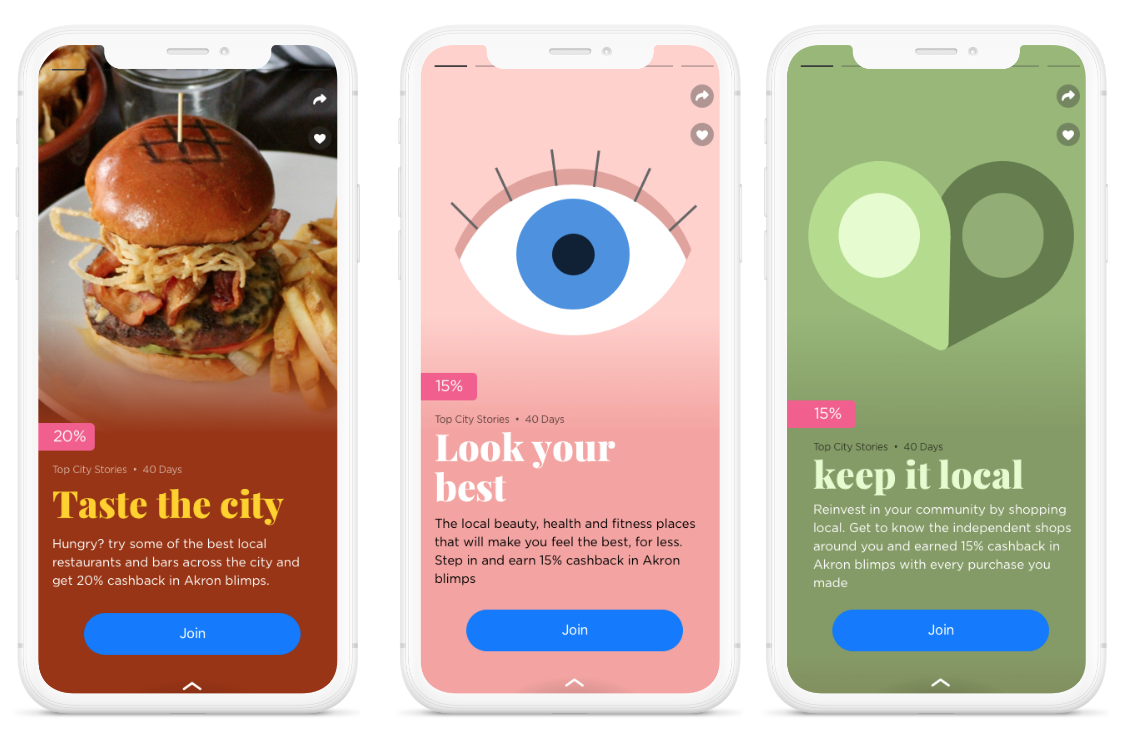 Photo: City of Akron
Digital coins issued by City of Akron to assist economic recovery
18 June 2020
by Sarah Wray
The US city of Akron in Ohio is encouraging residents to shop local through the use of a digital 'city coin' to help boost economic recovery in the wake of the coronavirus pandemic.
Akron is working with start-up Colu on an app that rewards community spending with digital city coins that are redeemable at participating businesses.
"Our locally owned small businesses are facing enormous challenges and we need out-of-the-box ideas that safely connect them to consumers and turn local spending into a source of pride for residents," said Akron Mayor, Dan Horrigan. "Our partnership with Colu will enable the city to reward customers for shopping local, improving revenues for our small businesses while helping folks stretch their dollars."
The app also allows residents to track their local impact and learn more about the city and the businesses within it.  Companies get additional no-cost incentives to drive customers to their stores and they can market direct to consumers inexpensively.
The project is Colu's first collaboration with an American city.
"Colu is proud to work with the City of Akron to help business owners solve the unprecedented challenges brought about by the pandemic and our changing economy," said Colu CEO and Founder, Amos Meiri.
Colu also works with Haifa and Tel Aviv. It did have operations in Belfast and Liverpool but these programmes are no longer in effect. Of the initiative in Liverpool, which ceased in January, the company said: "We couldn't transform the Liverpool community model to the municipality-supported city model that we have been applying elsewhere and is at the focus of our business."
Funding the programme
James Hardy, Deputy Mayor for Integrated Development, City of Akron, told Cities Today: "We felt that the pandemic's impact on our local economy and consumer confidence demanded that we be more experimental in our recovery approach.  An app is never a 'silver bullet', but things like our partnership with Colu can be a useful tool in the recovery toolbox."
The City is providing an initial US$30,000 and Colu will put in $10,000 for the launch rewards budget.
"The City will be seeking corporate and philanthropic partners on future rewards budgets. We anticipate the City will continue to support the app financially but the goal is to monetise opportunities for marketing and storytelling within the app," Hardy explained.
The app will launch in two areas of Akron in July and could be scaled city-wide if the initiative is successful.
"Starting with two neighbourhoods provides us the opportunity to on-board businesses in a personal way," Hardy said. "We plan to utilise all the City's media channels to get the word out, including putting an insert within our utility bills."
Several cities are experimenting with rewarding citizens for taking actions in line with municipal goals. Earlier this year, Vienna began offering free museum and concert tickets to reward people who ditch their car for more sustainable modes of transport. The system is managed via a Culture Token app.
Lessons from Tel Aviv
Last year, the Colu app was credited with helping local businesses in Tel Aviv bounce back after a controversial light rail construction project impacted their footfall.
Further, a spokesperson for Colu told Cities Today that for a two-week period at the end of March this year in Tel Aviv (the first two weeks of COVID-19 restrictions there), a campaign which rewarded users an equivalent of US$10 upon completion of four different purchases at local businesses saw more than 4,000 users sign up through Colu's Tel Aviv app. Local business revenue generated by this campaign was more than US$150,000 and owners of local businesses that took part in the campaign reported that the revenue generated during these two weeks with Colu amounted to approximately 30 percent of their overall income.
"We understand cities are facing unprecedented economic challenges but investment in local businesses, combined with a new level of engagement with your community, can shore up the business tax base and thereby generate an impressive return," the Colu spokesperson said.