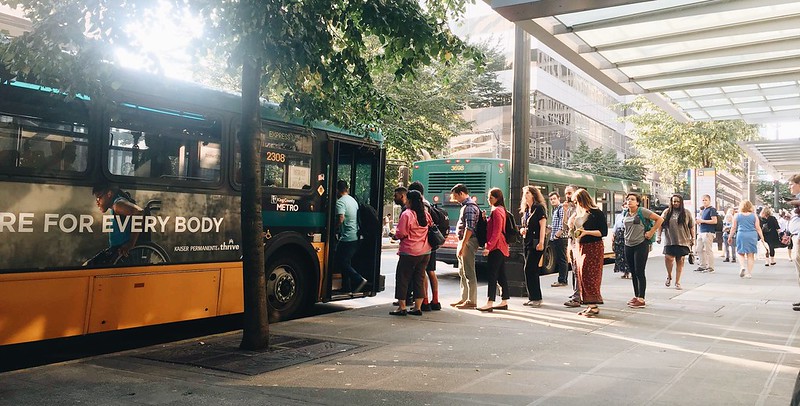 Photo: SDOT Photos
Can public-private collaboration boost transport equity?
01 July 2021
by Christopher Carey
Equity and the barriers facing residents from lower-income communities have been hot-button topics for city transport leaders over the past year.
With the pandemic highlighting that many essential workers – often on low wages – are the same people who rely on public transport, providing access is not just a should, but a must.
At a recent Cities Today digital roundtable, transport leaders discussed how cities can incorporate a more inclusive mindset when looking at the services they provide, and how the private sector can also help in achieving this goal.
Jordan Davis, Executive Director, Smart Columbus, said: "One of the complications with fixed transit – especially in more sprawling metros like ours that don't have fixed transit as an anchor for growth – is that you have places you want to go that you can't serve on a fixed-route system.
"At some point you have to stop and think: 'What can the modern transit system be?'"
Columbus recently concluded the US Department of Transportation's Smart City Challenge – which has seen it roll out a series of flexible mobility innovations over the past five years, aiming to better connect residents and improve equity across the city .
Increased cooperation
The need for a more flexible approach has come to the fore during the pandemic, with cities finding that fixed-route services and timetables – initially designed for white collar 'peak hour' workers – have become increasingly redundant.
Jason Lawrence, Senior Transportation Planner, Charlotte Area Transit System, said: "I think we can expand our vision of transport, with regards to improving equity.
"Cities must consider integration with other mobility providers and modes, and stop thinking about transit as only bus and rail."
The abundance of new mobility modes which have grown rapidly over the past five years, from e-scooters to ride-sharing, means cities can adopt an à la carte approach, and incorporate what does – or doesn't – work best for them.
Imogen Pierce, Head of City Engagement and Integration, Arrival, said: "We're starting to see a fundamental shift where public transport operators are not viewing other modes of transport as competitors, but more as critical elements of the overall transport system that they need to work closely with."
This shift in mindset is evident when looking at the number of municipal-led e-scooter schemes that have popped up across North American cities, and keeping equity in the frame is something private sector companies have realised is crucial for keeping this cooperation on track.
"We're trying to enable new solutions, making sure customers have improved access and helping the transport ecosystem in this transition," said Athreya Sreenivasan, Transportation Solutions Specialist, Verizon.
"As we look at more equitable transportation, having the public in mind is critical."
Image: SDOT Photos