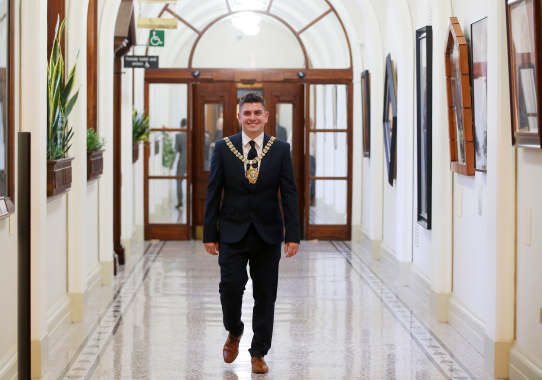 Belfast Council's City Innovation Team has launched the COVID Connect NI website which matches local businesses that have digital innovation tools and expertise with public, community and voluntary organisations across Northern Ireland that need help tackling COVID-19.
The site, which also provides information on COVID-19 funding opportunities and online events and  resources to help with data-driven projects, is managed by the city's Innovation Team as part of the Smart Belfast programme.
Examples of solutions which could be offered and requested include data analytics and visualisation, support for remote working and learning, 3D printing, software and database development, contact relationship management, web services, connectivity/telecoms support, project management, and support for social distancing and contact tracing.
Belfast Lord Mayor, Councillor Daniel Baker, said: "The idea came about because we were receiving fantastic offers of help from our innovator community and lots of calls for help from those delivering key services during this crisis. Organisations are feeling the strain at the moment and, for some problems, digital can provide them with a solution.
"Belfast has a wealth of digital know-how, so it made perfect sense to match businesses with organisations across the region. Where possible, we hope that support can be offered on a pro-bono or discounted basis," he added.
On board
Organisations including EY, All State, Amazon Web Services, Analytics Engines, BT, Deloitte, Digital Catapult NI, Farset Labs, KPMG, Microsoft, PwC and Salesforce have already pledged support.
Seamus McAleavey, chief executive of NICVA, the umbrella body of the region's voluntary and community sector, welcomed the initiative, commenting: "It's a challenging time for the voluntary and community sector who are in many ways at the forefront of the response to the COVID crisis. As organisations work through the process of adapting how they operate, this kind of specialist support from experts is a timely initiative. Organisations that have developed a clear sense of how a digital solution will help meet their challenge will be able to seek help on the platform."
The COVID Connect NI service is based on software developed by Belfast company Xpand. The firm had already been working with Belfast City Council's City Innovation Team on an SME engagement and market analysis platform.
Platform models
Matchmaking platforms have been an important aspect of cities' COVID-19 response to connect supply and demand. Cities Today recently reported, for example, how the City of Tel Aviv worked with start-ups and app providers to quickly match volunteers with vulnerable people needing support.
The crisis has also seen an increase in councils and organisations putting calls out for specific challenges to help find solutions faster and direct private-sector efforts. Tel Aviv ran a hackathon for solutions to help support local companies, assist vulnerable people, prevent crowds from gathering and ensure businesses' compliance with COVID-19 restrictions. The UK's NHS digital transformation unit NHSX and govtech accelerator PUBLIC launched the TechForce19 rapid tech challenge to find tools and ideas to combat the effects of social isolation during COVID-19 lockdowns.