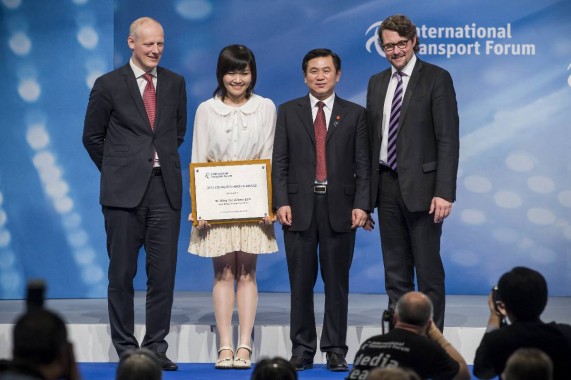 A prize of €5,000 and an invitation to the Annual Summit of Transport Ministers in Leipzig, Germany on 22-24 May 2013 awaits the winner of the 2013 Young Researcher of the Year Award, offered by the International Transport Forum (ITF) at the OECD, for the best paper analysing interlinkages between financial needs and specific projects in the transport sector.
"ITF's Young Researcher of the Year Award is about highlighting talent in the transport research community," said Michael Kloth, Head of Communications at the International Transport Forum. "More precisely, it is about motivating and supporting talented researchers that care about the link between theory and practice, between analysis of problems we face and specific policies we can implement to solve them."
The Young Researcher of the Year Award, backed by 54 countries, aims to encourage and reward creative reflection and analysis by young academics under 35 years of age that are investigating the major contribution of transport to the well-being of the world's societies and their proper functioning.
The 2012 winner, Wing Yee (Winnie) Lam, a Chinese national, was honoured for  developing a walkability audit as an assessment tool to evaluate the walking environment in urban areas. The tool has clear, yet flexible, criteria to adapt to diverse cultures and geography and can therefore be used globally and in different environments. As a test, the audit was applied to the pedestrian environment surrounding three health centres for the elderly in Hong Kong. The results showed that policy has given priority to pedestrian safety while neglecting aspects such as pedestrian comfort and convenience.
"The jury found that such a walkability audit will be a great help for the strategic planning of pedestrian-friendly urban environment and hence more sustainable urban transport," said Cloth. "The Award brought Lam's work to the attention of transport experts and planners around the world."
The 2011 winner, Jonn Axsen, embarked on an academic career, helped by the recognition received from the global transport community. He is currently an Assistant Professor at the School of Resource and Environmental Management at Simon Fraser University in Vancouver, Canada. Axsen called it "deeply inspiring and validating" to see his research recognised as important by ministers of transport from around the world. (To view a video interview with Jonn Axsen, see below).
The deadline for submissions is Friday, 15 February 2013. For more information, including the application form, visit the International Transport Forum website at www.internationaltransportforum.org/2013, or contact Michel Violland (michel.violland@oecd.org).