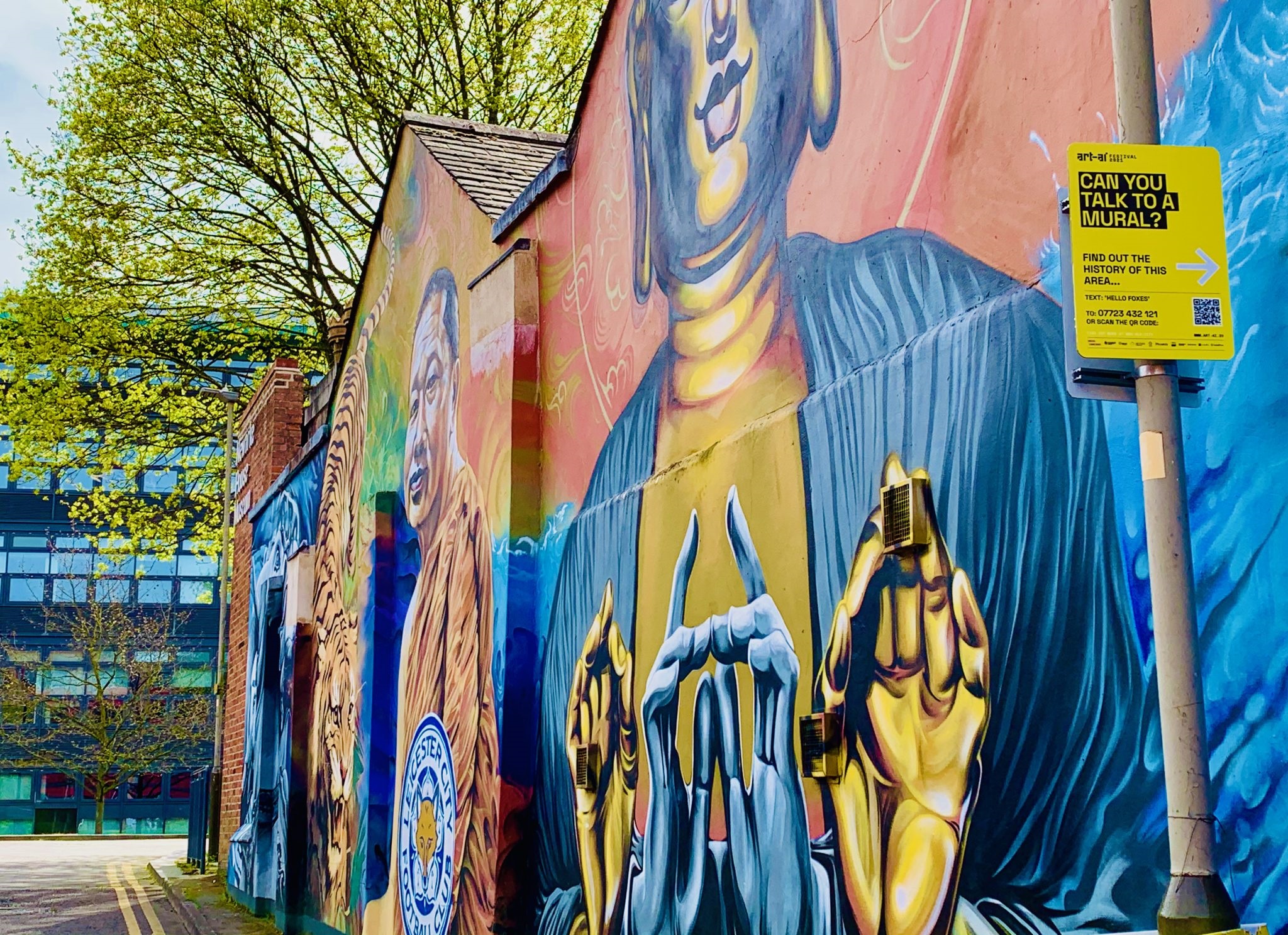 As part of the Leicester Art AI festival, people are being encouraged to interact with local landmarks such as statues, sculptures and murals via an artificial intelligence (AI) chatbot.
The installation, which uses technology from UK start-up Hello Lamp Post, aims to help citizens learn more about their city and its history as well as provide feedback on the city centre and their opinions about AI.
The system has been programmed with data about 16 points of interest in Leicester, including the War Memorial, the King Richard III, Gandhi, and Alice Hawkins statues, and the Lion Fountain. Signage directs residents to start a conversation via text message. They receive an automated reply and can keep chatting to learn more, ask questions and provide responses.
Tracy Harwood, Art AI Festival Director and Professor of Digital Culture at the Institute of Creative Technologies, De Montfort University, Leicester, told Cities Today: "A chatbot is an obvious mode of interacting with citizens and Hello Lamp Post is an interesting way to explore – city-wide – how citizens can be engaged through creative applications of AI, and we're all very interested to see what emerges from the conversations people have with it."
AI inspiration
The installation was commissioned independently by the festival organisers but anonymised data of responses to chats at each point of interest will be shared with Leicester City Council, which is one of the festival's funders.
"From the city's perspective, the interest is to find out more about how citizens feel about the town centre environment with a view to supporting development of local infrastructure and tourism in general," Harwood said.
The festival, which is in its third year, runs from May to October. Other artworks include Elvis by Libby Heaney, which demonstrates the use of AI in creating a 'deepfake'.
Harwood commented: "Our ultimate goal, through the festival, is to enhance and inspire citizens to find out more about the potential of AI in general through the fun and creative applications represented by our artists, many of whom are working at the boundaries of what is possible with AI today."
Hello Lamp Post has been deployed in over 25 cities around the world, including Vancouver, Singapore, London, Malmo, Belfast and Sydney. The tool can be used for community engagement, wayfinding, public consultation and tourism initiatives.