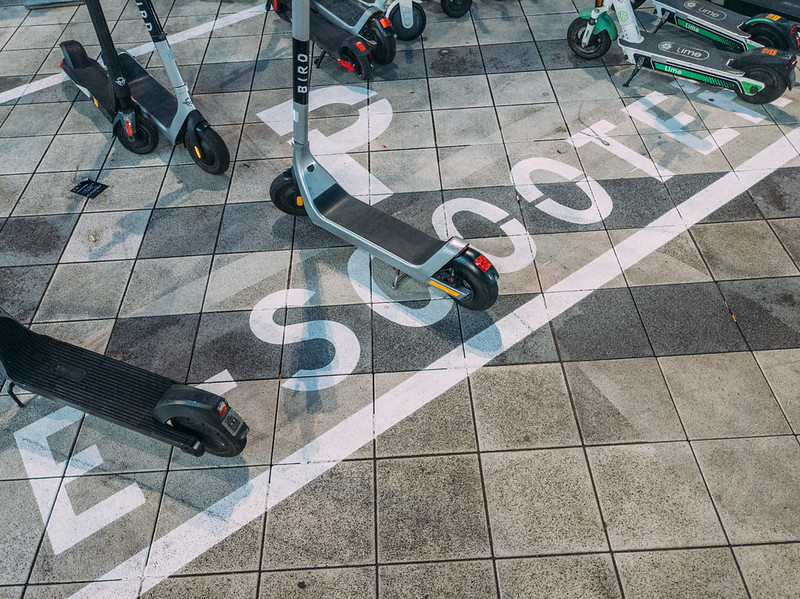 Photo: Ivan Radic (Flickr)
Voi introduces fines for poor e-scooter parking
26 April 2021
by Christopher Carey
Micromobility operator Voi is rolling out a new app feature to encourage e-scooter users in the UK to park correctly or risk a £25 (US$35) fine.
The 'end of ride photo' feature requires users to submit a photo of their scooter after each ride, to ensure they are parked in a safe and appropriate manner.
Those who leave e-scooters lying on the ground or parked obstructing the pavement will receive an email containing a warning and an educational message.
If the reckless parking is deemed serious, a £25 fine will be issued for a first-time offence. In all other cases the rider will first receive a warning, and only be fined if they park incorrectly a second time.
Paula Santos, Senior PR Manager, Voi, told Cities Today: "We don't want to police people, our role is to make sure that everyone has the best possible experience. This is just a way for us to ensure that people are aware."
Voi currently operates in 18 cities across the UK as part of the government's e-scooter trial scheme introduced last summer.
In March the firm apologised after a number of complaints were made about pavements being blocked in Bristol, forcing pedestrians into the road.
Complaints were made by residents as well as groups representing the blind and elderly, who raised concerns about access.
Transparency
Money collected from fines goes to Voi rather than local councils, and the company would not confirm the number of penalties it has issued in the UK to date.
It insists, though, that fines are issued only as a last resort, and in most cases users receive a warning first and are only fined for a second offence.
Current government guidance  on the e-scooter trials does not reference rules or procedures for improperly parked devices, and fines are at the discretion of operators.
Rules regarding e-scooter parking vary across the UK, with some cities, including Bristol, requiring designated parking zones for e-scooters.
In Northampton, Voi operates a 'free-floating' model, where riders can leave e-scooters anywhere (provided they are not blocking access), but also has an incentive scheme where riders can earn credits for parking in designated 'zones'. Credits can then be used to access free e-scooter rides.
Besides the no-park, incentivised or mandatory parking areas created through geofencing technology, Voi claims it was the first company to install e-scooter parking racks in the UK.
Currently, the parking racks can be found in Northampton, Southampton and Portsmouth, and the operator has plans to install more in other cities where it has trials this spring and summer.
Image: Ivan Radic (Flickr)