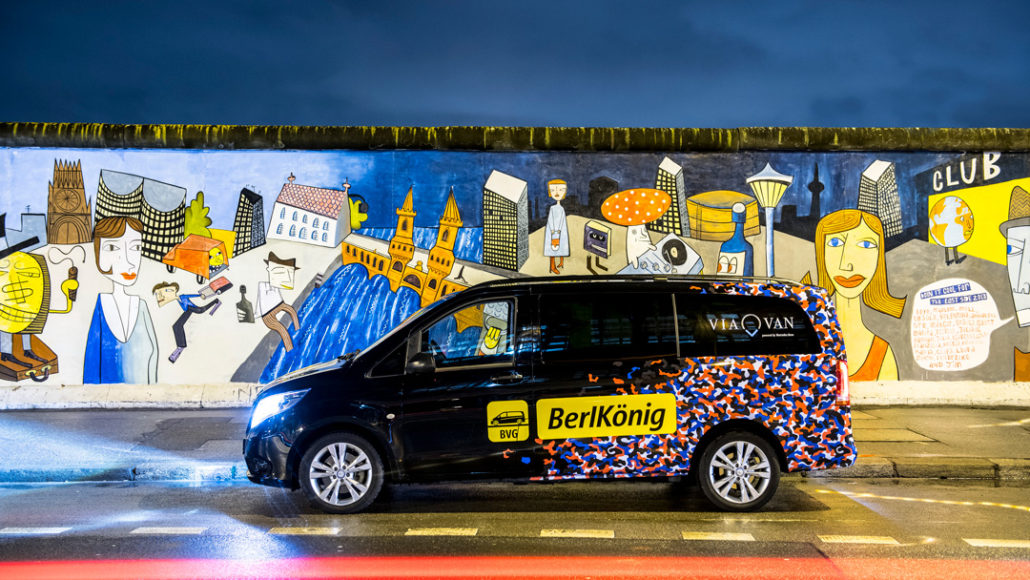 ViaVan has partnered with Berlin's public transit operator BVG to offer free on-demand ride-share services to essential healthcare workers in response to the coronavirus (COVID-19) pandemic.
From 25 March to 19 April the company will suspend its regular BerlKönig ride-share service and focus exclusively on the new scheme, which will operate between 9pm and 5.30am.
Rides will be limited to three passengers per vehicle to allow for proper social distancing, and workers will need to provide their healthcare ID to use the service.
"Getting critical staff to work reliably and safely has never been more important," said Chris Snyder, Chief Executive, Viavan. "Digitally-enabled transport services like this can play a key role in allowing public transport to adapt to demand amidst rapidly changing situations."
The service follows similar schemes rolled out by mobility providers across Europe and North America in past weeks to help communities as the pandemic grows.
In the US, ride-share firm Lyft says it will deliver critical medical supplies to the elderly and those living with chronic diseases through its LyftUp initiative.
The company is also working with its community partners to expand access to free rides to supermarkets for vulnerable people, and is coordinating with several Medicaid agencies to get people to critical medical appointments.
Uber is waiving the delivery fee for over 100,000 independent restaurants across the US and Canada using its Uber Eats service, as well as committing to provide 300,000 free meals to first responders and healthcare workers in the coming weeks.
Like most mobility providers, Uber has seen a huge drop in ridership as a result of the pandemic. Its bookings in Seattle–one of hardest hit US cities–are down by almost 70 percent, with similar declines expected in other major cities.
Both Uber and Lyft suspended their carpooling services last week to help slow the spread of the virus.
On Monday, Uber CEO Dara Khosrowshahi wrote to President Donald Trump requesting financial aid for drivers affected by the coronavirus outbreak.
Uber has said it will provide financial compensation to drivers who have contracted the virus, but it is unclear whether drivers in precautionary self isolation will receive any.
"I respectfully and urgently request that the economic stimulus you are considering, along with any other future legislative measures in response to COVID-19, include protections and benefits for independent workers, not just employees," Khosrowshahi said in the letter.
Ride-hailing firms have faced criticism for classifying their drivers as 'independent contractors', which means they are not entitled to unemployment insurance, paid sick leave, medical benefits or workers' compensation–an issue that has become more pressing as a result of the epidemic.
San Francisco lawmakers are set to pass a resolution accusing Uber and Lyft of illegally misclassifying their workers as contractors, and will urge city and state officials to take the companies to court.
During a press conference on Tuesday the resolution's author, Supervisor Gordon Mar said: "Denying work rights during a public health crisis is illegal, immoral and we will not stand for it."