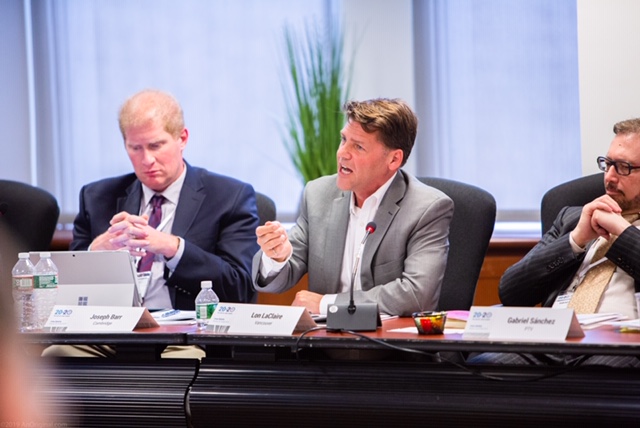 Christopher Carey spoke with Lon LaClaire, Director of Transportation, City of Vancouver, on the sidelines of the 20-20 Cities Urban Mobility meeting in Boston.
What are the main mobility challenges facing Vancouver?
Number one would be transit capacity, expanding the transit system to actually meet the need for the growth of the system, and of course, funding this.
Parking remains a huge issue for cities across North America, how is Vancouver dealing with this?
I feel like we have a good handle on parking. The last couple of reports we brought forward have really corrected a lot of issues that we had ignored for too long, largely around under-priced parking—both in residential permit zones in high density areas and with meters on individual blocks.
In one neighbourhood where the streets were chronically over-parked, we did a survey and found that there were actually 8,000 unused spaces in the buildings themselves. People had a parking spot assigned to them, but they would take the spot on the street because it was more convenient. We brought in a charge of C$1 an hour, that's all it took, and suddenly it all freed up. When you manage it well, there's always space available.
As we are shifting towards sustainable modes [of transport] so quickly, we are actually finding we have a really big over-supply of parking in parts.
Are there any developments on ride-sharing services like Uber and Lyft coming to Vancouver?
It's not a city decision, it's a provincial decision. [British Columbia] has been promising a change in legislation so that they would be permitted. The existing legislation for ride-hailing services has been there for the last 50 years, and while it doesn't say they can't operate, it inherently restricts them since it requires their minimum charge to be C$50 [US$37]. It was originally aimed at limousines, where you are allowed to pick people up spontaneously, but only with the minimum charge. Taxi regulation is a different area.
But there has been a lot of discussion, and because it's been such a slow process, there has been a lot of opportunities to learn from other cities. This gives us the chance to avoid the negatives. The only thing that's really unknown, is what kind of controls they [the province] will bring in, and whether it will end up being profitable for them [ride-hailing services] in the end.
They have talked about having drivers needing a class-4 driving licence, which is something most people don't have, they need to go for additional training. So if they made this a requirement, would it be viable? Companies might not be interested because people might not bother to go through all the extra training. There could be too many strings attached. It will be interesting to see what the province does, and then how the market responds.
What will you take away from this meeting?
I think it was great to hear from companies operating in the transport and tech field, because that space is changing so much and we have had the explosion of the shared economy that is impacting transportation, and all sectors really, and that's a phenomenon in itself which is transforming cities.