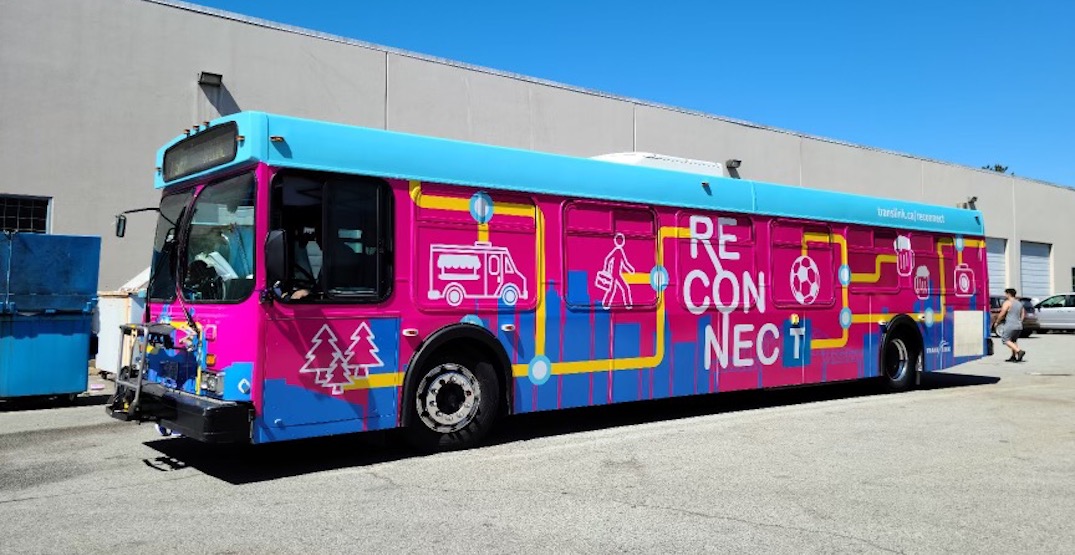 Photo: TransLink
Vancouver offers leisure discounts to boost public transit use
09 July 2021
by Christopher Carey
Vancouver's public transit agency TransLink has partnered with Destination Vancouver to launch a summer campaign to increase ridership by offering discounts at hundreds of local leisure and tourist spots.
The Reconnect Campaign will encourage customers to use transit to explore Metro Vancouver, with the agency boosting service to popular locations and adding an interactive map on its website to help customers plan trips.
TransLink customers can use a promo code on viator.com for a 25 percent discount on hundreds of local tours, sightseeing attractions and adventure destinations.
"With restrictions easing, now is the time to get out and use transit to rediscover our cities and reconnect with the people and places we love," said Steve Vanagas, TransLink VP, Communications, Marketing, and Public Affairs.
"This summer's campaign is the first of our efforts to encourage our customers to rediscover their transit system — it's affordable, it's convenient and it will connect you and your family and friends to everywhere you might want to visit in our region."
As part of the campaign, a brightly coloured Reconnect Bus will tour popular locations to highlight how the agency is keeping its buses safe during the pandemic, including how ventilation works on vehicles.
Customers can track the location of the bus through its @TransLinkNews Twitter account.
Bike Lockers
Last month the agency installed new bike storage facilities at two Metro Vancouver transit hubs as part of On-Demand Bike Parking Pilot, which aims to provide customers with more convenient bike parking options. In total, 71 bike lockers will be installed at six locations.
The solar-powered lockers and racks will feature keyless entry and mobile payment, with riders able to access and pay through the Bikeep app without needing to book in advance.
Today we're launching smart bike lockers at transit hubs to give you more convenient and flexible bike parking options when taking transit.🚴‍♀️🚴‍♂️

Here's how to use them: pic.twitter.com/OXGdBvJlCD

— News from TransLink (@TransLinkNews) June 18, 2021
"This initiative is part of our goal to make it easier for people to combine cycling and transit into their everyday travel," said Jeffrey Busby, TransLink's acting Vice President of Engineering.
"Introducing this state-of-the-art technology to our transit system will give customers another convenient place to store their bike and make it even easier to use green transportation in Metro Vancouver."
The lockers will cost C$0.10 (US$0.08) per hour capped, at C$1 per day, and C$10 (US$8.10) for an unlimited monthly subscription.
Image: TransLink