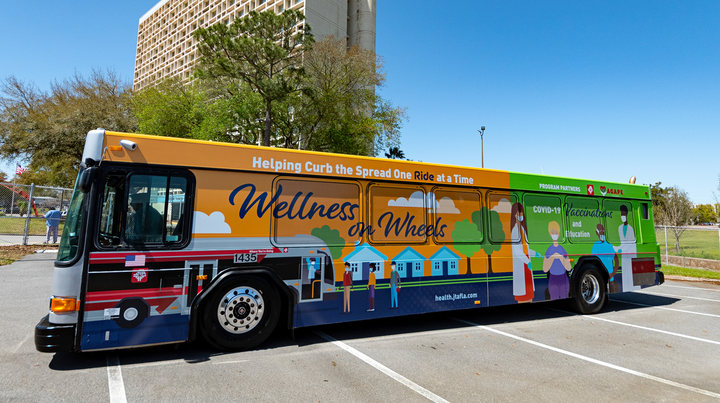 Photo: Jacksonville Transportation Authority
US transit agencies get creative to support vaccine effort
10 June 2021
by Christopher Carey
Over 350 transit agencies across the US are providing free transportation to vaccination centres or allowing their stations and facilities to be used as COVID-19 vaccine sites, according to the US Department of Transportation's Federal Transit Administration (FTA).
Earlier this week, Transportation Secretary Pete Buttigieg paid tribute to their efforts, and urged others to join in the vaccination drive.
"Getting vaccinated is the best way to defeat this virus and resume being able to gather safely with our friends and loved ones," said Buttigieg.
"We are grateful for the service and creativity of transit agencies across the country that are providing access to vaccines and encourage every state, county and city to do the same during our Month of Action."
Month of Action
In early March, President Biden signed the American Rescue Plan, providing over US$30 billion to support transit agencies as they continue to provide critical transportation services, including getting people to vaccination appointments.
The President wants 70 percent of adults to have at least one coronavirus vaccine dose by July 4, and has announced a national "month of action" to speed up efforts.
Incentives on offer include: tax credits for employers; paid time off and free childcare for parents and caregivers getting the vaccine; complimentary trips to and from appointments; and even free beer.
Currently, 63 percent of adult Americans have received at least one shot, and 52 percent are fully vaccinated.
Improving access
Some cities have taken unconventional approaches to bolster efforts, including the conversion of buses and other transit vehicles into mobile clinics.
In Florida, the Jacksonville Transportation Authority (JTA) partnered with Agape Family Health to launch "Wheels to Wellness," – a mobile vaccination clinic using transit buses in areas with low vaccination rates.
Ohio's Rides for Community Immunity programme is providing US$7 million to 88 counties to fund free vaccine trips, with The Ohio Department of Transportation (ODOT) directly funding transit agencies in 70 counties.
Speaking at its launch, ODOT Director Jack Marchbanks said: "Transportation should not be a hurdle to any eligible Ohioan who wants to be vaccinated. We're doing everything we can to make sure that access is available to all Ohioans, not just those with a vehicle or that live near a vaccination site."
Image: Jacksonville Transportation Authority