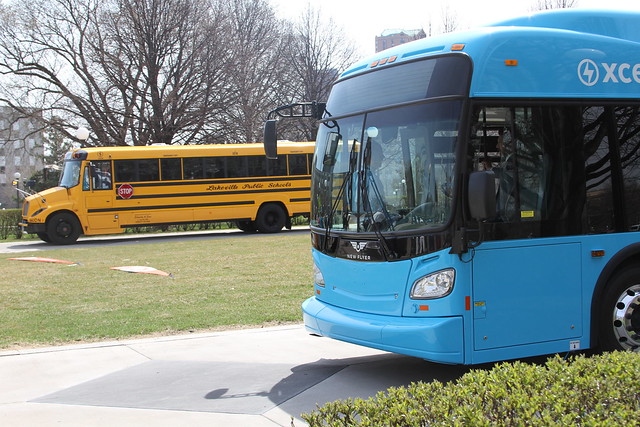 A major joint procurement initiative will see over 140 US cities and counties pool their resources to buy 2,100 electric vehicles by the end of 2020.
The Climate Mayors Electric Vehicle Purchasing Collaborative outlined its plans at the Climate Mayors Summit in Honolulu, Hawaii.
The group, formed in September 2018, aims to leverage the buying power of member cities to negotiate better fleet vehicle purchases.
Eric Garcetti, Mayor of Los Angeles and Climate Mayors Co-Chair said: "The clean transportation revolution is not a distant vision for the far-off future—it's a reality hitting the streets of Los Angeles and cities around the world.
"By pooling our purchasing power, Climate Mayors are sending a powerful message to the global car market: if you build electric vehicles, we will buy them."
In addition to replacing city fleets with zero emission transport, the group also announced plans to place a competitive bid on electric school buses by the end of 2019, which will enable all electric school bus manufacturers to offer public schools across the US access to equal, competitive prices.
In 2018 Garcetti announced the launch of the collaborative, which created an online portal providing cities with a single, equal price for electric vehicles and charging infrastructure by aggregating the demand from cities and other public agencies. The number of cities involved has grown more than fivefold since the initial announcement to more than 127 cities and 15 counties from across 38 states.
The platform was developed in partnership with the Electrification Coalition, a nonpartisan, not-for-profit group of business leaders who promote the deployment of electric vehicles on a mass scale to counter US dependence on oil.
Ben Prochazka, Vice President, Electrification Coalition said: "Cities across the country are demonstrating critical leadership by committing to transition their fleets to electrification–reducing our dependence on oil, while also improving our nation's health, and our economic and national security.
He added that he hopes other mayors around the country will see the move as a call to action to "plug their fleets" into Climate Mayors EV Purchasing Collaborative.
Transport is the largest and fastest-growing source of US greenhouse gas emissions, accounting for 29 percent of all emissions in 2017.
Despite the US president's announcement of a withdrawal from the Paris Climate Agreement in 2017, the mayors of over 400 US cities covering 70 million people reaffirmed their commitment the following year, stating: "We will adopt, honour, and uphold the commitments to the goals enshrined in the Paris Agreement, [and] will intensify efforts to meet each of our cities' current climate goals."