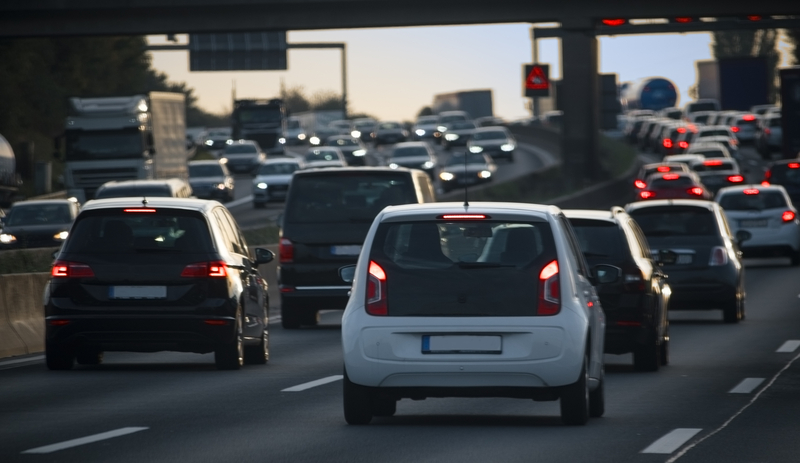 New analysis of anonymised location data casts doubt on US cities' hopes of avoiding a car-led recovery.
The report from transport analytics company StreetLight Data shows that while the number of vehicle miles travelled (VMT) in February 2021 was still 12 percent below the previous year, by March 2021 it rose to nearly two percent above the February 2020 pre-pandemic baseline.
The research finds that 37 states saw an increase in March 2021 VMT compared to February 2020, while only 12 states were still below the February average daily VMT.
This came after an unprecedented pandemic-induced 40.2 percent VMT drop in April 2020, compared to 2019, followed by volatility throughout the year.
"Although states varied their reopening policies and timelines, the one-year mark denoted a clear 'return to normal' for the US overall," the report states.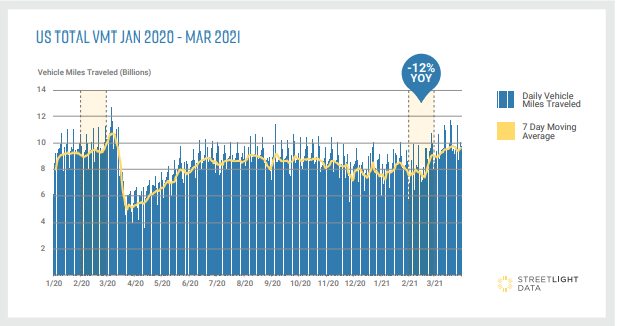 Rush afternoon
Not all patterns are returning to the pre-pandemic status quo yet, but there are signs that they could.
StreetLight Data's August 2020 analysis of hourly travel in Chicago, Los Angeles, San Francisco, Washington and New York revealed the disappearance of the morning rush hour. Instead of the typical sharp morning peak travel, followed by a drop and then an afternoon peak, data showed weekday traffic building gradually toward a more sustained afternoon high.
This "rush afternoon" pattern has broadly held in the latest analysis. However, there are exceptions in the Florida cities of Tampa and Orlando, which were already returning to a more traditional daily traffic pattern by February this year.
"This is a warning sign that other cities may soon follow suit, as remote work gradually gives way to office commutes," the report states.
"Many transportation planners hoped to preserve the pandemic's low VMT as the economy recovers. But these Florida cities indicate that this isn't likely without concerted efforts by local policy makers and businesses."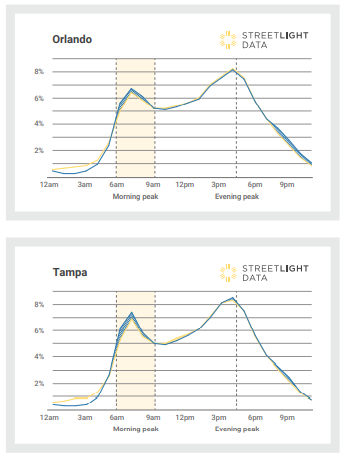 Traffic-taming tactics 
Martin Morzynski, Vice President of Marketing at StreetLight Data, told Cities Today that location-based data can help cities design and measure traffic management strategies better than traditional methods like fixed traffic sensors or bike counters.
The company's website says that every month the platform ingests, indexes and processes 40 billion anonymised location records from smartphones and navigation devices in connected cars and trucks.
"Our data gives cities a comprehensive view of how vehicles and people move at a geographic, and temporal, granularity that allows them to overlay geographic interventions at a level that is actionable," Morzynski said. "Mere 'average' city-wide data or spotty local-road data means they're guessing."
He added: "Lack of near-real-time origin-destination data – a critical metric for planners – means they can't really measure, for example, whether a large employer's staggered work schedule scheme is really having an impact on traffic. StreetLight helps them not only do that, but measure impact on local versus regional traffic."
Image: Maren Winter | Dreamstime.com