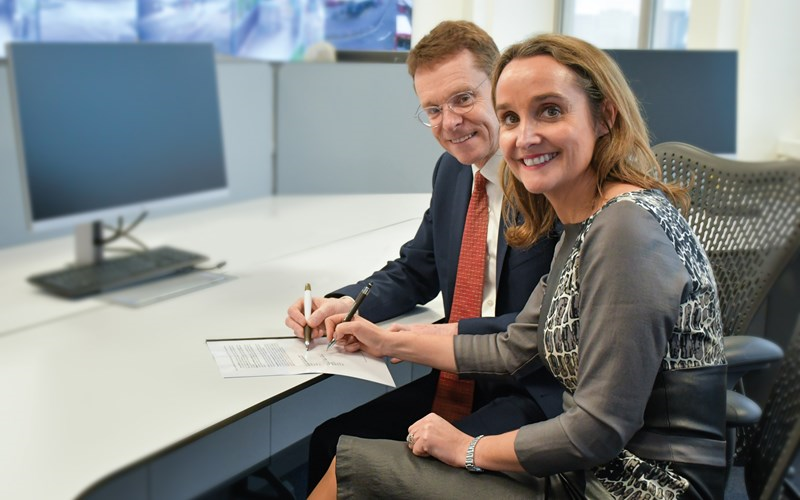 Photo: Image: WMCA
UK transport authority signs deal for 5G mobility innovation
07 July 2020
by Sarah Wray
Under a new Memorandum of Understanding (MOU), Transport for West Midlands (TfWM), West Midlands 5G (WM5G) and Vodafone are collaborating to develop advanced 5G-enabled technologies to improve travel in the region.
Projects include cars that find their own parking spaces and trams that self-report faults. The work is being led by WM5G, the organisation which delivers the region's 5G testbed as part of a government programme.
TfWM, which is part of the West Midlands Combined Authority (WMCA) and serves a population of 2.8 million across seven local authorities, was awarded £22 million (US$27.6 million) in Future Transport Zone funding in 2018 to work with universities and industry on new technologies.
Andy Street, Mayor of the West Midlands, said: "We have seen how vital good connectivity is during this pandemic, not only keeping many businesses going, but keeping friends and families connected.
"That is why I want the West Midlands to be at the forefront of 5G, using the technology to find new ways of working, travelling and staying connected. And when it comes to travel we are not just investing billions in rail, trams and bus technology, but, through our Future Transport Zone and 5G Testbed, we are looking to lead the way on developing the transport systems of the future.
"It's exciting to think about what we can achieve in this area moving forward."
Connected kerbs and trams
The West Midlands is the first region in the UK to test the real-time identification of kerbside parking availability using 5G. In trials in the Sparkhill area of Birmingham, in collaboration with parking technology provider AppyWay, a live high-definition street scan was captured from a vehicle travelling along a section of roadway. The footage was transmitted and processed via 5G to confirm parking availability in real-time to the AppyParking app. This aims to improve journey times, traffic flows, congestion and emissions.
WM5G has also been working with infotainment provider GoMedia to connect tram CCTV systems via 5G, enabling high-resolution video footage to be monitored in real-time more efficiently. This could be expanded to stops and stations to support safe, social-distanced remote monitoring for staff and to help control the number of passengers.
Anne Sheehan, Director of Vodafone Business, commented: "We believe 5G has the potential to revolutionise transport. Its ultra-high bandwidth and low latency are perfect for real-time interactions that will underpin solutions to some of the biggest transport issues we face today, such as congestion and emission levels."
A statement from WMCA added that 5G innovation will also play a key role in the region's coronavirus economic recovery plan, including driving investment and delivering new jobs.