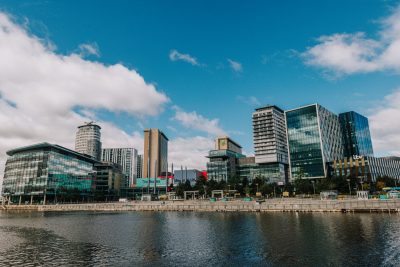 A smart city testbed has been launched at the MediaCityUK district in Greater Manchester to show how cities can use the Internet of Things (IoT) and other technology to adapt in the wake of the COVID-19 crisis. Solutions being demonstrated include interactive street furniture, passenger-counting technology and new cybersecurity tools.
MediaCityUK, a 200-acre mixed-use development on the banks of the Manchester Ship Canal in Salford and Trafford, is partnering with the government-backed Connected Places Catapult and innovation accelerator UP Ventures on the testbed, which runs from this month until April 2021.
The programme will coach a cohort of six startup companies from across the UK to develop and prototype their products with the aim of securing investment.
They will have access to MediaCityUK's technology infrastructure to deploy and test their products in a 'living lab' environment.
Neil Fulton, Chief Delivery Officer at Connected Places Catapult, said: "The COVID-19 pandemic has stimulated huge demand for innovation in the ways and places we live and work. At Connected Places Catapult we focus on supporting businesses to respond to that market demand. We know however that being able to test and demonstrate solutions is essential to commercial success, so we are very pleased to be partnering with UP Ventures Group and MediaCity to deliver this testbed which will allow important innovations to be proven and refined, speeding their journey to market."
Startups
The six companies taking part are:
The startups will receive masterclasses, online coaching and access to decision-makers from industry and the investment community.
MediaCityUK offers campus-wide high-speed Wi-Fi which enables the connection of hundreds of devices at the same time, as well as a Vodafone 5G testbed incubator space.
Adapting cities
Steve Thomas, Managing Partner of UP Ventures, said: "Working towards a post-pandemic world we have an opportunity to create a profoundly positive impact on the way people adapt and thrive. At the heart of our smart city innovation testbed is a passion for technology, the role of places and how they can adapt to support how people live, work, play and learn.
"This is a challenging time for business however there it has never been more important to innovate and that is why we intend to press on with supporting this talented group of innovators."
The testbed follows the 'Future of Health' accelerator programme which ran in 2019 and also took place at MediaCityUK.
Stephen Wild, Managing Director of MediaCityUK, said: "This latest testbed will really build on the success of previous incubator and accelerator programmes hosted and supported by MediaCityUK. As an established innovation district, we're very proud to be working in partnership to support this talented new cohort of technologists in their quest to deliver visionary projects.
"These cutting-edge innovations will pave the way in our smart city ambitions as well as make a positive difference to the way we lead our lives in a post-COVID world."