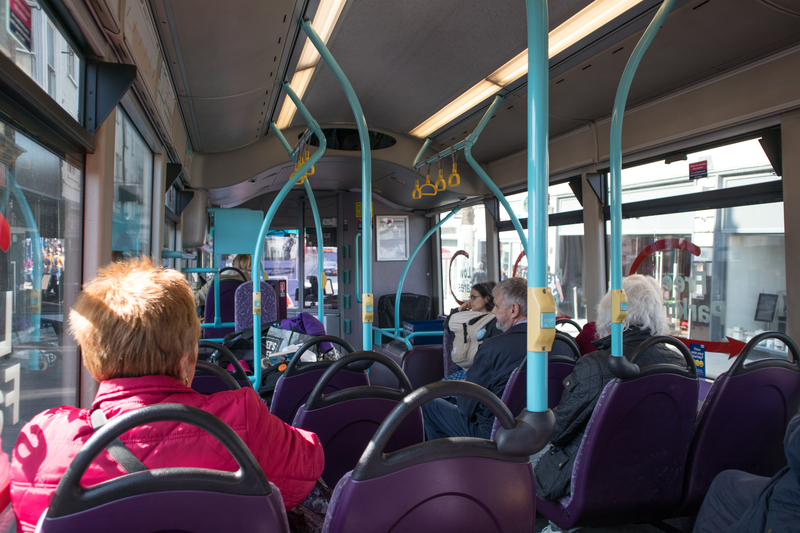 Photo: Bus seating dreamstime_s_184736820
UK authority enables passengers to book spaces on the bus
12 August 2020
by Sarah Wray
The West of England Combined Authority has partnered with bus operator First West of England to allow passengers to book spaces on buses in Bristol, Bath and Thornbury.
The 'Book my bus ride' initiative is understood to be the first system of its kind operating on regular, scheduled bus services in the UK. It aims to help encourage people to take public transport rather than drive if they have to travel, as COVID-19 restrictions ease.
The system was trialled on a park-and-ride service in July and is now being expanded to two additional routes – one of which has been selected as it serves a local hospital and is used by key workers. Bookings can be made online or by phone up to seven days ahead of the journey and are available until 15 minutes before departure.
West of England Mayor Tim Bowles said: "This is a terrific new service which will help people know they can rely on the bus and give them more reasons to leave their car at home. I'm determined to keep our region moving and make sure the West of England leads the country on using technology to improve our public transport – giving people greater choice and flexibility in how they travel."
Mobile app
First also recently updated its app to enable customers to track the location and seat availability of their bus and has implemented an enhanced cleaning regime.
James Freeman, Managing Director at First West of England, commented: "The initiative is in its early stages and, if successful, we hope to integrate the advanced booking technology into the First Bus mobile app, as well as the onboard ticketing software, to revolutionise both the customer and driver experience."
He added: "As the way we all live and work adjusts to the 'new normal', so must public transport too. We're pleased to welcome back many passengers as more shoppers and commuters return. With capacity on-board currently reduced to support social distancing, we hope this new optional booking service will help to reassure customers, particularly those travelling at busy times, that it is now possible to secure their space on certain routes, before even getting on the bus."
It was recently announced that bus and light rail companies in England are to receive a second government bailout of £256 million (US$334 million), following a previous subsidy of £477 million, to keep them running during the coronavirus pandemic as their fare revenues have taken a large hit. According to government data, bus usage in Great Britain (outside London) is still down over 60 percent on January levels, compared to  a drop of more than 80 percent during the strictest measures.