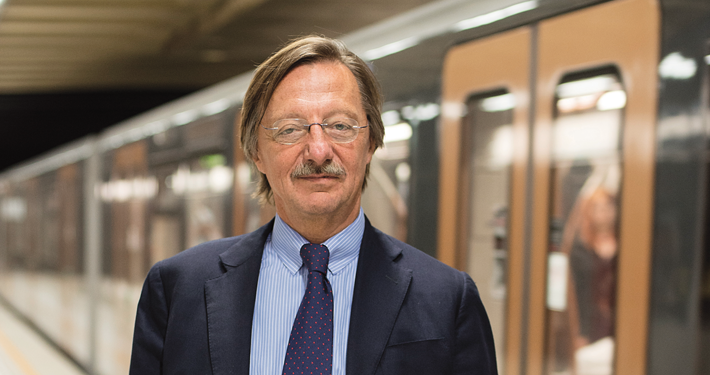 Public transport advocacy group UITP has called on governments to tackle public health and transport with a fully integrated strategy that links environment, transport and health ministries with local, national and international governments.
The policy brief, released today, addresses the "dramatic increases" in health problems related to physical inactivity–the world's fourth biggest cause of death–poor air quality, road traffic injuries, noise, stress and isolation.
"The coordination can be encouraged at different levels through national, regional, local legislations, with incentives being financial or other," commented UITP Secretary General Alain Flausch. "Examples exist in other sectors in which the coordination of several policies became a priority. For example: education, employment and industry [are coordinated] to facilitate the access of young people to technical work-linked training and to the labour market."
The UITP describes the health benefits of public transport's "active travel" as it necessitates walking to a bus stop or train station rather than just jumping into a car.
It cites last year's Greener Journeys report by the UK Department of Transport, which surveyed 100 commuters with pedometers and found that a return journey on the bus involved walking 1.3 kilometres versus 0.3 kilometres if taking the car. This would burn 62 calories versus 16 calories for the car.
The report makes seven key recommendations. Firstly, it says national governments should provide an institutional and legislative framework in order to prompt regional and local authorities to support coordination between integrated health, environment and transport policies.
For example, in March 2013 the UK, gave local authorities responsibility for demonstrating improvements in 68 indicators of the health of residents, including indicators that relate to street environments and transport including road traffic injuries, air quality, noise, physical activity and social connectedness.
Secondly, the UITP report calls for greater integration and coordination of transport, health and environment policies. The study also demands greater collaboration between national authorities, local governments, the transport and health sectors, town planners, the business community and civil society.
To do this it recommends long term planning at a national level for active mobility and sustainable land use to develop sustainable cities and regions.
To keep track on progress, governments must use adequate benchmarks and indicators such as the World Health Organisation's health economic assessment tool (HEAT).
 The report suggests exploring the development of a similar tool to estimate the value of reduced mortality resulting from using public transport.
The UITP paper also addresses finance and investment, stating that "pricing and fiscal policies should, in all areas, aim to promote sustainable urban transport".
In particular, housing and real estate development policies should not induce congestion and urban sprawl. It states that resources generated by new building should be used to strengthen environment and health promoting policies.
Finally, it recommends greening 'old jobs' and creating 'new green jobs' in transport and mobility.
Flausch cited the United Nations Environment Programme (UNEP) and International Labour Organization (ILO) definition of green jobs.
"Due to its nature and mission, the public transport sector, like other soft mobility modes, is a creator of green jobs. Any job in the public transport sector helps to reduce greenhouse gas emissions, save energy and alleviate congestion, and therefore preserves and restores environmental quality," said Flausch.
"In all countries, growing public transport helps fight unemployment and boost the economy. Providing skilled jobs for unqualified people encourages social integration and helps stabilise living conditions, which in turn leads to the creation of a middle class."