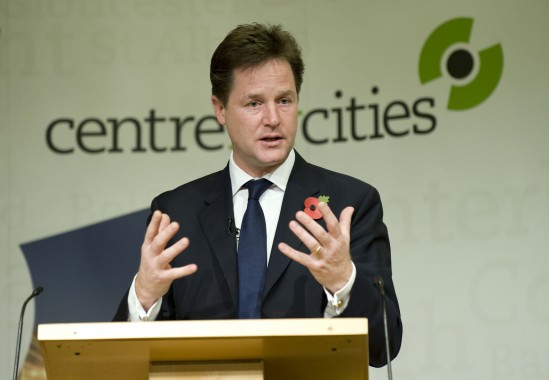 A second round of cities have been invited to bid for City Deals through which the UK government will devolve powers in exchange for cities delivering economic growth locally.
Unveiled by the UK's Deputy Prime Minister, Nick Clegg, the second wave of City Deals aims to effectively free cities from certain central government controls, in return for each city agreeing to sign up to a series of ambitious and unique proposals to create growth locally.
"We need a stronger, more resilient economy, built on the back of industrious and independent cities," said Clegg. "The freedom for cities to carve out their own economic destinies is the principle at the heart of the City Deals."
The first group of deals was agreed to in July 2012, with England's eight largest metropolises. The second grouping focuses on the next 14 largest cities and the six cities with the highest population growth between 2001 and 2010.
Commenting on the proposals that came from the first round of deals, Nick Clegg, said: "From control over buses and trains and the freedom to plug skills gaps, to powers to 'earn back' tax and set up local investment funds to spend on local projects–the deals are unlocking the huge potential of our cities."
The 20 cities have until mid-January 2013 to bid and include Oxford, Brighton and Hove, Milton Keynes, Sunderland and Greater Cambridge, among others.
Councillor Paul Watson, the Leader of Sunderland City Council, said that Sunderland's bid will build on priorities already outlined in its economic master plan. He added: "We're looking at unlocking more potential growth in manufacturing and advanced engineering in Sunderland and the wider community."
Similarly Councillor Jason Kitcat, Leader of Brighton and Hove City Council, welcomed the opportunity that the City Deal proposes and emphasised the need for partnership building. "We are committed to working with our city partners and neighbouring councils to make sure that Brighton and Hove continues to thrive and be seen as an innovative and vibrant place to live and work."
Centre for Cities, a think-tank that jointly hosted the launch, welcomed the expansion of the new wave of City Deals but warned government and cities that resources need to be ensured for the first round as well as for the next 20 cities.
"It is welcome news that neither government nor cities believe that City Deals are the only answer," said Alexandra Jones, Chief Executive of Centre for Cities. "Cities need to make full use of the range of powers already at their disposal. Government could also offer a menu of simple economic development policies to any city or county that can demonstrate how they would use these powers to improve growth."