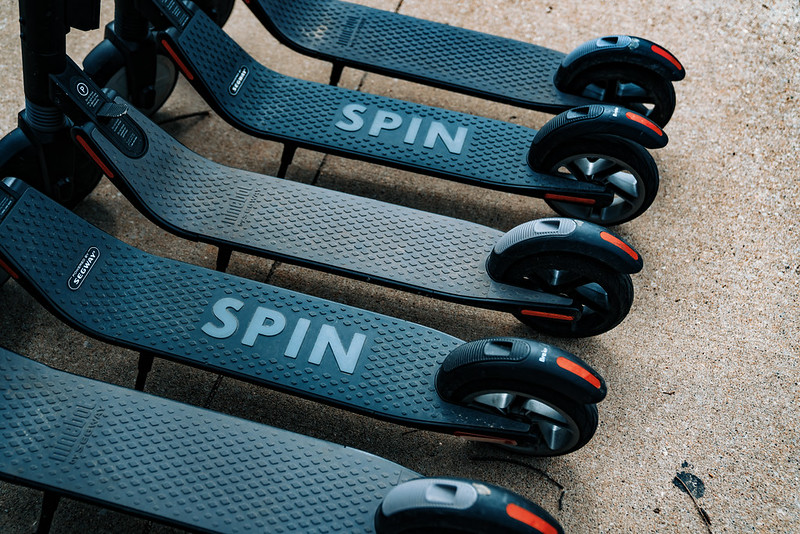 A survey by Ford's micromobility arm Spin has revealed that travel behaviour across Essex in the UK has shifted since the introduction of the county's shared e-scooter scheme in December 2020.
As more deployments roll out, a key concern for cities is whether e-scooters can encourage people out of cars without reducing active travel.
Spin found that more than three-quarters (82 percent) of its riders in Essex have opted for an e-scooter instead of a solo car trip at least once since the pilot launched. Almost a third (31 percent) of respondents would have used a car for their most recent journey instead of a scooter, if the scheme had not been available.
However, data also showed that 38 percent of riders would have chosen to walk instead of travelling by e-scooter had the scheme not existed.
Speaking to Cities Today, Steve Pyer, UK Country Manager at Spin, said that while replacing walking journeys with e-scooter trips was not ideal in light of city efforts to boost active travel, the overall environmental benefits from reduced car use outweighed this.
"One of the first questions we're usually asked by cities or councils is will these [e-scooters] just take people away from walking? I think the evidence [from the survey] does show that people would have walked in just over a third of cases if no e-scooter was available, so that is something that could be addressed.
"But I still think that the trade-off for having another third of people taking an e-scooter instead of a car is well worth that benefit, when you consider all the congestion and pollution that might cause."
The survey was based on 519 Spin riders' responses in six Essex towns and cities: Brentwood, Braintree, Basildon, Colchester, Chelmsford, Clacton-on-Sea, with data collected between 1-4 May 2021.
Options
The research also found that during a typical week, half of the riders surveyed took between two and ten e-scooter journeys in Spin's service areas, with nearly half (44 percent) using an e-scooter to connect with public transport at least once. Nine in ten (86 percent) consider the e-scooters to be a safer option than public transport in terms of COVID-19 health concerns.
Privately owned e-scooters are still illegal on UK streets, but last summer the Department for Transport (DfT) announced that local authorities could trial e-scooter hire schemes under controlled conditions.
Pyer said Spin shares all its data with Essex County and is also investing £100,000 (US$141,848) into e-scooter research projects in the UK.
"I'd like to see a situation where e-scooters are seen as just another form of transport people can use.
"Some people like to get on a bus, some people will never get out of their car. Some people love cycling, some people will always walk, but others will choose to use an e-scooter. The more options you've got for people, the better."
"Encouraging"
Cllr Lee Scott, Essex County Council Cabinet Member for Highways Maintenance and Sustainable Transport, said: "Essex County Council has an oversight role for this trial, which will feed into our evaluation once this initial trial period is over.
"However, these figures released from Spin are encouraging, suggesting e-scooter travel in the trial areas is replacing car journeys, supporting our overall ambition to make Essex safer, greener and healthier.
"This e-scooter trial is just one initiative of our campaign to promote active travel – a consultation launched last week gives all residents of Essex an opportunity to comment on our latest proposals to encourage cycling and walking in the county."
Criminal couriers
While the Essex schemes have proved popular with locals – with almost 150,000 trips taken since December – recent reports about e-scooters allegedly being used by criminal gangs to transport drugs have brought the micromobility devices under a spotlight, with some local councilors calling for the trial to be scrapped.
"We've worked very closely with the police, and we have since day one," said Pyer.
"At the moment we haven't been informed of any specific concerns from the police since this [news story] came out, and if anybody has concerns over it, they should always contact the police immediately," he added.
"If anyone is drug dealing on a Spin scooter, we track these, we know where they are all the time, and we do share data with the Essex police."
Image: Tony Webster (Flickr)