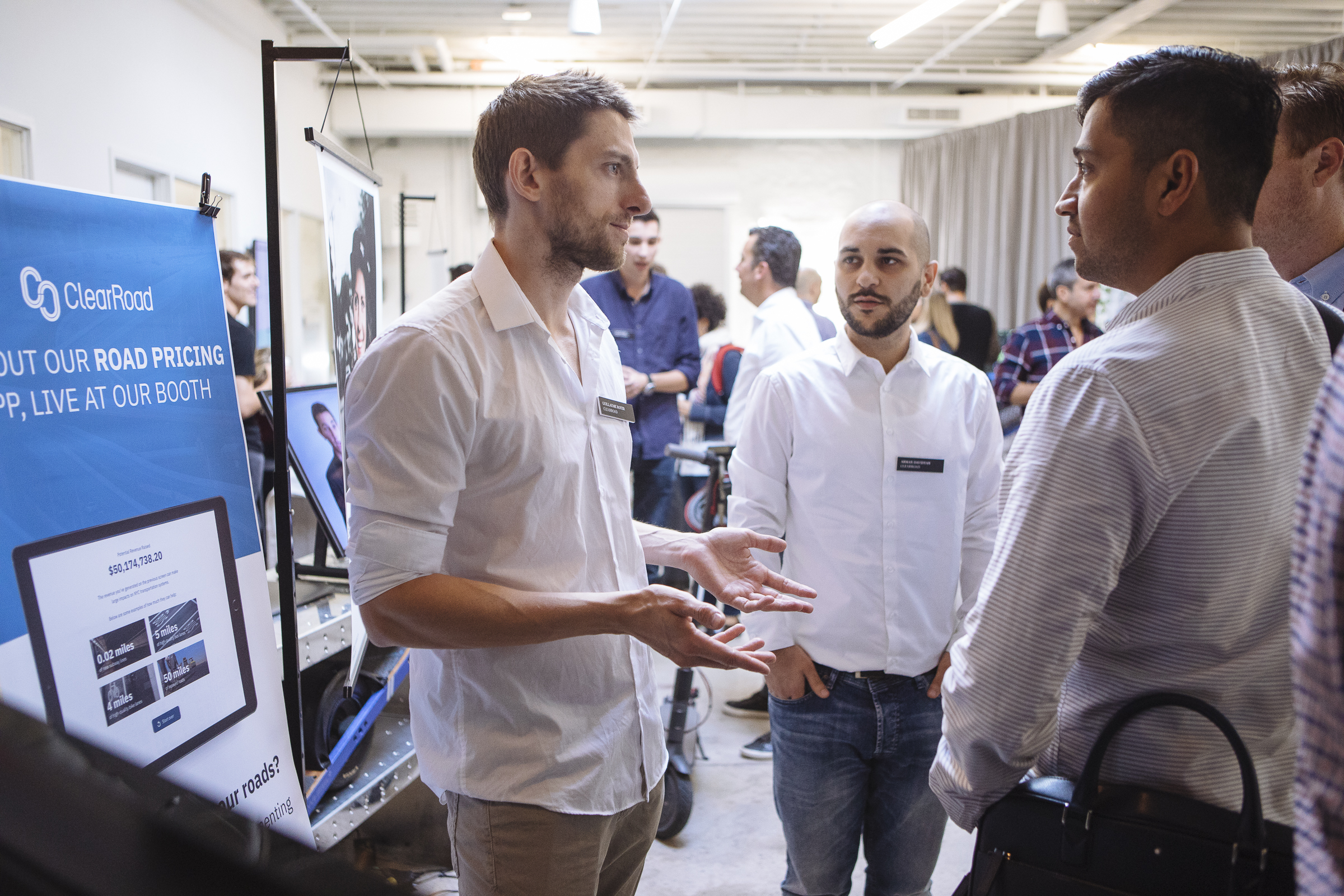 Start-ups that are providing automated road tolling and that can analyse billions of public data records to reduce transport accidents are on the hunt for investors.
ClearRoad and Open Data Nation, with five others, presented their market-ready prototypes, in front of investors and city leaders in New York. Organised by URBAN-X, an accelerator for urban tech start-ups, the fourth edition demonstrated the start-ups' progress made during URBAN-X's 20-week accelerator programme.
ClearRoad
ClearRoad helps government agencies automate toll road pricing. Using vehicle GPS and mobile phones, the project enables cities to calculate the toll and pricing for any section of road without the need for traditional proprietary hardware infrastructure.
"We know that open data standards are going to be the default for governments who are keen to avoid being locked into particular technologies like E-ZPass," Paul Salama, Chief Evangelist, ClearRoad, told Cities Today. "Standards such as the LA Mobility Data Standard and SharedStreets.io mean that we'll be able to work with any mobility provider in any city."
ClearRoad currently operates in Washington and Oregon and are in talks with other states that are exploring replacements for their fuel tax. Salama added that they also have interest from cities and mobility partners in Portland, Jakarta and Bogotá.
"These cities are especially interested in the lower-cost model of our system compared to traditional tolling infrastructure which can cost up to ten times as much," he said during an investor trip to California.
Salama predicted that the platform would not just be a solution for raising funds but would increasingly become a tool for managing streets through pricing signals, enabling cities to incentivise specific new mobility modes and road use at particular times.
Open Data Nation
To help make sense of the 2.5 billion records of data produced by cities in the US every year, Open Data Nation (ODN), created an index that can be used by insurance and financial service providers to help them reduce reliance on potential customers' credit scores, where they live, and the risks they are exposed to.
"ODN provides a risk exposure index, ODNsure, that enables P&C insurance carriers (including Travelers and Zurich) to tap into billions of records of city data that are rich with contextual information about small businesses and where they operate as well as vehicles and the dangerous roads they drive," Carey Anne Nadeau, Founder and CEO at Open Data Nation, told Cities Today.
The potential is not only limited to insurance but could be broadly applicable to industries that use credit scores or behavioural data to select risk, including banks, investors, corporate risk management, and real-estate.
Nadeau added that they also work alongside city departments including Chicago's Department of Transportation and its Vision Zero Initiative to anticipate where crashes are likely to happen and to help deploy resources into road re-engineering, education, and enforcement.
"As autonomous and connected vehicles start taking to the road, ODNsure's score will become increasingly important to provide the only measure that is not linked to the person and their behaviour behind the wheel, but helps better understand the risk exposures," she said.
Over the next month, the start-ups will meet with potential investors in New York and California, which in previous editions have included BMW iVentures, Wireframe Ventures, Fifth Wall Ventures, and Samsung NEXT.