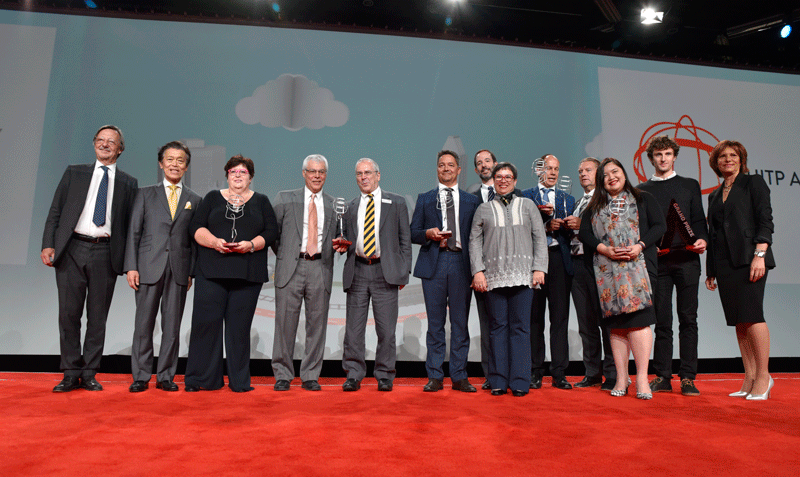 Ambitious and sustainable mobility projects from across the world that contribute to advancing public transport have been awarded at the closing ceremony of the UITP Global Public Transport Summit in Montreal.
"We received more than 230 applications for the Awards and it just goes to demonstrate the commitment of the public transport sector towards the provision of innovative services to meet the ever growing demand for mobility in cities around the world," said Alain Flausch, UITP Secretary General.
Every two years, the UITP Awards, selected by an international panel of experts, acknowledge innovative solutions contributing to the sector objective of doubling the public transport modal share worldwide by 2025.
Winners of the UITP Awards 2017:
Public transport strategy
Cape Town Transport and Urban Development Authority (South Africa) were awarded for the project, 'Cape Town Transit Oriented Development Strategic Framework'. The initiative represents a shift in the city's approach to integrated land and public transport development and growth management. Effective implementation of the project would result in a 20 percent improvement in public transport mode share by 2032, which in turn would result in significantly less carbon dioxide emissions for the transport sector.
"This award is confirmation of Cape Town's innovation and forward thinking in eradicating the legacy of apartheid spatial planning by placing public transport at the centre of all new public investments and developments," Councillor Brett Herron, City of Cape Town's Mayoral Committee Member for Transport and Urban Development, told Cities Today. "The strategic framework seeks to optimise the location of future residential areas for all income groups in relation to economic and work opportunities. This will hold substantial benefits for lower-income households who currently spend up to 45 percent of their monthly household income on transport."
Customer experience
City Government of Muntinlupa and the Lingkod Muntinlupa Foundation (Philippines) won the award for the project, 'Leading the e-Jeepney revolution in the Philippines'. The e–Jeepney re-defines the customer experience of a flexible public transport service that is a core feature of mobility in the Philippines. It utilises new technology to enable booking and payment, and an eco-friendly vehicle for service delivery, based on a customer-centred approach to service design.
Operational and technical excellence
Vasttrafik and Volvo Group (Sweden) won for the project, 'ElectriCity', a multi-stakeholder electric bus demonstration project implemented in Gothenburg connecting two university campuses. The initiative's innovative technology is deployed in real operation conditions and is integrated in the public transport system.
"Our achievement has been made possible due to the cooperation of 15 different stakeholders," said Roger Vahnberg, Senior Vice President at Västtrafik AB. "By integrating electric buses into public transport we contribute to the greening of our cities and making our cities more liveable. By lowering emissions, decreasing energy consumption and spreading silence we make our cities more sustainable."
Smart financing and business models
Addax Assesoria Economica e Financeira LTDA, Empresa Metropolitana de Transportes Urbanos de São Paolo S.A. (Brazil) were awarded for the project, 'Public Private Partnership–Baixanda Santista–Bus and LRT integrate system'. Simultaneous award of a whole metropolitan region of public service transport to one single private partner concession company including both LRT and bus modes.
Small cities and low-density areas
Nordjyllands Trafikselskab, the public transport authority of North Denmark won the award for the project 'Around your world'. It offers an integrated mobility solution for residents in low-density regional settings, including: hourly services all day, an on demand responsive service and a travel planner.
Design
Atkins, Network Rail and MACE (UK) won for the, 'Birmingham Gateway Project', a £750 million transformation of Birmingham New Street Station. The project significantly increased users' space perception and passenger flows inside the building, with cleaner platforms and better access. It integrates new pedestrian links across the city centre, giving direct access and interchange with the planned Metro stop in Stephenson Street.
"The seven-year project to redevelop Birmingham New Street station and Grand Central shopping centre shows how innovative design and engineering practice can drive enhanced levels of passenger satisfaction, enable multimodal travel and provide a valuable economic boost," Stephen Ashton, Engineering Director, Transportation at Atkins, told Cities Today.