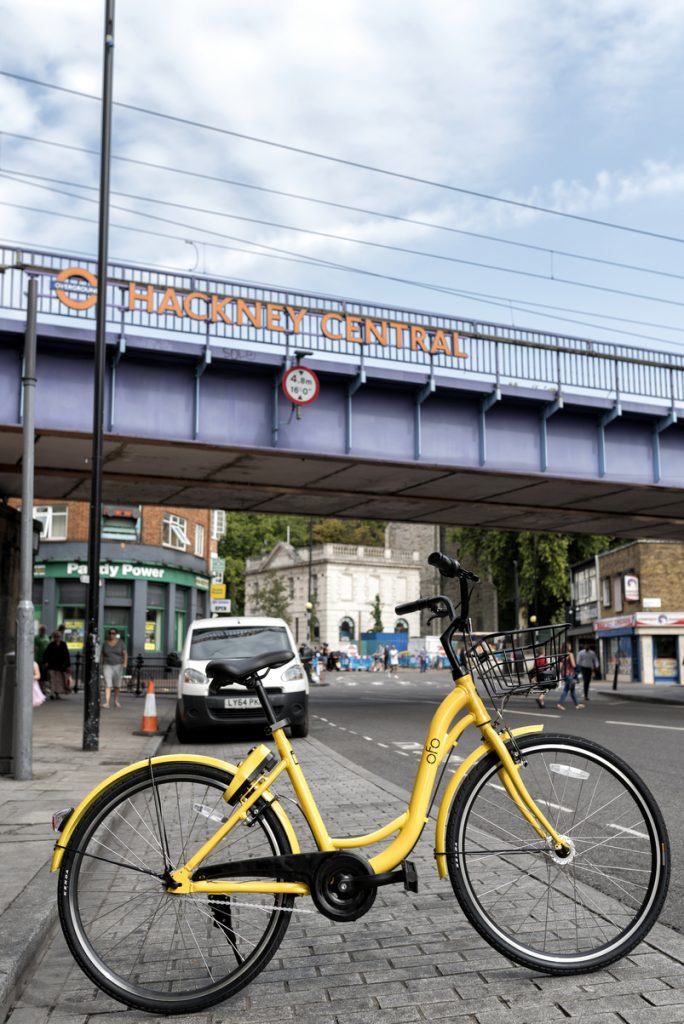 Station-free bike-sharing platform, ofo, is bringing its services to the streets of London, following launches in Cambridge and Oxford. An initial 200 bikes will be introduced into the London borough of Hackney, to gather initial insights of usage patterns and operations. Following this phase, the number of bikes will be increased, serving the whole borough.
"Riders simply download the ofo app, sign up and unlock the nearest bike via Bluetooth connection," Joseph Seal-Driver, ofo's UK Operations Director, told Cities Today. "With no deposit required, riding an ofo costs just 50p for 30 minutes; and you'll never pay more than £5 thanks to our daily cap. Bikes can be picked up and dropped off anywhere bike parking is allowed–unlike existing docked-bike services, which limit users to specific docking stations, and currently only serve part of the borough."
ofo is working closely with Hackney Council to ensure its service integrates with existing cycling infrastructure in the borough. They will collaborate to make sure that users are given information on locations where they can park their bike in hot spot areas to prevent issues such as obstructing the footway and parking on busy narrow pavements.
"The Santander bikes, which have been very successful in London, have not expanded as far as we would have liked, and we are therefore really excited about ofo's potential to make cycling available to all our communities in Hackney and service a wider area, beyond central London, in a way that other providers have yet to achieve," said Hackney Councillor Feryal Demirci, Cabinet member for Neighbourhoods, Transport & Parks.
ofo launched in the UK in April in Cambridge, and following a trial phase has now rolled out across the whole city. In August, the company launched in Oxford.
Dockless or station-free bike-sharing systems are now being introduced into a number of cities around the world, but this has not come without its problems. Illegal parking, vandalism and theft are providing many local governments with significant difficulties. Bikes simply left outside subway or metro stations have become common place in some cities, with Shanghai impounding thousands of bike-sharing models earlier this year.
"We've found that so far in Cambridge and Oxford there have been very few instances of misuse or bikes being abandoned," added Seal-Driver. "The bikes are GPS tracked and where any issues arise we have a team of marshals on the ground to deal with them straight away. We also use geofencing technology to ensure that riders use the bikes within the designated 'Home Zone', which is clearly visible in the app."
The Chinese city of Wuhan has banned the further deployment of shared bikes as it tries to deal with congestion, while Hammersmith & Fulham Council in west London, has recently placed obstruction notices on a row of shared bikes, with a warning that they will be removed, after many were left alongside a busy road, unattached to bike stands.
"We encourage feedback from users and residents, who can Tweet us or give us a call so we can respond immediately," said Seal-Driver. "Each user has a rating, and should they repeatedly break the rules they will be banned from the service. Ultimately, we're confident that we'll be able to overcome any teething problems–the more people use the service, the more they will understand how it works, and the smoother the experience will be for all residents."