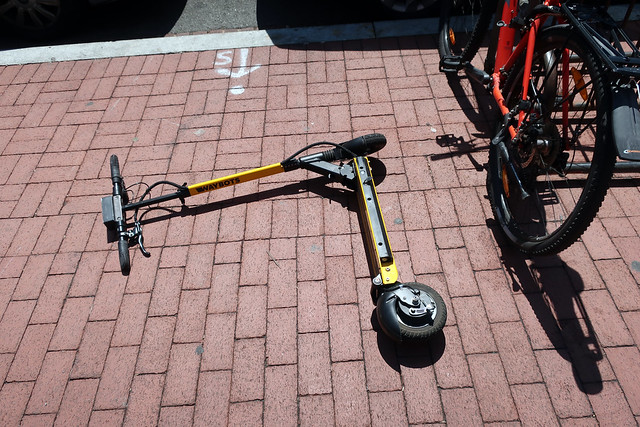 Photo: 28675650498_4d4c6cf163_z
Start-up to certify micro-mobility data for cities
02 July 2019
by Christopher Carey
A new service designed for cities to measure performance and rate the compliance of micro-mobility operators has been launched by Oregon based start-up Ride Report.
The platform, which it describes as "the industry's first mobility data specification (MDS) auditing service" aims to provide data clarity to cities in the wake of a boom in micro-mobility products and providers in recent years.
The start-up, which claims to operate in more than 30 cities across five countries, has already cooperated with cities including Portland, Atlanta, New York, Austin, Oakland and Madrid.
William Henderson, CEO and co-founder of Ride Report, told Cities Today: "It's an interesting scenario that we have today, where you have these [micro-mobility] companies doing something that is largely in line with where the cities would like to go."
"There are, however, some scaling issues in micro-mobility, such as riding on or blocking the sidewalk," he added. "Then there's the whole history of ride-hailing, which didn't exactly leave a great taste in cities' mouths when it came to working with private companies, and tech companies in particular."
"What we're doing is providing the tools that allow them [cities] to regulate and move at the speed of tech. Fundamental to getting it right this time round is that cities have access to trustworthy data. This is what went wrong with ride-hailing; cities were not given data–except for what Uber And Lyft wanted to share with them."
High-scoring operators can earn the Ride Report Certified designation which represents a gold standard of consistently meeting cities' data needs. It has initially certified Bird and Lime after performing audits on behalf of partner cities around the world.
To earn the Ride Report Certified credential, selected operators must also commit to providing cities with ongoing access to high-quality data and metrics.
A pilot project which started in Portland in 2015 used Ride Report to analyse the behaviour of cyclists along a new route.
"For a few summers we conducted a pilot project where a lane of traffic on a busy arterial road beside Waterfront Park was changed to a protected lane for bicyclists and pedestrians," John Brady, Director of Communications and Public Involvement at the Portland Bureau of Transportation told Cities Today.
"The park had its own multi-use path that was always over-capacity with people walking and biking during the summer, leading to a lot of pedestrian safety issues," he added. "The Ride Report data was a key part of our evaluation of the project and we were able to make data-based decisions that the pilot reduced pedestrian conflicts and increased the satisfaction of people bicycling."
The pilot, known as Better Naito, became a permanent feature in Portland in January this year.