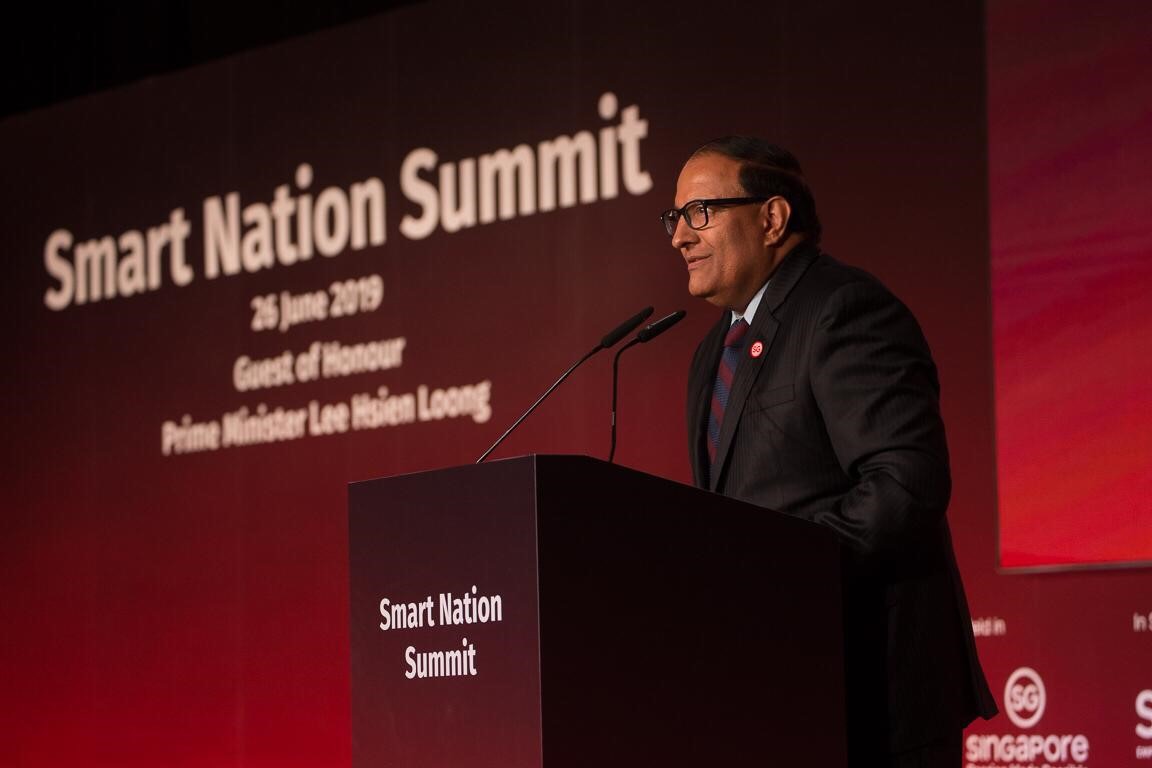 A new single interface between government and the technology sector has been launched in Singapore to better streamline opportunities and build new solutions in areas such as cybersecurity, artificial intelligence, payments and cloud.
Digital Industry Singapore (DISG) brings together 45 existing offices from three agencies–the Economic Development Board (EDB), Enterprise Singapore and Infocomm Media Development Authority (IMDA)–with a view to anchor global technology leaders, build local companies, nurture local talent, and to scale solutions globally from Singapore.
"DISG aims to forge an innovative and multi-faceted public-private partnership model by sense-making global trends in technology, industry and policy, and tapping the combined resources and levers of government agencies overseeing industry development and regulations," said S Iswaran, Minister for Communications and Information, at the opening of Smart Nation Summit.
Iswaran added that the new office is part of the city-state's vision for a digital economy where every business is digitally-empowered, every worker is digitally-skilled, and every citizen is digitally-connected.
Industry partnerships are already underway. A technology call by IMDA and PSA have been awarded to two mobile network operators, Singtel and M1, to explore the use of 5G technology for the Maritime industry. This technology call aims to explore 5G capabilities, and how it could potentially address PSA's connectivity needs to enhance port productivity.
Trials will be conducted at the PSA Living Lab in Pasir Panjang Terminal from 3Q 2019, and will last for 18 months.
DISG will build up both the consumer technology and enterprise technology segments of the ecosystem. On the consumer technology front, it will assist companies to tap into the growing, mobile-first Asian market to capture opportunities in areas such as ride-hailing, e-commerce, fintech and new media.
In the enterprise technology segment, the new office will further digitalise the economy to help companies build new solutions in areas such as cybersecurity, artificial intelligence, payments and cloud.
Singapore has also mooted the idea of a Digital Economy Agreement (DEA), a new form of agreement which anchors cooperation among like-minded countries on the digital economy.
Iswaran said that DEAs will put in place clear and harmonised rules for greater interoperability between digital frameworks, and to guard against digital and data barriers.
"DEAs will also establish international rules and benchmarks, to address newer areas such as AI and digital identities," said Iswaran. "Singapore, Chile and New Zealand have initiated trilateral talks on a Digital Economy Partnership Agreement (DEPA) and Singapore and Australia have also commenced discussions to deepen cooperation for the digital economy."
DISG is expected to create up to 10,000 new jobs within the technology sector over the next three years. Beyond technology roles in engineering, software and product development, the new office expects that jobs in other functions, such as finance, human resources, innovation and business development, will also be created.
5G innovation ecosystem
At the same event, Iswaran also announced that IMDA and the National Research Foundation have set aside US$30 million to build a 5G innovation ecosystem which will support: 5G technology trials for enterprise use-cases; create a series of new open testbeds; and R&D in 5G like cybersecurity.
To begin with, IMDA will explore clusters such as maritime operations; urban mobility; smart estates; Industry 4.0, consumer applications and government applications.