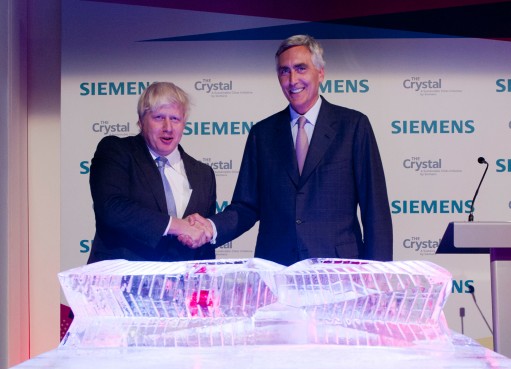 Siemens unveiled the Crystal, dubbed the world's largest urban sustainability centre, at a grand opening today in the east end of London
"It is a new attraction for London but it also has an incredible educational and scientific component," said Boris Johnson, Mayor of London. "This is showing what urban life is going to be like and the ways we can improve our cities."
The £30 million investment will act as a platform to showcase Siemens' technologies with sixty account managers liaising with the Crystal team from their relationship cities worldwide.
"It is a flagship platform for us which is not just a product platform but also a platform for us to communicate with mayors, city planners and architects early on as a trusted adviser and partner," said Peter Löscher, CEO of Siemens.
The Crystal contains a 2000 square metre interactive exhibition open to the public as well as being a Centre for Competence for urban professionals. To engage urban planners in dialogue, the building contains a conference auditorium and will house corporate staff from Siemens, who will assist with the management and promotion of the company's new Infrastructure & Cities sector. London is in the top five customers of the new sector, having adopted Siemens' technology for airport transport links, hybrid buses and the electronic tolling system.
Roland Busch, CEO of the Infrastructure & Cities sector, said the Crystal marked one of the milestones in executing Siemens' strategy for cities.
"We are focusing on a huge, fast growing market—cities and infrastructure is a €300 billion market—and when we bundle the Siemens' businesses together, it represents a €17 billion sector [for us]," said Busch. "But serving cities is a very difficult thing and cities do not compare to any other customer.  It is not about going in there and selling a product but about talking about the problems of the cities and coming up with solutions."
As well as providing a platform to showcase technologies through the exhibition, the building itself incorporates the latest technologies to make it energy efficient. The Crystal consumes 50 percent less power and has 65 percent fewer carbon emissions than comparable office buildings. It will be LEED certified and uses solar power, ground source heat pumps, and energy-efficient LED lighting.
The company plans to launch similar urban centres of excellence in Shanghai and Washington DC.