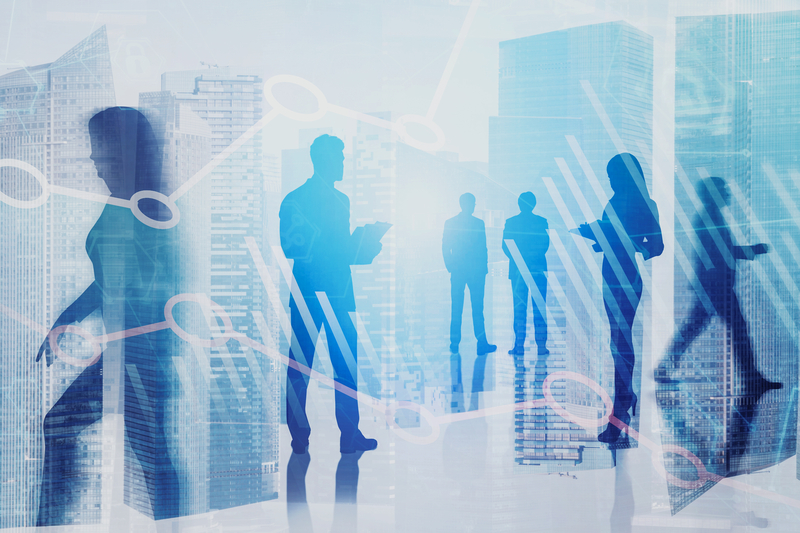 Urban data platform Replica has secured US$41 million in Series B funding.
The round was led by Peter Thiel's Founders Fund, joined by previous investors including Innovation Endeavors, Sidewalk Labs, Rise of the Rest Fund and Firebrand.
Replica began as a project within Sidewalk Labs in 2017 and was spun out as an independent company in 2019. It gives city planners, transport authorities and private companies insights into how people move throughout a city as well as examining economic activity and changes in land-use and demographics, to inform policy and spending decisions.
With the new funding, Replica plans to expand its solutions to include a new forecasting and scenario-modelling tool. The company also intends to open up the platform to customers outside the US over the next year.
"We're starting to get quite a bit of interest from Europe and Asia," Nick Bowden, CEO and Co-Founder of Replica, told Cities Today. "Those are also in our roadmap plans to have international coverage."
Public and private data
The Replica platform uses publicly available datasets such as the US Census, land-use regulation, and transit ridership and traffic counts as well as private data sources such as de-identified mobile location and credit transaction data, and real estate transaction data, to create a simulated computer model that represents how people typically travel. To maintain privacy, Replica's models are based on 'synthetic populations', or anonymised 'replicas' of groups.
The tool aims to address the challenges that public agencies face around access to current data and the ability to make connections between data points.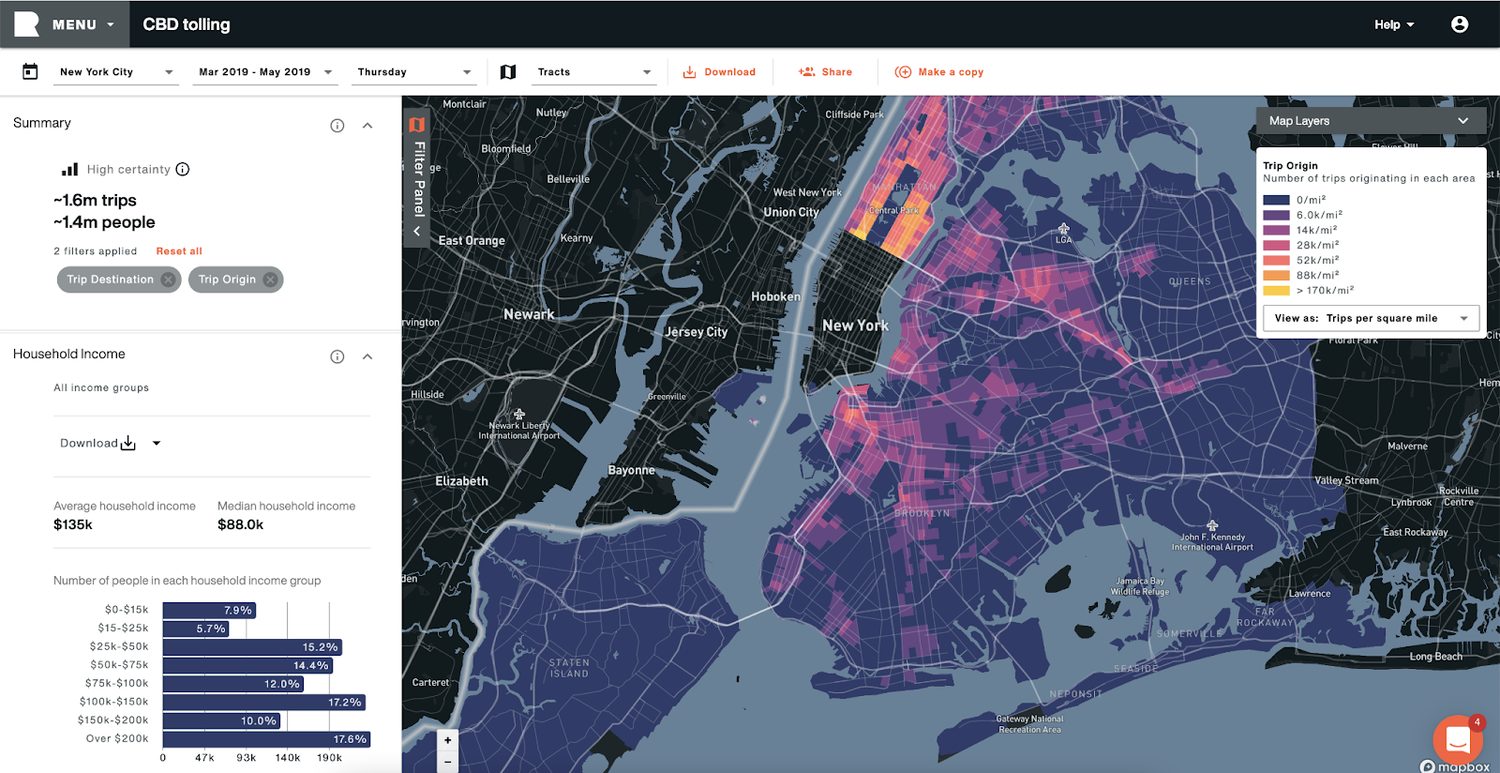 "For decades, the public sector has had to use long-ago data to forecast a far-away future," Bowden said. "However, this puts them at a disadvantage compared to the private sector, which can use digital data from last week to operate quickly and nimbly. Replica gives public agencies a more current, responsive and informed way to run their operations and make decisions."
This could particularly support transport and city planners as they emerge from the pandemic, Bowden says.
Before the pandemic, New York's Metropolitan Transportation Authority (MTA) was working with Replica to support its implementation of congestion pricing in Manhattan.
As COVID-19 struck, the agency needed to better understand the rapidly changing travel behaviour of its riders in near-real-time, including differences among various cohorts of riders.
When New York made the decision to stop its 24-hour subway service for the first time in over 100 years, the MTA used Replica's data to design a shut-down schedule and provide alternative transit options that would least impact the ability of essential healthcare workers to safely and efficiently get to work.
From this, Replica developed and launched its Trends tool, a nationwide model that is updated weekly to deliver near-real-time data on mobility, consumer spend, and COVID-19 cases.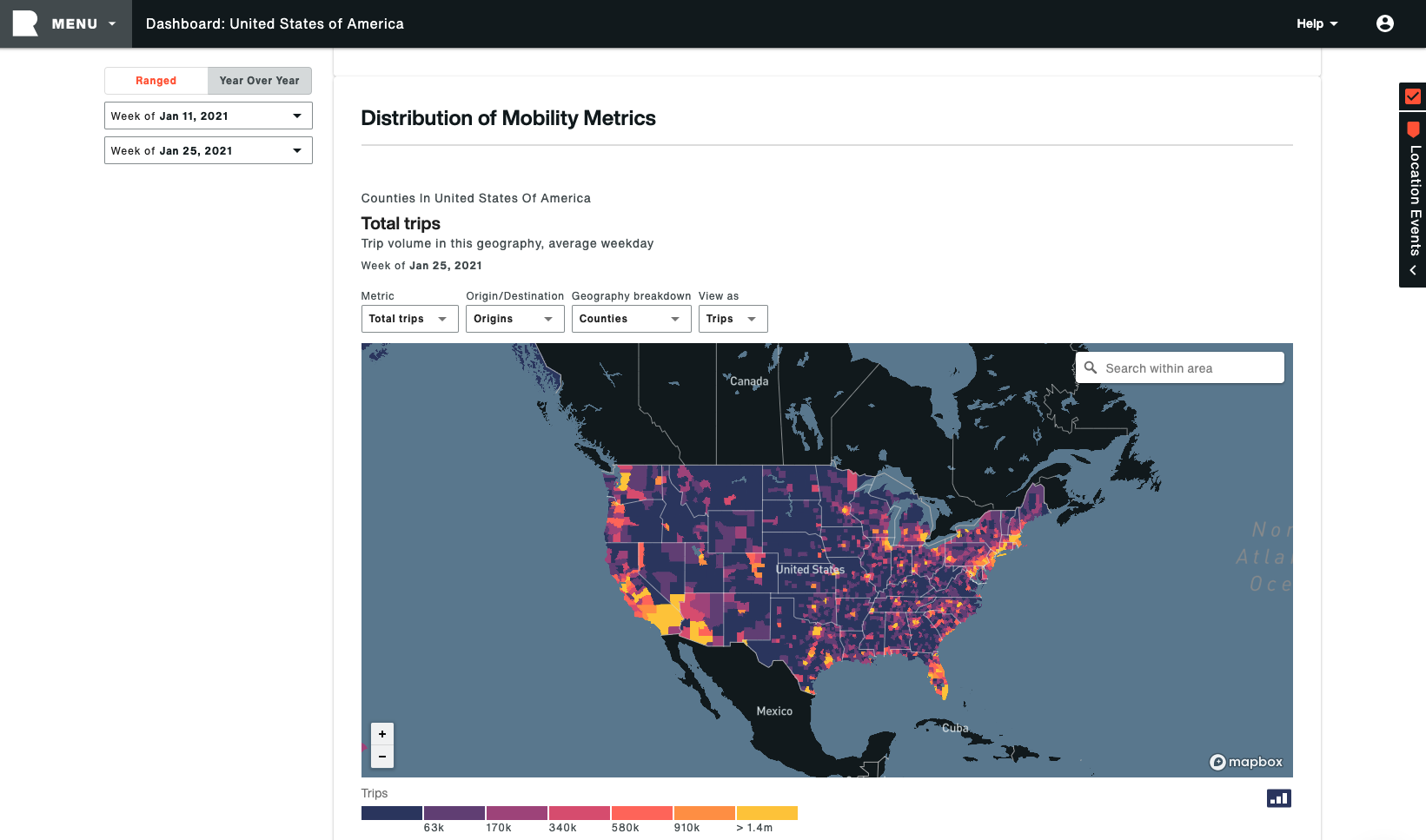 Window of opportunity
Replica could also help cities and transport authorities shorten planning timeframes more broadly.
Bowden said: "If you went back to any city or transit agency plan between the years of 1995 and 2005, you'd be hard pressed to find any mention of anything like Uber and Lyft. They had all of these assumptions about what the world was going to look like 20 or 30 years from now and a huge investment thesis about what they were going to invest in. And yet, the world has changed radically."
A new Scenario tool which is in development will "give user controls to run a future state," Bowden said. As cities adapt to COVID-19 and increased remote working, they could evaluate the impact of changing bus schedules or investing in fixed transit projects, for example.
"It's not just the ability to run that scenario out but to actually see trade-offs across the entirety of the system versus just the object that you're looking at," Bowden commented.
He said Replica could allow planners to plan five years out rather than decades.
"There is a window of opportunity to recodify workflows in a way that is more adaptive, and I think we're living in that window now," he said.
Privacy
Customers listed on Replica's website include the Chicago Transit Authority, New Jersey's NJ Transit, Illinois Department of Transportation and Nebraska Department of Transportation.
In February, journalist Kate Kaye reported that Replica's Portland-area project, led by regional government entity Metro, had been shelved.
From May 2019, Metro, along with the City of Portland and TriMet, began testing the Replica tool. Metro hoped to benefit from better insight into areas such as ride-hailing and shared mobility, as well as demographic trends to design more equitable services.
Metro said it ended its relationship with Replica "after review of the draft data".  Metro did not pay Replica for any services. According to Replica, Metro wanted to see data at a level of detail which was against Replica's privacy principles.
Following the new investment announcement, Bowden told Cities Today that historically a "false trade-off" has been presented around privacy between aggregate data that lacks detailed insight and highly sensitive data that poses a risk for public agencies to manage.
"This is where simulations really can help," he said. "You're going to get the level of fidelity and know that you don't have any kind of violation of privacy."
Replica is working with US agencies on privacy standardisation that others could adopt. More will be announced in the next few months.