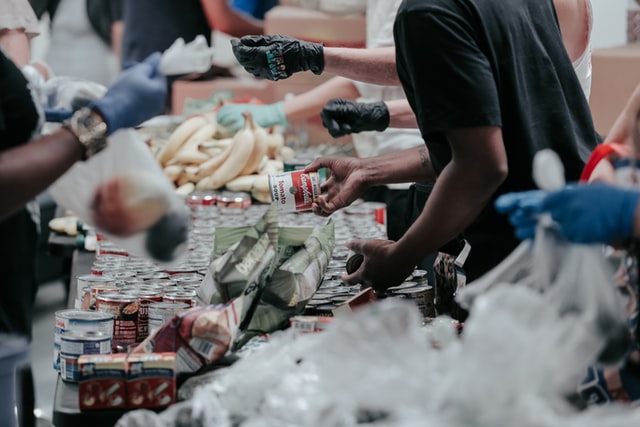 Social enterprise Olio and the N/LAB centre for business analytics at the University of Nottingham are developing an interactive, data-driven tool to enable local authorities to find, track and predict areas of food poverty faster and more accurately.
The Food Poverty Map will leverage machine learning and real-time proprietary data from Olio, which is a free app that connects neighbours with each other and volunteers with local businesses so that surplus food can be given away rather than thrown away. It has 2.5 million users who have together shared 7 million portions of food.
"This solves a major problem for councils and local authorities currently fighting food poverty in their area: a lack of up-to-date and representative data," a statement from Olio said. The initiative comes as the use of food banks has increased in the UK during the pandemic, although figures were already on the rise before the COVID-19 crisis . Data from food bank provider the Trussell Trust finds that around half of  the people who used a food bank at the start of the pandemic had never needed one before. Further, demand for food parcels is forecast to increase by 61 percent this winter compared to last year.
A proof-of-concept dashboard is being developed through a pilot scheme with the London Borough of Havering, and more communities are invited to participate.
The system uses open sources of data about users' broader socio-economic environment, including the IMD (index of multiple deprivation), as well as information on access to food via food stores, food banks and public transport. It also uses anonymised  proprietary data from Olio to provide an understanding of food-sharing behaviours and levels of supply and demand.
This blend of data sources is used to model the prevalence of food insecurity. Local authorities will be able to navigate the map to see how their constituency and peripheral area performs in relation to the data at a ward and a LSOA (Lower layer Super Output Areas) scale. They will be able to export data from the map and Olio is also exploring import options.
Anne-Charlotte Mornington, Head of Partnerships and Special Projects at Olio, told Cities Today: "This will change the experience of local authorities in tackling this issue because it will allow them to measure the impact of their work and target their efforts towards areas that need it the most."
She said it will also  enable councils to better understand how COVID-19 has impacted their constituencies in terms of food needs.
Real-time data
Tessa Clarke, co-founder of Olio, commented: "Over eight million people in the UK live in food poverty and suffer from its ill effects, from low educational attainment to high health bills. With the current pandemic, the stakes have never been higher to find innovative ways to ensure we all have access to the food we need.
"Our Food Poverty Prediction Map enables councils and local authorities to support the most vulnerable in their communities by using real-time data to inform their decision-making. For the first time, they can truly be on the front foot to help the 'hidden hungry'."
She added: "This proof-of-concept marks the first step in Olio's vision to not only reveal the true footprint of food poverty, but to also give local organisations real tools to combat it."
Olio and N/LAB will kick off Phase I of the project by building a proof-of-concept dashboard, funded through a £47,000 (US$62,102) grant from Innovate UK, the UK's innovation agency. This will be designed in conjunction with the London Borough of Havering, identifying specific requirements to address and prevent food poverty.
The first phase is expected to conclude in December. Olio and N/LAB are inviting more councils and local authorities to collaborate in the next phase.
"We want to interview more local authorities to understand what their needs are to make sure that we deliver a product and a platform that really is helpful." Mornington said.
Councillor Damian White, Leader of Havering Council, commented: "Havering did an amazing job through lockdown to help respond to the COVID-19 crisis and protect our residents, supported throughout by all our incredible volunteers and the foodbanks, in particular.
"The ability for local authorities to have access to real-time data concerning food poverty in communities would be very helpful. Participating in this pilot is a valuable opportunity for us to gain insights that will allow us to further support our most vulnerable residents in our community."
Image: Joel Muniz on Unsplash