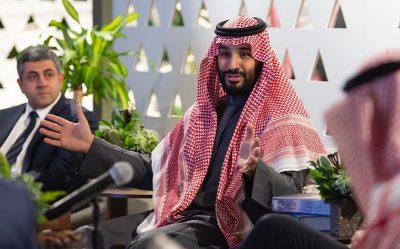 Photo: UN world tourism organisation
Saudi Crown Prince unveils plans for car-free city
27 January 2021
by Christopher Carey
Saudi Arabia's Crown Prince Mohammed Bin Salman has unveiled plans to build a car-free, pedestrianised city dubbed 'The Line', which aims to have all residents' needs catered for within a five-minute walk.
The proposed city will extend over 170 kilometres and have the capacity to house one million residents, according to the Prince, with construction expected to commence in the first quarter of this year.
"We need to transform the concept of a conventional city into that of a futuristic one," Prince Mohammed said in a televised speech, adding that the city will serve as a "blueprint for how people and planet can co-exist in harmony".
NEOM
The city, which is expected to cost US$100-200 billion to build will be part of the NEOM business zone – a US$500 billion, 26,500 square kilometre high-tech development in the northwest region of the oil-rich nation.
The kingdom's sovereign wealth fund, the Public Investment Fund (PIF), is the primary investor in the project, which is expected to be completed by 2025.
A press release from NEOM states: "The Line will be the first time in 150 years that a major urban development has been designed around people, and walkability will define life on The Line with all essential daily services, such as schools, medical clinics, leisure facilities, as well as green spaces, available within a five-minute walk".
The project plans to use "ultra-high-speed transit and autonomous mobility solutions" to achieve its goals, with no journey taking longer than 20 minutes.
Further details on how the plan will be realised have yet to be revealed, but mobility technologies including flying taxis have been mooted.
Speaking last February, Nadhmi Al-Nasr, CEO of NEOM Company, said NEOM will also be the first city in the world to rely entirely on digitisation, including an advanced medical system, 'Doctor NEOM', which will collect health data for the population and predict their health problems before they occur.
NEOM will also feature sports, entertainment and tourist destinations, and a giant artificial moon, according to reports in the Wall Street Journal.
Controversy
Several commentators have questioned the viability of the ambitious NEOM plan, which was originally launched at the Future Investment Initiative conference in Riyadh in October 2017.
The murder of Saudi journalist Jamal Khashoggi in Istanbul a year later and the political and reputational fallout  from the incident led to several key NEOM advisors, including prominent architect Norman Foster, distancing themselves from the project.
Human rights groups have also criticised NEOM due to concerns about the displacement of up to 20,000 local tribespeople who could allegedly be forcibly removed from their lands by the Saudi authorities to make way for the development.
Image: UNWTO