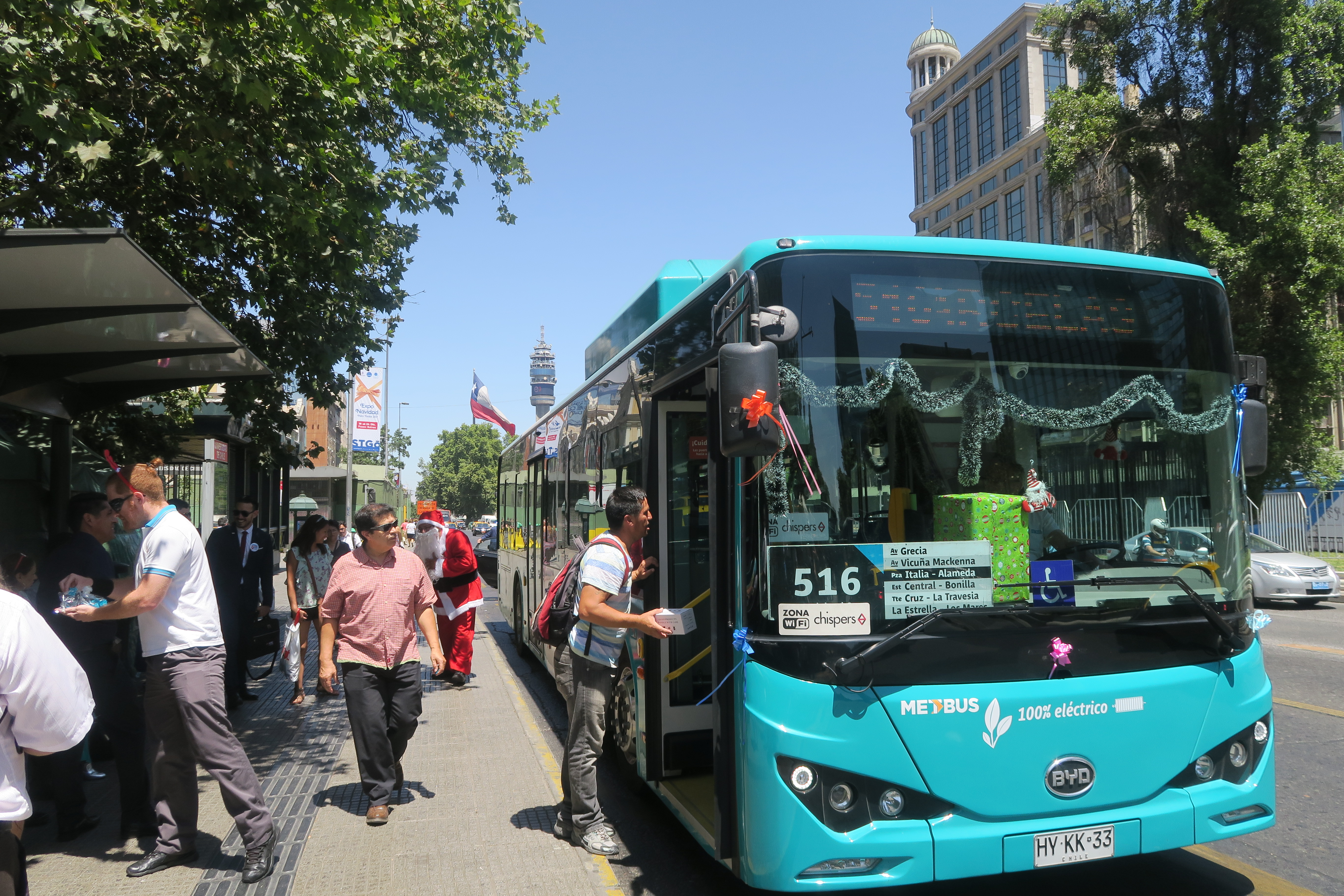 The first three entirely electric buses in the history of Chilean public transport began operating at the end of 2017, in Santiago. Line 516 of the Metbus Company covers the most important avenues of eight communes of the capital: Maipú, Pudahuel, Lo Prado, Estación Central, Santiago, Ñuñoa, Peñalolén and Providencia. The vehicles were provided by Chinese company BYD.
"We are enhancing quality for our users by incorporating electric buses, and providing more comfort, less noise, greater efficiency of service and less emissions," said Paola Tapia, Minister of Transport for Chile. "In 2018 we will have 90 of these buses circulating and will be pioneers in Latin America in terms of electro-mobility in public transport."
Colombia has also introduced electric buses. In Bogotá there are now 340 hybrid and electric buses, with the figure projected to reach 706 by 2021. Medellin has 200 electric vehicles and last year 20 electric stations were built, five fast charging and 15 slow, to serve 5,250 vehicles.
"We are taking a series of measures so that all the metro's feeder buses migrate from gas to electricity," said Federico Gutiérrez, Mayor of Medellín. "We want to become the leading city in Latin America in electro-mobility."
The Colombian electro-mobility strategy covers taxis, bicycles and electric motorcycles, and aspires to reach 20 percent national coverage by 2030.
In both Chile and Colombia, electric buses have similar characteristics with segregated safety cabin for drivers, autonomy of 250 kilometres, air conditioning, Wi-Fi, mobile chargers and a cost reduction of 70 percent compared to conventional vehicles.
"It is a unique opportunity to incorporate new technologies into the transport system," said Celia Iturra, Specialist in Rolling Stock and Sustainable Transport at the Technical Secretariat of Strategy and Planning of the Metropolitan Public Transport Board of Chile. "These three buses and the next 90, which will be tendered this year, present direct benefits for the travel experience. The users will have more comfortable trips, and there will be fewer emissions and less noise in the city."
For Tamara Berrios, Country Manager for BYD, the pollution produced by 33 fossil fuel-powered vehicles can be avoided with a single electric bus. "Worldwide we have 27,000 vehicles of this type developed by our company and we know that this quality of service and comfort for users can be implemented successfully in Chile," she said.