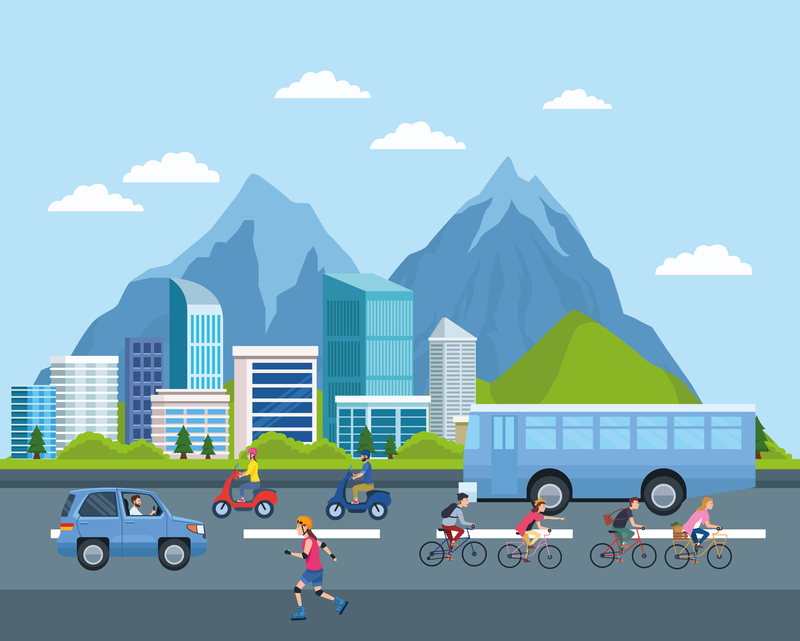 Photo: Image: Jemastock | Dreamstime.com
Report highlights mobility "gamechangers" for post-COVID cities
21 July 2020
by Sarah Wray
System-level thinking, public-private partnerships and adopting a unified mobility management model are "gamechangers" that will help city governments to adapt their transport systems following the COVID-19 crisis, according to a new report from global management consultancy Arthur D. Little, in collaboration with the International Association of Public Transport (UITP).
"In the context of the huge uncertainty facing the world over the coming years, these gamechangers will not only help to shape and influence the future, but also provide an 'insurance' against unexpected outcomes by improving system resilience," the Future of Mobility Post-COVID-19 report says.
Thinking and acting at a "system-level" includes developing a unified long-term mobility vision, implementing holistic regulation, adopting integrated execution planning and revising the "mobility funding equation" – the latter could include subsidising trips or services provided by private mobility operators that contribute to social goals but are commercially challenging.
Cities are urged to foster technology and business model innovation through public-private collaborations via mechanisms such as innovation schemes, competitions and joint projects.
The unified mobility management model concept put forward in the paper goes beyond existing ideas of mobility as a service (MaaS) – which is the integration of various forms of transport services into a single mobility service – to incorporate several areas which have come to the fore during the pandemic. These include goods mobility in addition to passengers; the optimisation of assets and dynamic management of public space, as well as mobility flows; and the dynamic management of enforcement and funding.
According to the report, this model would require a multi-actor governance body made up of government, public and private mobility players and user representatives; clear data-sharing regulations covering all public and private mobility solutions; integrated ticketing and payment; a mobility 'data lake' which pools all mobility data; and physical mobility infrastructure, such as intermodal mobility hubs.
Digital transformation
The report, which is the fourth edition of Arthur D. Little's Future of Mobility study, also outlines three gamechangers for mobility operators, including fostering more personalised services and engagement with customers, accelerating the digitalisation of ticketing, payment and information provision, and using artificial intelligence and machine learning for more advanced risk management.
"Changing the basic paradigm of mobility systems is hugely challenging, and up to now, most cities and countries have struggled to make the fundamental changes needed to move towards sustainable, resilient and human-centric urban mobility systems," said François-Joseph Van Audenhove, Partner at Arthur D. Little and Head of the Future of Mobility Lab. "Despite, or even because of, the economic stress that we will see over the coming years, now could be the time for stakeholders to act together to make it happen."
The research, based on engagement with over 70 executives from more than 30 transport organisations worldwide, also summarises over 100 actions that transport authorities and mobility solutions providers are taking, or planning to take, in response to the crisis.
"Together, we must move beyond the management of short-term response and seize a historical and unique opportunity to start over and shape the future of our cities," said Jérôme Pourbaix, Senior Director of Global Growth at UITP. "We don't want to go from lockdown back to gridlock, therefore this is our chance to work together and bring back better mobility to people in our cities."
Challenges
Around half of the executives interviewed for the report said their organisation is committed to change but struggling to make it happen. The authors identify the key obstacles as a lack of proven ability to be visionary hindering progress; unclear accountabilities between government and the transport authority; and lack of personal leadership in some cases.
"While it is evident that size and available resources limit the type of actions that can be undertaken, ultimately this is not the determining factor and should not be used as an excuse for lack of action," the report says.
[Image:  Jemastock | Dreamstime.com]