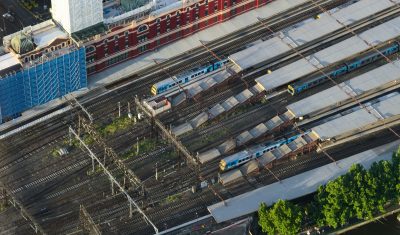 The state of Victoria in Australia has launched a new online tool, RideSpace, to give Melbourne train passengers real-time information on how busy, or quiet, their journey will be before they get on board.
It is being deployed alongside extra train services and off-peak discounts to give passengers confidence to return to public transport and balance demand on the network.
In December, Victoria began easing COVID-19 restrictions with venues and leisure spaces opening back up and groups allowed to meet once more, with social distancing. Masks must still be worn in many settings, including on public transport.
As vaccines roll out around the world and more cities look towards re-opening later in the year, many will be watching initiatives such as this closely as they prepare their own public transport networks.
Integration
The RideSpace solution is accessible via a dedicated website and its capacity data will soon be made available in third-party journey planning apps. The plan is also to add bus, tram and regional train capacity data and integrate RideSpace into the Public Transport Victoria (PTV) app.
The tool shows the current and predicted level of busyness for trains, stations and platforms using icons ranging from Very Quiet to Very Busy. It aims "to help passengers make informed choices about travelling safely on the network". Its introduction follows a four-month trial.
RideSpace has been "fast-tracked" with partners including Telstra Purple and NTT DATA, who provided expertise in areas such as predictive data modelling and machine learning.
Minister for Public Transport Ben Carroll said: "RideSpace puts the information Victorians need to make smart travel choices directly into the palm of their hands. It's innovative technology that will make COVID-Normal travel safe and easy."
Off-peak fares
The new tool is being combined with the addition of 450 extra train services a week, in what the state said was "the biggest timetable change since the opening of the City Loop". This includes 280 metropolitan and 170 regional services.
Metropolitan passengers travelling outside peak periods will also receive a 30 percent fare discount on trains, trams and buses in a bid to give "passengers more confidence to return to public transport and encourage people to travel on either side of the busy morning and afternoon periods".
The off-peak discount will be in place for the next three months, automatically providing 30 percent off fares for passengers tapping their myki smartcard between 9.30am and 4pm or after 7pm on weekdays.
Image: Nate Watson on Unsplash