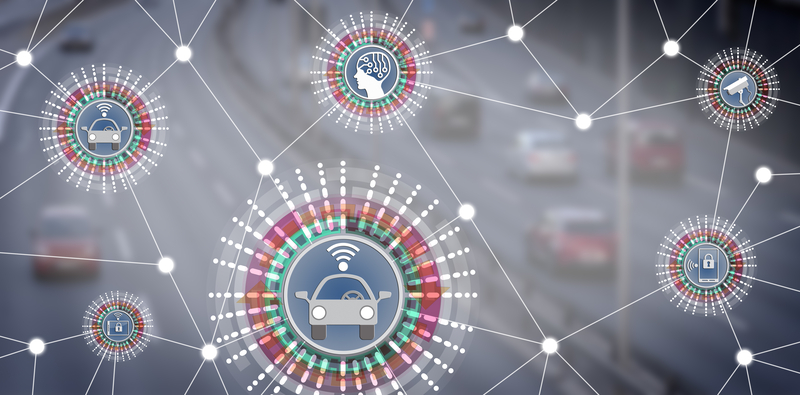 Photo: IoT Transport – Leowolfert | Dreamstime.com
Public transport emerges as the top use of IoT in cities
09 September 2020
by Sarah Wray
Connected public transport is ranked as the leading Internet of Things (IoT) use case for cities in new research from market insights and consulting firm IoT Analytics.
According to the Smart City Use Cases & Technology Adoption Report 2020 report – which is based on a survey of 50 decision-makers from cities including London, Barcelona, Dubai, Beijing, Berlin, Singapore and Washington – connected public transport has a 74 percent implementation rate.
The technology combines real-time monitoring of vehicles' locations and routes with notifications and personalised travel updates for passengers. Advanced systems also connect public transport vehicles with traffic lights and each other, enabling smarter mobility management.
The research finds that 72 percent of cities have deployed solutions for traffic monitoring and management; water level and flood monitoring; and video surveillance and analytics. Over two-thirds (68 percent) have adopted connected streetlights.
The report examines 31 smart city use cases in-depth. Also in the top ten in terms of adoption are weather monitoring; air quality monitoring; smart water metering; fire/smoke detection; and water quality monitoring.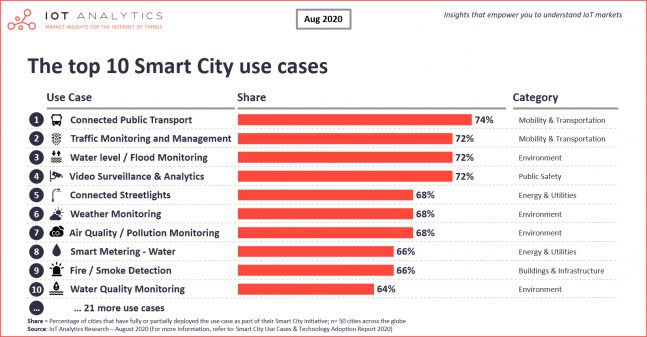 Priorities
Philipp Wegner, Senior Analyst, IoT Analytics, told Cities Today: "The use cases that are prioritised by smart cities globally are the ones that bring the most value for the citizens and the city. Take the number-one use case: connected public transport. It brings incredible value to the many people who are commuting in urban areas daily. Other use cases such as connected streetlights are delivering less immediate value to the individual citizen but help cities to spend less."
On average, larger cities have deployed 16 use cases overall and smaller ones with populations under 100,000 have implemented nine.
Wegner said: "The variety of vendors supplying the cities also stood out for me. We looked at 54 of them and found that they are often local players with diverse offerings. This shows that the market is far away from monopolisation."
The study found that the highest share of funding for smart city initiatives comes from public sources, while the most mentioned barrier to adoption of smart technology was budget limitations.
However, most cities expect public-private partnerships to be the most common funding method in the future.
The survey was carried out in February and March this year.
Image: Leowolfert|Dreamstime.com