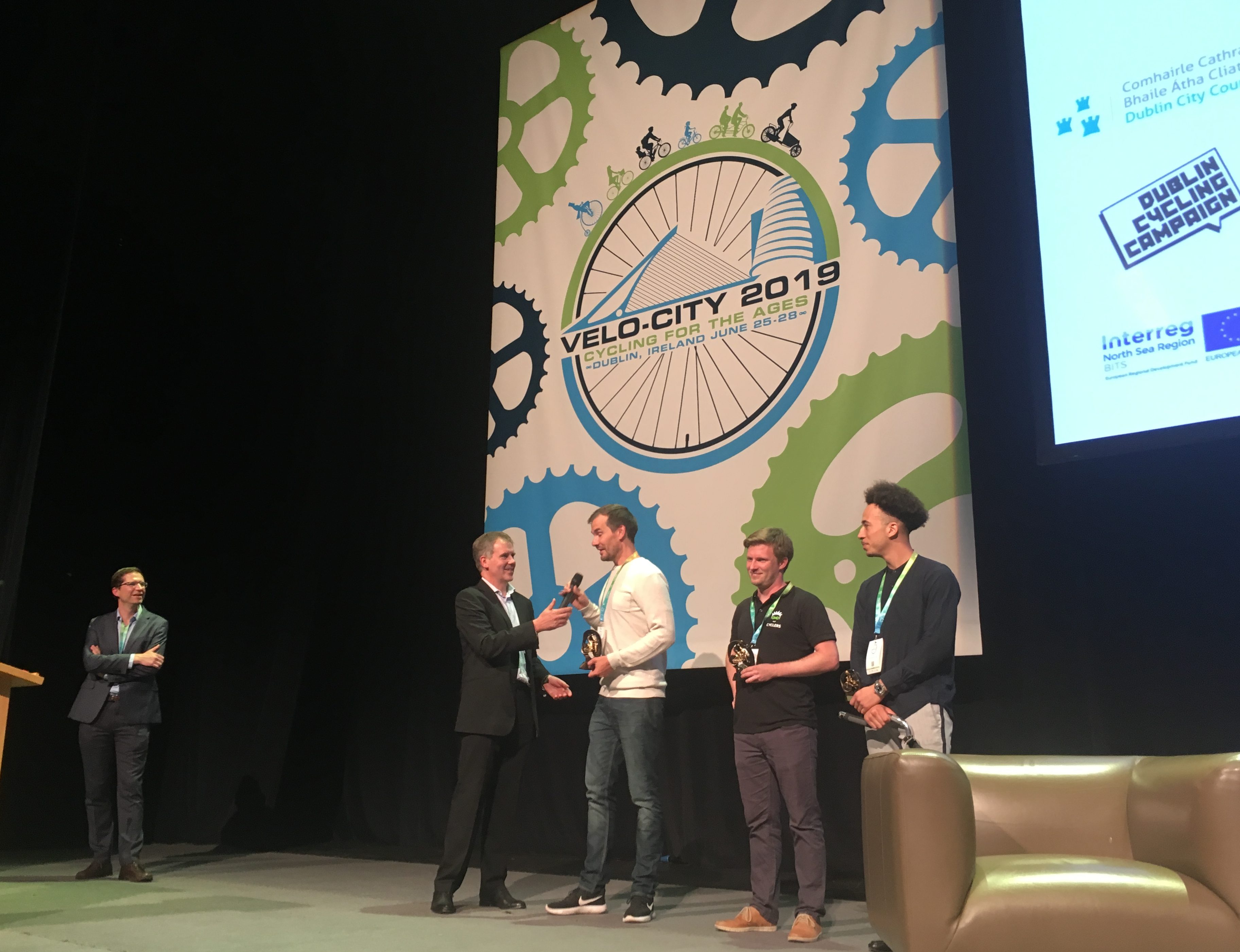 IoT-enabled electric cargo trailers which can be connected to any bicycle for last-mile city logistics have won the 'Smart Pedal Pitch' at Velo-City 2019 in Dublin this week.
The Hamburg-based electric cargo start-up, Nuwiel, were one of 10 finalists which competed for the grand prize of €10,000, pitching to a panel of five judges.
By using sensors in an attachment bar that measure the movement of the bike, the electric trailer can adapt to the behaviour of the user, and measure their position and speed. It can also be disconnected and used as a hand cart when entering buildings and can transport loads weighing up to 150 kilogrammes.
The company has ready completed trials with UPS in Hamburg for last-mile package delivery, and will now work with Dublin's smart city project team and transport department to pilot their solutions in Dublin for at least three months to gain end-user validation.
Following the win, Kajetan Berning, business development manager at Nuwiel told Cities Today: "I am overwhelmed, it's a very special occasion for us, especially since the competition was so tough, there were some really great companies competing for the prize."
"The opportunity to work with Dublin is amazing, especially when you look at what's happening here in terms of smart cities, like the smart docklands," he added. "We're really looking forward to it."
After a first round semi-final pitch by the 10 companies, the judges chose three to go through to the final, with the winner decided by conference attendees during a plenary session.
The winner and two runners-up receive:
€10,000 in cash and prizes, with €7,500 and €5,000 for second and third place respectively.
At least three months of desk space with the smart city team.
Mentorship from some of the leading experts in ITS, tech, and cycling innovation.
Promotional opportunities on a national, regional, and international level.
Cyclers, a Prague based start-up which developed a navigation app for cyclists took second place, while bike wing-lights company CYCL (and which have previously appeared on the television programme, Dragons Den) came third.
The competition was organised by Dublin City Council's Smart City Team, in association with the European Cycling Federation, Cycling Industries Europe, City Mart, Google, Dublin Cycling Campaign and Interreg EU.
Jamie Cudden, Smart City Programme Manager at Dublin City Council said: "We had this idea about six months ago, what if companies could pitch to the global marketplace about their latest innovations in smart cycle tech and to really showcase what they have to offer."
The ten finalists also had the opportunity to pitch their innovations at Google's European headquarters in Dublin.