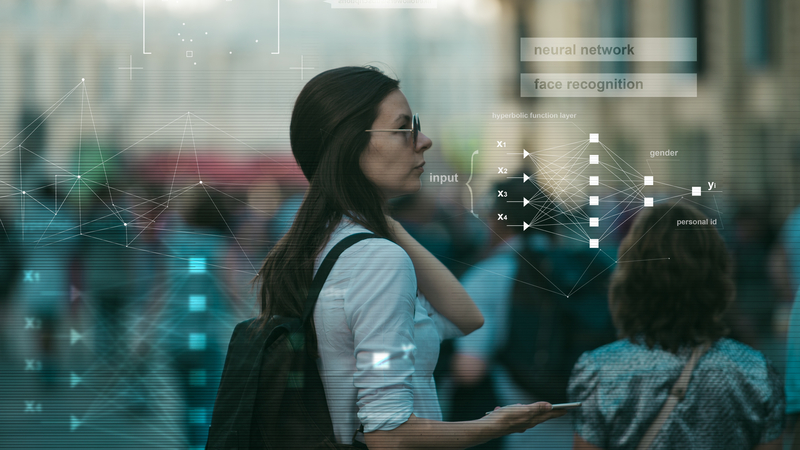 Portland City Council has unanimously voted to pass two ordinances that prohibit the use of facial recognition technologies by both city departments and private companies.
While other cities, including Boston, San Francisco and Oakland, have also passed bans restricting government entities from using facial recognition software, Portland is the first to include private businesses. City officials say other surveillance systems will also be assessed.
One ordinance bans the use and acquisition of face recognition technologies by all city departments and will go into effect immediately. The second ordinance, which will go into effect on January 1, 2021, bans private companies from using facial recognition technology in public spaces, including shops, restaurants, bars and entertainment venues.
The ban aims to address growing concerns about facial recognition technology regarding privacy and surveillance, as well as errors and potential racial and gender bias.
"We must protect the privacy of Portland's residents and visitors, first and foremost. These ordinances are necessary until we see more responsible development of technologies that do not discriminate against black, indigenous and other people of colour," said Mayor Ted Wheeler.
"Until now, the City of Portland has not had comprehensive privacy policies in place to ensure that the use of a technology like face recognition does not harm the civil rights and civil liberties of Portlanders, and the use of flawed and biased technologies can create devastating impacts on individuals and families."
A December 2019 study by the National Institute of Standards and Technology (NIST) found that face recognition algorithms misidentified African-American and Asian faces up to 100 times more frequently than white faces.
Pushback
The Security Industry Association (SIA) trade group, however, called Portland's decision "shortsighted".
SIA CEO, Don Erickson, said: "Turning back the clock on technological advancement through a complete ban on private-sector use of technology that clearly keeps our fellow citizens safe is not a rational answer during this period of social unrest in Portland.
"It is hardly a model approach to policymaking that any government should adopt. Let's act together now to thoughtfully educate the public about the legal and effective use of facial recognition technology while being mindful of legitimate questions raised about the impact of this technology on all stakeholders, including communities of colour. We continue to invite local leaders across the country to work with us to develop more sensible approaches to the use of facial recognition."
Representatives from Portland's business community previously argued against an outright ban on facial recognition technology, saying instead that it should be regulated through transparent disclosure of use and data provisions. They said businesses should be able to use facial recognition for security purposes and that such a ban would prevent them using certain loyalty reward systems, for instance.
Portland City Commissioner, Jo Ann Hardesty, said the city plans to go further still, though. "Facial recognition is only one of the dangerous automated surveillance technologies being rolled out in communities across the world, and I look forward to continue working with community members and my colleagues in looking at other problematic monitoring systems," she commented.
Bureau of Planning and Sustainability Director, Andrea Durbin,  added that the Smart City PDX programme is researching how to implement effective assessment tools for the use of various surveillance technologies, including facial recognition.
City movement
Lia Holland, a Portland resident and activist with Fight for the Future, a non-profit digital rights advocacy group, called the move "a major victory for everyday people."
"Facial recognition is akin to nuclear weapons in terms of its benefit to the public — there is none, only a threat," she said and called on more cities to pass similar bans of their own. She also urged Congress to pass bans at the federal level.
Several other cities are beginning to introduce stronger oversight of technologies such as facial recognition – particularly in light of the COVID-19 pandemic, which has increased debate about surveillance, and in the wake of the Black Lives Matter movement.
In July, inspired by related initiatives in cities such as San Francisco, Boston and Helsinki,  London announced it is developing an Emerging Technologies Charter – a set of criteria that digital innovations should meet if they are deployed in the capital.
In June, IBM said it was halting the sale of general-purpose facial recognition products, while Amazon imposed a one-year suspension on the sale of its Rekognition software to law enforcement. Microsoft noted that it does not sell facial recognition systems to US police forces and says it will not do so until legislation is passed governing the use of such technology.
Image: Aleksandr Koltyrin| Dreamstime.com