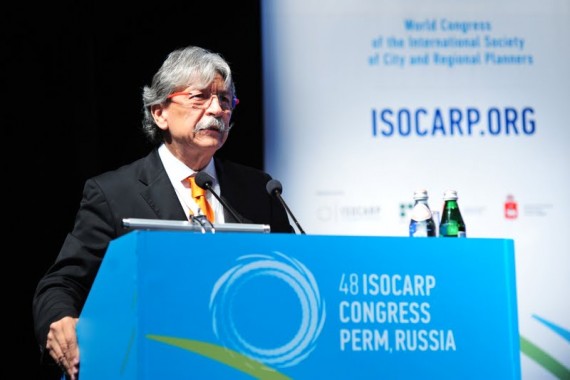 Having handed the ISOCARP Presidency over to Professor Milica Bajic-Brkovic at the organisation's 48th Congress in Perm, Russia, Ismael Fernández Mejia spoke to Cities Today about his future and the state of the planning profession.
"Although my three-year term as President of ISOCARP has come to an end, I will remain part of the Executive Committee for another year as immediate Past President, and my official functions within ISOCARP will end in September 2013," said Fernández Mejia. "However I will continue to work in high-level representations for ISOCARP for multilateral organisations such as UN-Habitat and the OECD."
Fernández Mejia feels that the planning profession is designing and planning cities as if the world was still in the past two centuries, when the requirements of society were different, leaving the profession in a state of coma or intensive care. A major issue is the failure to deliver the right proposals for solutions to the challenges that are prevalent today–urbanisation, urban poverty and urban liveability. Applying 19th and 20th century solutions to 21st century problems is not the answer.
"ISOCARP as a think tank in urban matters, ought to embark on a double track line of work," said Fernández Mejia. "On the one hand, we ought to try to understand the causes and effects of the urbanisation phenomenon and apply some new and imaginative tools for immediate action.  On the other hand, we must do pure research on how society is living and what future expectations are, and the technical, social and economical resources that we have at our disposal."
As he hands over the reigns at ISOCARP to Professor Bajic-Brkovic, Fernández Mejia said that planners must help change the paradigm of how cities are designed and constructed, and need to identify the tools to achieve these objectives.