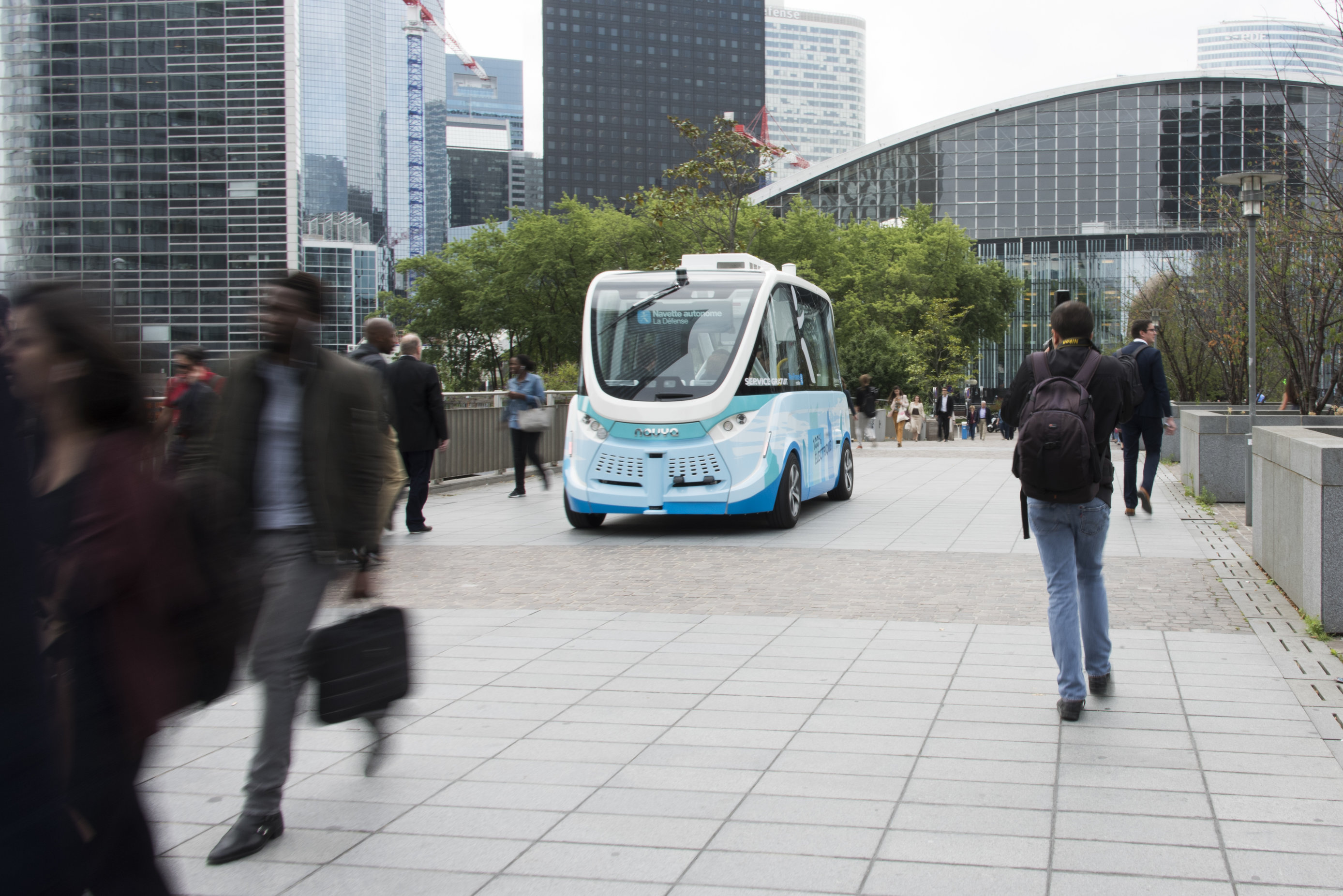 Ile-de-France Mobilités, the authority controlling the public transport network in Paris, in partnership with Keolis and Navya, has launched a six-month trial of three fully electric, autonomous shuttles in La Defense, the largest business district in Europe.
Keolis, a French transport group, started the shuttle services of three electric autonomous vehicles, developed by Navya, which will run until the end of the year. The service will provide a new 'first and last mile' mobility solution for the 500,000 people travelling to and from La Defense business district every day.
"The Navya electric autonomous shuttle as a transport solution, is unique due to its driving intelligence and sensor architecture," Diego Isaac of Navya, told Cities Today. "The trial so far has been received very well by users. At the beginning people were surprised to see such a technology in use in front of their office, but they quickly adopted this new mobility option."
The free shuttles will service sites along a pedestrian-only walkway, and are accessible to passengers with reduced mobility. The aim of the trial is to test these vehicles under realistic operating conditions. While Keolis and Navya have been trialling the shuttles in Lyon, France, since September 2016, this is the first time that these vehicles will operate on a public road without personnel on-board.
Each shuttle can accommodate up to 15 passengers (11 seated and 4 standing). Keolis has identified a range of sites where these vehicles would be ideal including airports, hospitals, university campuses, tourist attractions, industrial sites and shopping centres. While the shuttle can travel at up to 20km/hr, in a pedestrian and densely populated area like La Defense, the shuttle will run at an average speed of 7km/hr. During peak hours, shuttles will depart every 10 minutes and every 20 minutes in the off-peak periods.
"With rapid urban growth, cities are calling for a rethink of urban development and everyday transport," Arnaud Julien, Innovation and Digital Director at Keolis, told Cities Today. "In the smart and sustainable cities of the future, mobility will be shared, personalised, connected, and green. Autonomous electric vehicles can be used to supplement traditional transport modes and solve the issue of the first and last mile connection. This new solution can also address needs from passengers with reduced mobility, children or people without a car."
A number of other autonomous vehicle trials are already planned in the coming months in the Greater Paris region, including in the Bois de Vincennes, east of Paris. If these trials are successful, this shuttle service could become a permanent mobility solution in the region, with additional services and the creation of new lines.
"Today, we have more than 45 autonomous shuttles around the world and have transported more than 170,000 passengers," added Isaac. "In the coming years, autonomous vehicles are going to be more and more present in our daily life. Indeed, at the end of the trial, the partners could decide to extend this trial."