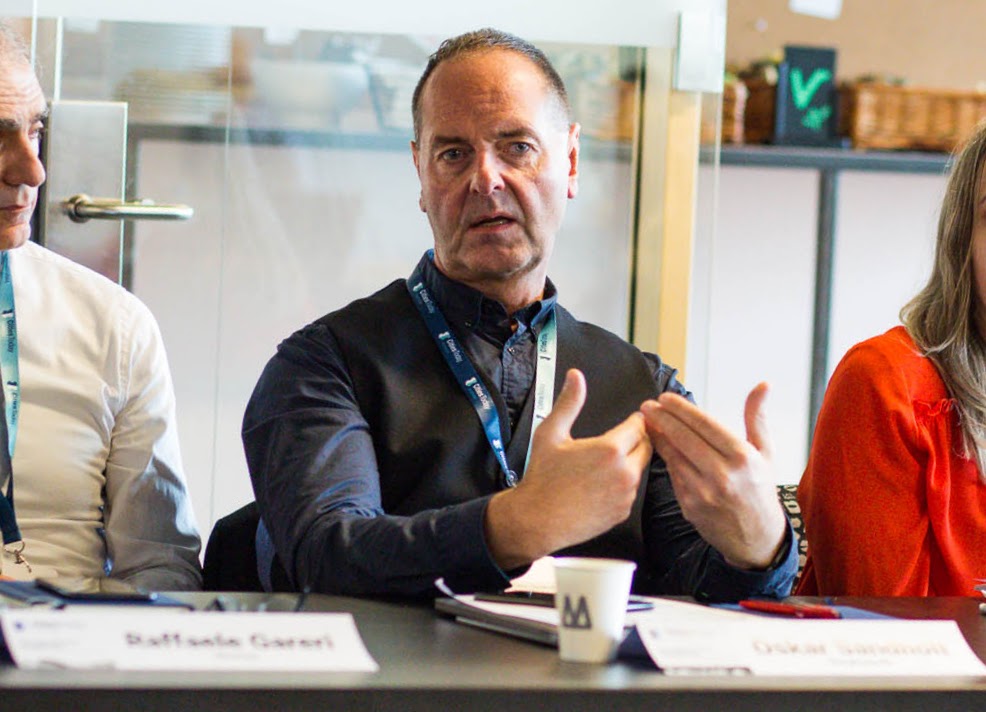 Photo: Hucopix / PFD Media
Pandemic underpins a new era for smart city data
17 June 2021
by Sarah Wray
Data-driven decision-making is not a new concept for cities – many have been plugging away at it for several years with varying levels of success. However, the COVID-19 pandemic has supercharged progress in this area as politicians demand fast answers and residents face challenges which are unprecedented.
On a recent Cities Today virtual roundtable, city digitalisation leaders outlined the advances they have made with data and the major lessons that can be taken forward.
Reykjavik: Accelerating automation
"What we have realised is without data, there's nothing," said Oskar Sandholt, Director of Service & Innovation, City of Reykjavik.
Experiments necessitated by the pandemic are now accelerating automation in Iceland's capital.
A few months before the pandemic, the city launched a financial aid scheme. Automated decisions have shown to be more accurate in assessing applications than humans, as well as being more cost-effective.
"Instead of having 98 percent of all declined applications disputed before, it's down to 75 percent already, using automation that suggests a decision for each case," Sandholt said. "And the algorithm is updating based on learning so we expect even better results."
Earlier this year, Reykjavik began going through all of its service processes to implement data into decision-making.
People are still very much needed, though. The data team has quadrupled during the crisis and the city is investing 10 billion Icelandic Krona (US$82.4 million) over the next 2.5 years to restructure core systems to handle automated decisions. This includes building a new 'virtual data warehouse' and implementing a data science platform.
"We have to tackle growing demand for our services and that will only be done with more automation, artificial intelligence and data," Sandholt said.
"We're basically throwing out legacy systems – with no remorse," he added.
NYC: Balancing the budget
As COVID-19 hit, the City of New York needed to understand how a steep decline in consumer spending would impact its sales tax revenue in order to adjust budgets accordingly and build a foundational plan for recovery.
The city leveraged a tool in the Mastercard City Insights Platform, Mastercard GeoInsights, to assess the impact. Mastercard GeoInsights is a proprietary tool that uses anonymised and aggregated transaction data to identify spending pattern changes in specific neighbourhoods, with heatmaps and dashboards. These solutions helped New York and other cities understand their own economic health which better informs budget planning, aid disbursement and investment priorities, said Rita Okcuoglu, City Possible Business Development and Partnerships Lead for Europe and MEA at Mastercard.
"Data has always been important but while facing the pandemic we all had the realisation that we don't have the time to act for unknown situations," she commented. "We don't have weeks or months to gather and then understand data. These or similar situations may happen again and COVID made us realise, even more than ever, that we need to be ready for the future."
Dublin: A revolution in tourism
Barry Rogers joined the Smart Dublin team as Smart Tourism Programme Manager in January this year. The programme focuses on driving innovation in the tourism industry in Dublin.
"The way cities used to do things in the tourism sector pre-pandemic and the way they do things now are just completely different, a total revolution," he said.
Traditional datasets and in-person feedback opportunities have been upended by travel bans and lockdowns.
That's why many cities have partnered with telecommunications and financial services companies to better understand what is happening in real-time.
"As a tourism industry, we are now turning to other proxy datasets to understand what's going on, and in particular to understand this post-COVID window of recovery," said Rogers. "That is incredibly important for sketching out the future of the tourism economy."
The Dublin Economic Monitor, for instance, includes a collaboration with IHS MARKIT on a Dublin Purchasing Manager Index (PMI). The Monitor also includes the Mastercard SpendingPulse to deliver insights on consumer and tourism spending in Dublin, as well as datasets from STR for Dublin hotels and Opentable for restaurant bookings.
Rogers will also be tapping tourism-related insights from the city's Dublinked open data platform.
"In our own Smart Tourism Programme we are particularly interested in monitoring Dublin's economic recovery looking at the metrics of visitor spend, footfall and flow," Rogers said.
Scaling innovation in London
The Mayor of London's £1 million (US$1.42 million) Resilience Fund incentivises technology and data innovators to put solutions forward to the most pressing problems defined by leaders from the capital's 32 boroughs.
The Fund is delivered in partnership with Nesta Challenges and backed by the London Economic Action Partnership (LEAP).
"A lot of these challenges existed before the pandemic but COVID has exacerbated or shone a light on the underlying problems," said Kathy Nothstine, Head of Future Cities at Nesta Challenges.
For example, the borough of Ealing is looking at using data to diversify and activate vacant properties. Hackney wants to find ways to help local businesses access affordable workspace, and Lambeth is seeking data-driven solutions to reduce levels of exposure to air pollution.  A London-wide challenge focuses on integrating health and transport data to instil confidence in using public transport. Other projects tackle gig worker wages, renewable energy, bereavement and food insecurity.
A panel of judges recently selected 35 tech start-ups as finalists to move to the next phase of the programme. Each company has received £10,000 and is working with a partner to advance their solutions. In July, ten winners will be awarded a further £40,000 to implement their technology.
"The criteria that we really focused on is the sustainability and scalability of the solutions that are being generated," said Nothstine. "That is a really essential part of open innovation competitions.
"We enable innovators to work on some of the particular use cases that we laid out but urge them to also identify how those could be potentially scaled up and applicable to other geographies within London and to other cities and contexts."
Scotland: Lessons learned
Research published last month by the Urban Big Data Centre at the University of Glasgow focused on Scottish local governments' use of data during the pandemic but has relevance for cities more widely.
The study found that the majority of local governments saw an increase in internal data sharing during COVID-19: 79 percent indicated the use of new data sources and 74 percent confirmed increased data collection. There was also a significant increase in data sharing across the public sector, particularly between local authorities and the NHS.
A notable example of innovation was the development of a data-sharing framework between local government and NHS National Services Scotland, as well as templates to make data sharing more efficient.
Despite these advances, data integration, quality and standards were still rated as major challenges.
Further, the research suggested cities could do more to derive insights from 'novel data' from the Internet of Things and social media.
"Surprisingly, compared to traditional administrative data generated by public sector organisations, so-called 'smart' or 'novel' data, such as social media and Internet of Things data, was not found to be in great demand. However, participants [see it playing] a more important role in the future," said Simon Joss, Professor of Urban Futures at the University of Glasgow.
A key recommendation of the report was around strengthening local governments' in-house data skills. This includes technical skills, training on the use of software and enhancing overall data literacy within local authorities.