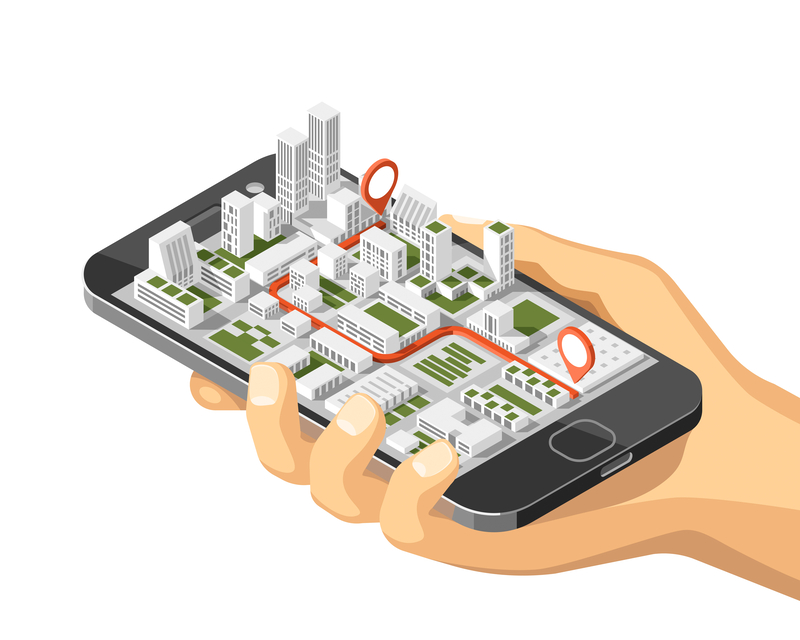 Photo: Hdim1993 | Dreamstime.com
Pandemic gives rise to Cities 4.0, where smart meets sustainable
30 March 2021
by Sarah Wray
Twenty global cities have been named as 'Cities 4.0′ in new research from ESI ThoughtLab – these are cities that are advanced in both progress towards the United Nations' Sustainable Development Goals (SDGs) and in deploying digital technology and data effectively.
The cities are Aarhus, Athens, Baltimore, Barcelona, Berlin, Birmingham, Boston, Copenhagen, Helsinki, London, Los Angeles, Madrid, Moscow, New York, Orlando, Paris, Philadelphia, Singapore, Tallinn and Vienna.
The Smart City Solutions for a Riskier World benchmarking study from ESI ThoughtLab is based on a survey of 167 city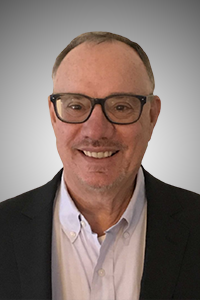 leaders from 82 countries around the world, combined with data on city services and quality of life from the World Bank, Numbeo, IESE, and other sources.
The report finds that Cities 4.0 typically deploy 14 smart city projects versus an average of seven for other cities, and they have superior infrastructure, better public transportation, roads, parks, healthcare, and digital connectivity.
In addition, Cities 4.0 have made the greatest headway on the SDGs, with 86 percent making progress across all 17 goals. They are seeing higher ROI on technology investments made in all urban domains, including digital infrastructure, mobility and transportation, public safety, health, education, sustainability, and energy and water.
Lou Celi, CEO of ESI ThoughtLab, told Cities Today that the first wave of smart cities was technology-driven. Cities 2.0 brought a recognition that technology must serve people and the 3.0 movement was a drive to be "hyperconnected", which ESI ThoughtLab focused on in its 2019 research. This hyperconnectedness referred not just to technology but also citizen engagement and partnerships.
"Cities 4.0 are still hyperconnected, using technology, data and citizen engagement, but they're using it to achieve the SDGs," Celi said. "We believe that's the way cities are going. It's not enough to be smart; you need to also be sustainable."
He added: "As we emerge from the pandemic, we're in a very different world. It's a world where digital is going to be top of mind, in the way that businesses are run and people shop and live, so cities are going to have to become more digital. But at the same time, they have to really be thinking about sustainability issues, social issues and health, which the pandemic has highlighted."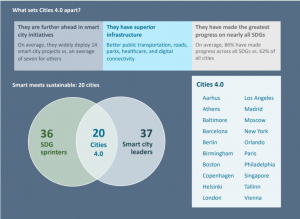 Pandemic lessons
The research shows the impact of the pandemic on cities' priorities.
Over half (53 percent) of urban leaders believe the crisis will forever alter how people live, work, socialise and travel in cities. Over two-thirds (69 percent) of cities will reconsider urban planning and use of space, and 54 percent will rethink mobility.
On key lessons learned from the pandemic, 65 percent said smart city programmes are "crucial" for the future; 54 percent said they will focus more on citizens' health; and 43 percent said operational continuity and agility are critical.
Other key takeaways include the importance of timely access to data analytics; the need to invest in upgrading core infrastructure; and the need for business and government to collaborate more.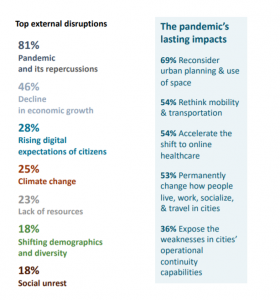 SDGs and tech priorities
Of the cities surveyed, 28 percent said the COVID-19 health crisis has made the SDGs a higher priority for their city, while 18 percent said their SDG programme has helped with the city's response to the pandemic. Over a third (36 percent) said the pandemic has stimulated "new thinking about our priorities to build the social good".
Cities reported the most activity around SDGs related to addressing poverty (91 percent of cities), good health and wellbeing (89 percent), decent work (86 percent), and quality education (86 percent).
The survey respondents also identified hurdles to advancing on the SDGs over the next three years, including complex policies and regulations, finding the right partner or supplier, and managing data security and privacy.
The largest technology investments are being made in cloud (88 percent of cities), mobile (86 percent), IoT (84 percent), biometrics (74 percent), and AI (66 percent).
The report pinpoints the technologies set to see the largest increases in investment over the next three years as digital twins, 3D printing, augmented reality/virtual reality, and data warehouses, followed by blockchain and digital dashboards.
Image: Hdim1993 | Dreamstime.com