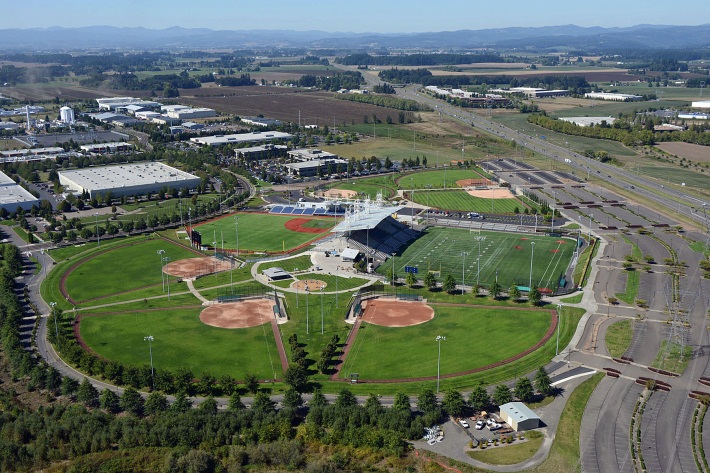 Cities are exploring renewable energy innovations to meet their sustainability goals.
The US City of Hillsboro is using a new system which generates electricity by harvesting excess pressure from a water pipeline.
It has been implemented through the Hillsboro In-Pipe Hydroelectric Project in partnership with the Energy Trust of Oregon, Portland General Electric (PGE) and InPipe Energy.
InPipe Energy's In-PRV (pressure recovery valve) system bypasses an existing pressure control valve and instead of dissipating the pressure, it converts it into electricity that is fed to the grid.
The system is expected to generate up to 200,000 kWh or more of electricity per year to help power the lighting, electric vehicle (EV) charging stations and concessions at Hillsboro's 90-acre Gordon Faber Recreation Complex, which includes the 7,000-seat Hillsboro Stadium.
Through better pressure management, the city aims to save water, extend the life of the pipeline and save more than 162,000 pounds (73 tonnes) of carbon annually.
"As a growing city, we're excited to pioneer this very practical new form of renewable energy that will help us continue to meet our climate action goals and build resilience," said Hillsboro Mayor, Steve Callaway.
In-pipe hydropower has previously been used in large-scale projects but InPipe Energy claims its In-PRV is the first system that combines software, micro-hydro and control technology as a product that can be installed throughout water systems with smaller-diameter pipelines.
"We're always looking for ways to improve our water operations and reduce costs for our ratepayers," said Eric Hielema, Engineering Manager for the City of Hillsboro Water Department. "This technology provides us with a solution to help us precisely manage pressure while also producing renewable energy."
The total budget for the hydropower project is US$509,000. The city received two renewable energy production grants from PGE and Oregon Energy Trust that covered 70 percent of the project. The city is covering the remainder and estimates the payback for the investment to be realised in two to three years through saved energy costs. After that, the project will begin to help save the city's water ratepayers money in energy costs, a statement said.
Powered by human waste
Elsewhere, Logan City Council is claiming an Australian first by turning human waste into energy at its Loganholme Wastewater Treatment Plant.
The Queensland city, along with project partners Pyrocal and Downer, has been trialling a process that sees sewage sludge (biosolids) baked in extreme temperatures to produce biogas. The biogas is then used to heat the remaining biosolids, turning it into a 'biochar' suitable for agricultural purposes.
The gasification process is estimated to reduce the volume of biosolids by 90 percent as well as helping farmers. It is expected to reduce CO2 output by 4,800 tonnes annually and prevent organic pollutants from entering the soil.
"This will save ratepayers around AUS$500,000 (US$352,000) annually while significantly reducing our carbon footprint," said Logan Mayor, Darren Power.
The federal government's Australian Renewable Energy Agency (ARENA) contributed AUS$6 million towards the AUS$17 million project.
Infrastructure Committee Chair, Councillor Teresa Lane, said the project has attracted global interest from renewable energy companies and municipal councils.
"Using synthetic gas in this way in something that hasn't been tried before so everyone has been watching to see how it would pan out," she said.
Logan City Council is exploring opportunities to market the biochar.